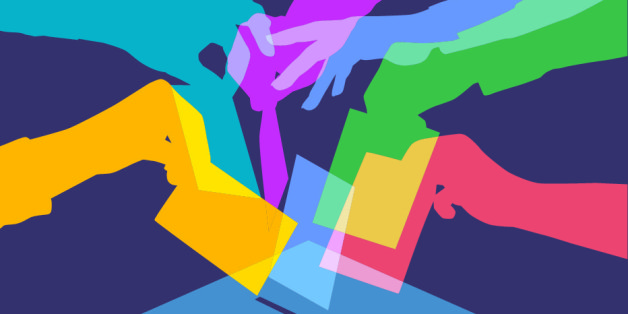 smartboy10 via Getty Images
Engaging young people in mainstream politics is a bit of a vicious circle.
Politicians' penchants for doublespeak and dodging questions mean that generations Y and Z don't exactly find them relatable. Many young people are, at best, turned off from modern politics or, at worst, alienated by it. Politicians, in turn, have a tendency to disregard young people's needs as they are less likely to vote. And so the cycle continues.
But are young people politically apathetic? I don't think they are. It's true that fewer 18-24 year-olds may be turning out to vote than their older counterparts but there is evidence to show that they are more engaged in other ways.
Online activism is on the rise and it's even been mooted that protesting is 'the new brunch'.
There has been some debate about how many young people voted in last year's EU referendum. Straight after the vote, pollsters said that just 36% of people aged 18-24 turned out to cast their vote.
A collective finger was pointed at a whole generation who were roundly told not to complain about the decision to leave the EU when they hadn't bothered to have their say.
But we now know - thanks to research by the London School of Economics - that the turnout figure was actually 64%.
That's still not as high as their older counterparts (90% of over 65s voted, for example) but, for a generation of people branded narcissistic and apathetic, I don't think it's too bad. It's certainly a marked improvement on the 43% turnout at 2015's general election.
With yet another national vote looming, young people have another chance to influence national politics. In fact 750,000 British teenagers who were too young to vote in the referendum last year will have their first opportunity to vote on May 8 and it's vital they don't miss this chance to make a difference.
In the children's sector we need to use our contact with young people to emphasise how important political engagement could be in changing lives. At Barnardo's we're heading in the right direction, helping young people to tell their stories and share their experiences to influence politicians and decision-makers.
Last December we supported young carers to give evidence to the House of Commons health committee to influence MPs to improve mental health provision for children and young people. Earlier this year young people from Barnardo's Participation Group, which enables young people to have a voice in the fight against child sexual exploitation, represented the UK when they travelled to New York to present their work at the United Nations.
And 14-year-old schoolgirl Sebi Mabuza helped Barnardo's achieve legislative change when she became the young voice of our campaign to make sex and relationship education compulsory in all schools.
Was the Brexit vote a watershed for young people's engagement in mainstream politics? It certainly shows that young people are engaged on issues they can relate to and that they feel are important. Unsurprisingly, young people who have grown up as EU citizens felt strongly enough to visit the ballot box on June 23 last year.
This begs the obvious question - would the EU referendum's result had been the same if 16 and 17-year-olds had been allowed the vote? At Barnardo's we support the lowering of the voting age to 16 in Westminster elections to ensure greater representation of children and young people at a national level.
Young people all around us are shaking off the labels the older generation have given them. They are proving all the time that they don't deserve to be called apathetic or narcissistic.
Politicians need to do more to bring young people into the political mainstream so they can have a say in key issues that affect them, or risk losing them to more extreme or direct means of action.
A failure to do this could result in more and more drifting to politics outside the establishment and while there's nothing wrong with that per se, large-scale opting out of mainstream politics by a whole section of society is not a sign of a healthy, representative democracy.