I'm really lovely, get me out of here...
The success of a reality TV show relies purely on the strength and depth of characters and chemistry between those participating. This year's jungle was a first in that MOST were grounded, normal, friendly and likeable if not collectively a little soft.
Not always the greatest formula for amazing TV you'd imagine but on dedicating much of my life for three weeks watching and reporting on the show for This Morning I found myself questioning whether for the 'discerning celeb' there was ever a better year to be shacked up with 11 other publicly known individuals and the answer was no! You'd get on with everyone, there was such an obvious family structure within their 'bubble' everyone had a role and nobody was left out.
Nobody benefited more so than Corrie's Helen Flanagan, try failing in five straight tasks with the likes of Johnny Rotten or whoever around, she'd have been on a plane back to England before you know it. Sweet and innocent in many respects, a young girl in reality, this series will be remembered as HER series and I for one must thank her for giving me lots to talk to Phil and Holly about this because all these other guys being lovely doesn't fill an eight minute chat!
Me on the This Morning Set
As Gillian McKeith once taught us, it's not the winner that is remembered longest, it is the person that divided opinion, had people shouting at the screen from their sofas and those that compound the fact that celebrity status doesn't mean you're better, stronger or more intelligent than everyone else, just that you've had a lucky break.
Christmas is coming...
The festivities usually creep up on me on the 20 December when I realise I haven't brought a single present, thankfully the season to be jolly will not provide me with any sudden shocks this year because as of, well as I type, the Christmas tree thanks to Bobby, Freddy and Poppy is well and truly up! Not only that but I worked with Father Christmas today so it was confirmed I had been exceptionally good and my socks and aftershave are safe to arrive for another year.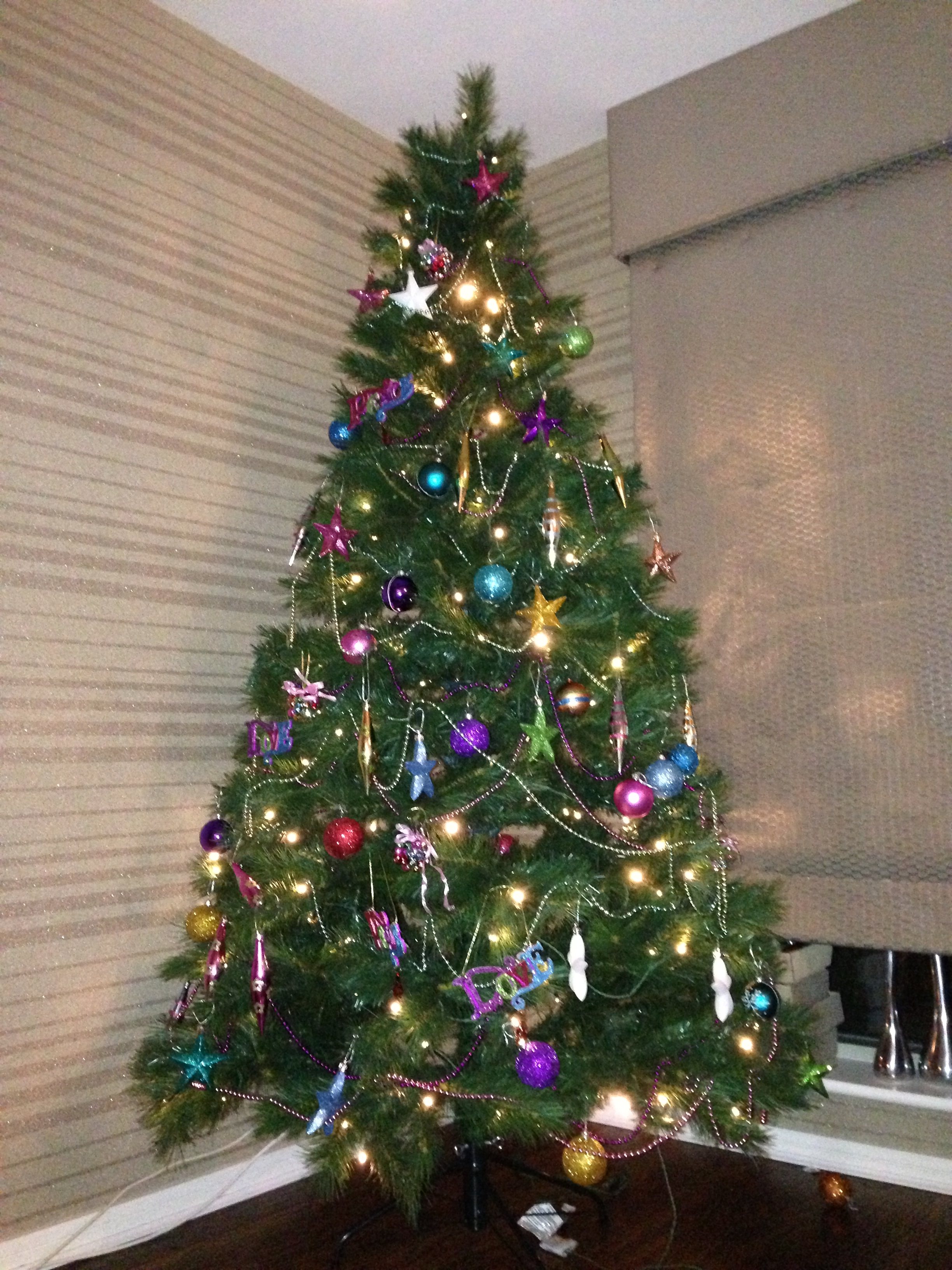 My glorious tree!
I'm not being too smug because I still haven't bought a present but I have made a bit of a list, which is a step in the right direction! We've booked a week away in the Lake District at Christmas through http://www.sallyscottages.co.uk/ so we're all excited about that, especially as we're going away with my best friends the Lawson's and their wonderful children too. If it snows up there we won't be mucking about on the little slopes at home, we'll be in the big hills for some extreme sledging!
On the gift front I'm wondering if the living room is big enough to handle Scalextric?! Now we have Poppy to think of - will she like the John Crane http://www.john-crane.co.uk/ toys the boys grew up on? And will the lads still appreciate the No Added Sugar clothes that I have always bought them even though they are happier with me going to River Island for their skinnies and hoodies these days?!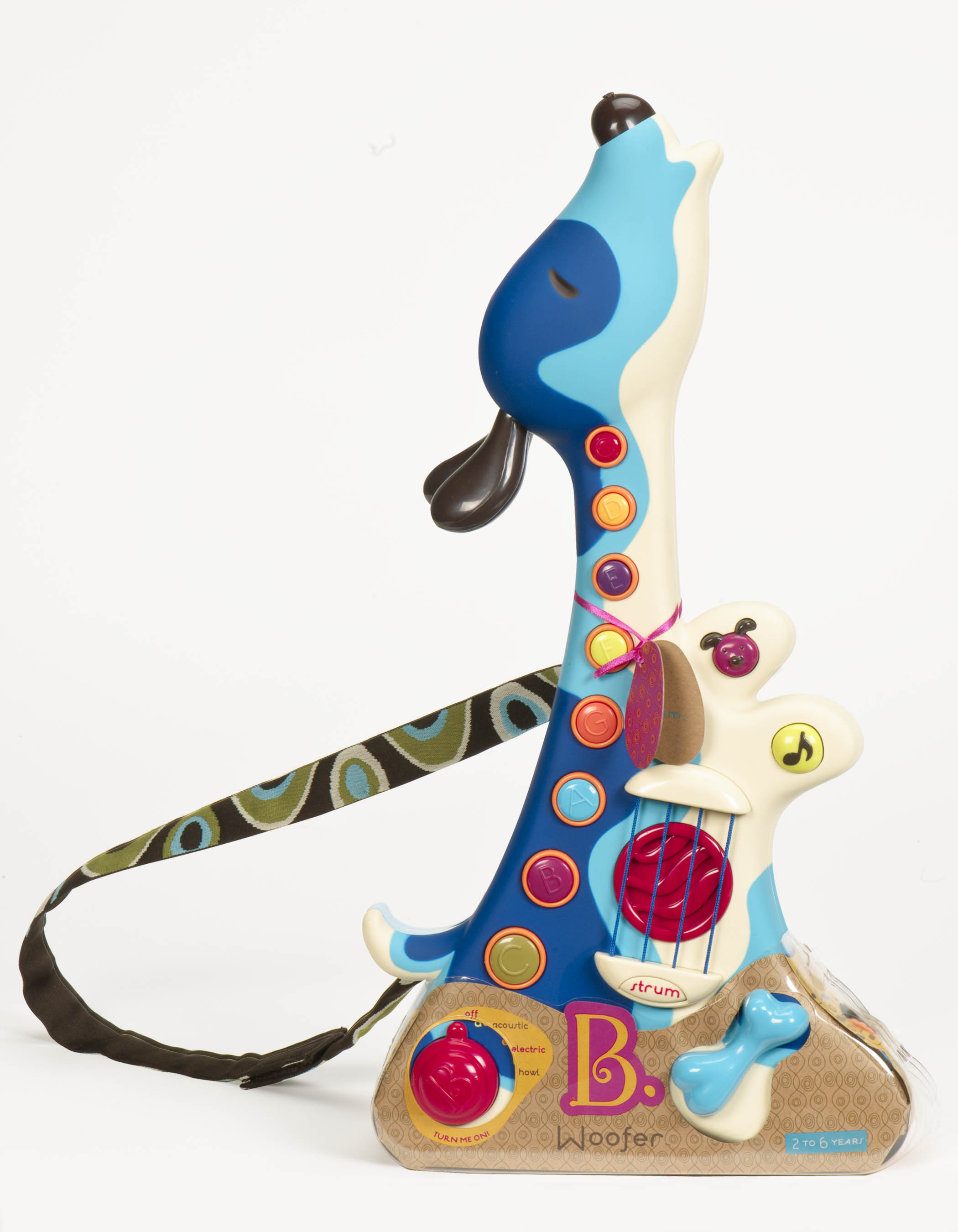 The 'woofer' from John Crane - looking likely to be on Poppy's Christmas list this year
I love my job...
I've a little more time to myself next week so I'm hoping to make a dent in the shopping while I'm out in the Maldives filming another competition, yes This Morning really do spoil me and I'll be back in December for five or six hub dates and a I've had a wonderful booking for something special early on in the New Year too.
Having a run of consecutive days in studio has been magnificent because you get to know everyone so much better and then that familiarity shows in your chats so instead of it being too stiff and scripted it feels comfortable like a conversation about the jungle - that thousands of families are having across the nation every evening during the show - at least that's what I hope anyway!
Myself and some of the team :)
Watch your toes!...
I have the pleasure of meeting lots of incredible people in my line of work. I was chatting to Hugh Grant about moisturiser just moments before he sat on the sofa to talk about press regulation and media ethics, giving relationship advice to Shari one of the make up ladies with Mo Farah and exchanging words on fashion with Tiny Tempah to name check but a few, but it takes a special person to get me starstruck and that happened when none other than Jamie Oliver stopped by to chat!
He's a hero of mine, there's no other way to describe my admiration for him and his work. It goes beyond liking him as a person on my TV screen; the work he undertakes to ensure our children are fed correctly in the school dinner halls was brave and evidently littered with obstacles. Also for the last three years my children have literally been brought up on his recipes! The crowning moment was when he asked how my children were.
I'm always grateful when anyone takes the time to ask after Bobby and Freddy, it's especially nice when someone who has played a strangely distant role pays a polite interest too. I hadn't tasted things like coriander, thyme and paprika until I could afford to eat out. Thanks to him the boys have an understanding of what herbs and spices go with what food, so basically in a few years I can retire from the kitchen and leave it to them!
That little blue tick...
It's no secret I love Twitter, so it was a nice surprise to suddenly find myself verified. I'm incredibly grateful for the staggering amount of followers I have and I regularly enjoy showing my thanks by getting hold of the odd prize to give away in the form of a Friday competition!
This week's is a great one as I'm teaming up with Giant who have kindly donated a £1000 voucher to spend online before Christmas! That can mean a fantastic all singing all dancing road bike or if you're a family a set of 4 bikes so everyone gets a look in! If that sounds like something you want to win then check out my feed @jeffbrazier and follow @giantradlett to enter! The winner will be picked at random Friday at 10pm, Good Luck!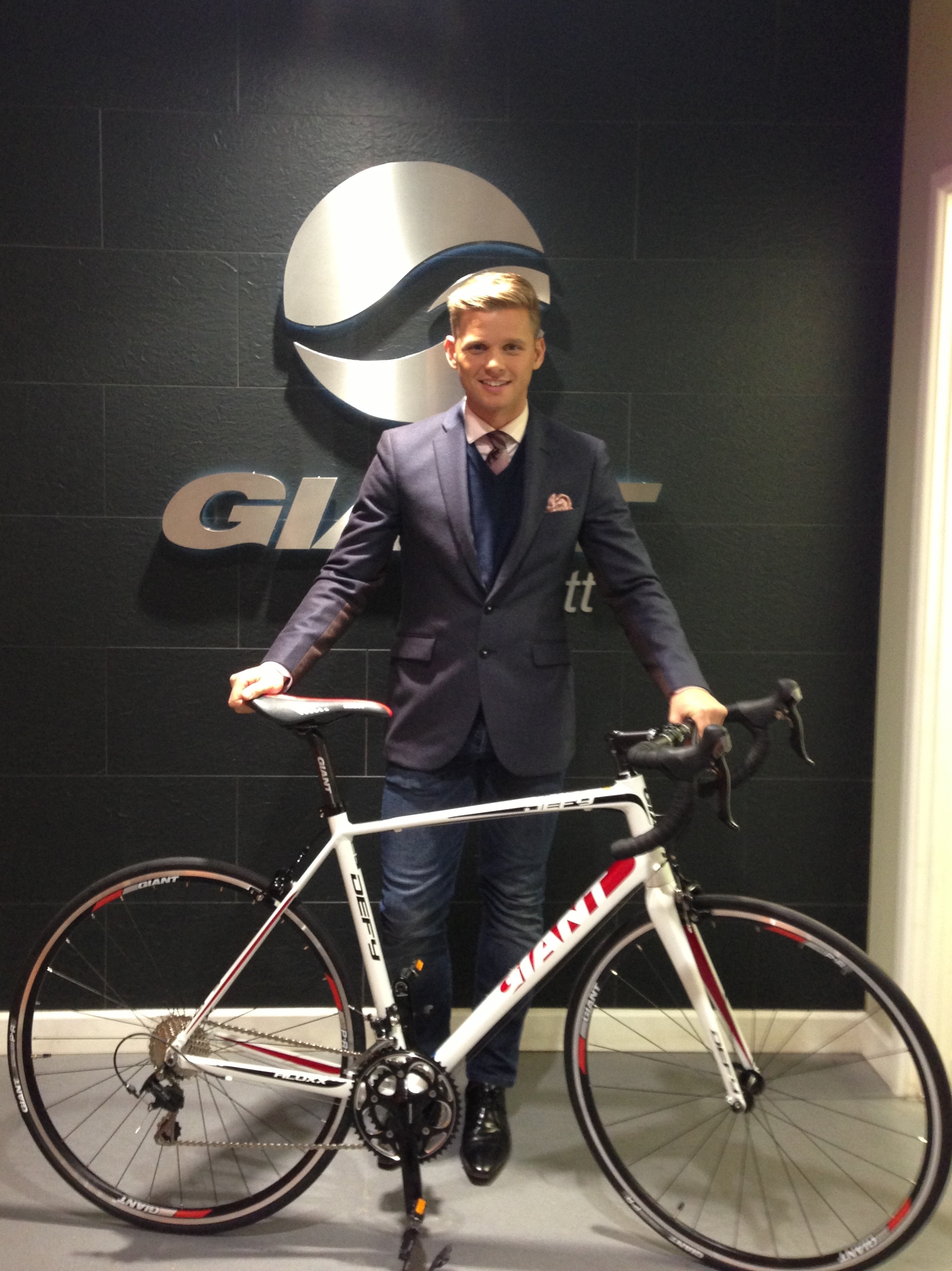 Me and a Giant bike
Social responsibility...
Sticking on the subject, my two favourite uses for Twitter are tweeting my five things to be grateful for at the end of most evenings and generating donations for charity events like when I went to Sri Lanka for the Norwood bike trek and realised my followers were incredibly generous!
It didn't take long to raise just under £4000 so I figured if It was that easy I should do it far more often. So in December I will be attempting to raise £1600 in order to buy a specially adapted trike for a five-year-old lad with Cerebral Palsy called Matthew that I met a few months ago (you may remember me writing about this on a previous blog) who would love to be able to play out in the street with his brother and friends. It would be incredible to think that with a little effort and the donating of some loose change could result in Matthew unwrapping this means to greater independence on Christmas Day. Want to be a part of this? Let me know on twitter #MatthewsTrike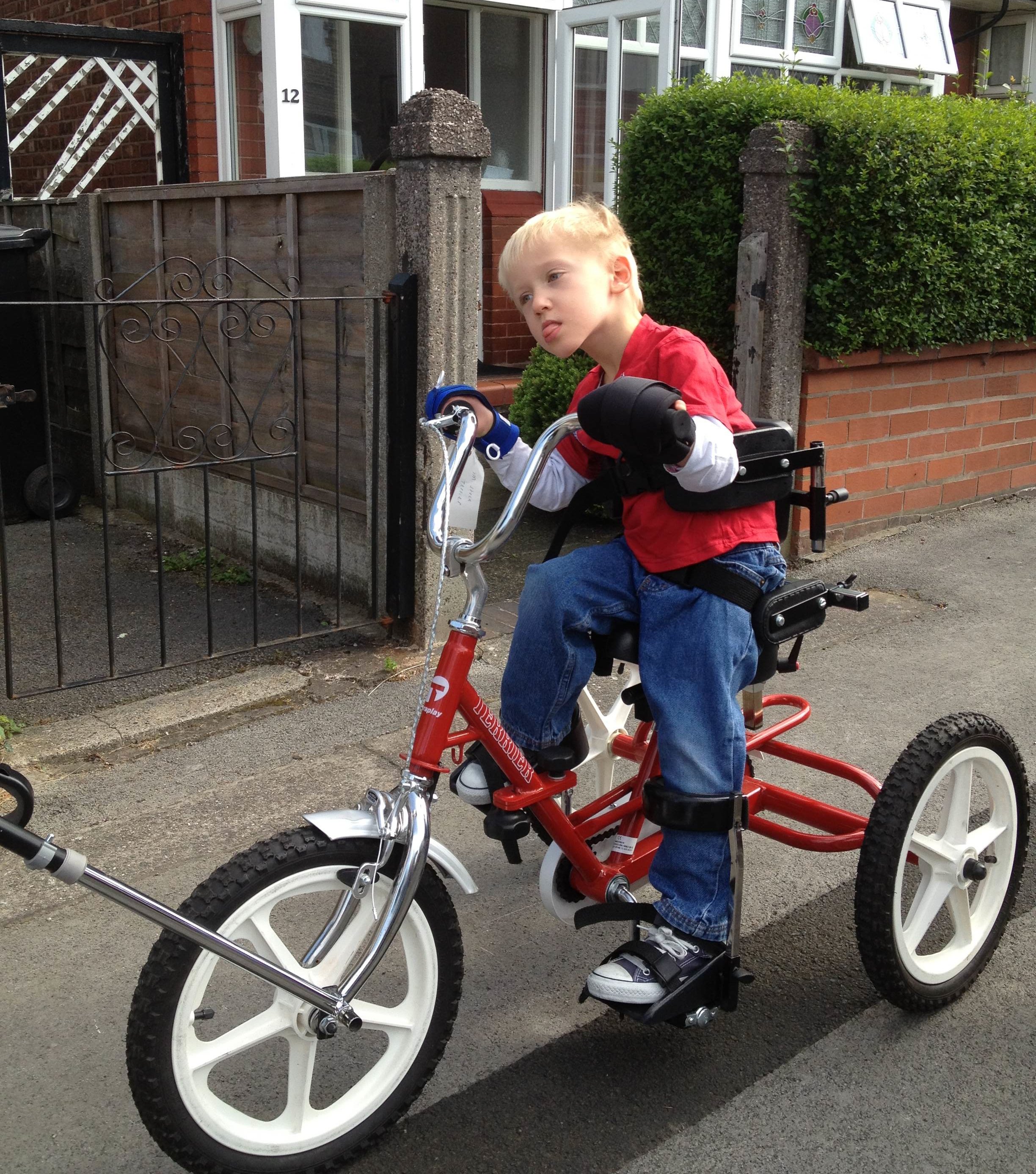 Matthew getting a trike sized and fitted so that they know what to custom make for him
A lovely stop over...
I always like to pass on recommendations to other parents when I do something with the kids that you might like to do with yours. A few weekends ago we had the pleasure of eating at my favourite steak house Gaucho (the chimichurri and cheese bread is my favourite) and then going to see Shrek the musical which was really funny, especially Lord Farquaad who was hilarious due to his little dangly legs!
When then stayed over for the night which was amazing for the boys, they love being in a hotel room, we stayed in the Soho Sanctum near Hamley's which was beautiful and after breakfast the next day we visited Ripley's Believe It Or Not. It isn't something I would have usually targeted but I had previously worked with the experience providers http://www.goseedo.com/ and they had suggested so many things to do that I wasn't really aware of, so thanks to them it was actually the type of museum that held the boys interest for a good few hours. They especially loved the mirror maze and the Mission Impossible laser room at the end because it required Dad to roll around on the floor!
If you don't mind heights...
While we're talking about experiences, if you like eating out, you're near or ever visiting London please take my word that the Duck and Waffle on the 40th floor of the Heron Tower in Bishopsgate near Liverpool Street station is the unparalleled vantage point for the whole of London. Not forgetting the food was really modern and exciting and to round off it's a 24 hour establishment so the thought of watching the sun come up over canary wharf looking out to the east is something that really excites me, move over London Eye!