Last year, Junior McDougal, an ex-Leyton Orient team mate of mine, introduced me to a very special charity that grant 'Sporting Wishes' to children with life threatening illnesses but also support disadvantaged and vulnerable children and those living in poverty too.
They work closely with professional athletes and clubs across a range of sports to provide a child of ill health with that moment with their idols that they deserve and will never forget.
If you are anything like me you would have grown up idolising your footballing hero's, my first was Kerry Dixon, then Glenn Hoddle, Paul Gascoigne and Gary Lineker. To have met any of those at a young age would have felt no less like meeting a God. In modern times we can be fond of athletes from a much wider range of sports especially with the Olympics in 2012 creating so many proud memories and instant heroes. The simple pleasure received from meeting someone you really look up to is something you don't actually ever forget.
The Sports Connection Foundation asked me if I would accompany a young lad, Tomas Mayer, who has (DMD) Duchene Muscular Dystrophy and is confined to a wheelchair for the rest of his short life. Having DMD means all his body and organs are basically shutting down.
Tom's greatest wish was to meet his FA Cup winning idols at Arsenal football clubs training ground and whilst, stated diplomatically, they are not my team of choice, (in fact I support the OTHER lot!) I'm a football fan first and foremost and certainly from a football coaches point of view, can appreciate the set up and the training methods so with that in mind and with no sense of betrayal whatsoever I jumped at the chance to see first hand how the charity works to provide the right kind of privilege to the right kind of fan and I was also Intrigued to see how the footballers would respond to the responsibility of making that boys dreams come true.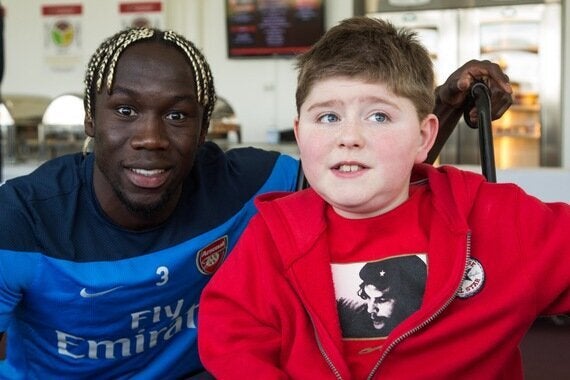 The training facilities were as futuristic and plush as you would expect from a big club like Arsenal, Tomas pulled up shortly after I arrived in a Bentley that had kindly been donated by a chauffeur company in his local area of Huntingdon, Cambs. Tomas is 11, shy in nature yet sporting a steely determined look about him that no player would escape when putting their signature on a shirt he clutched on to whilst being shown towards the building. Because of his illness Tomas is in a wheelchair, pushed by his dad Dean who I think Is going to benefit from this experience just as much as his son!
Before we even made it to the main entrance the long serving manager, Arsene Wenger, walks up and greets everyone warmly. I don't think he was waiting at the door for us as such, just good timing! I was impressed by how relaxed and genuinely interested he was in who we all were and why we were there. He remarked that he was a fan of my work on This Morning and told me to send his love to Holly Willoughby... Only joking, he didn't have a clue who I was. More importantly, Tomas had lit up and opened his signature account with the man that holds the reigns at the club he loves.
The Arsenal staff were very thorough and accommodating and not anywhere near as smelly as I had been led to believe. We were then joined by some other individuals that have won or been given the right to meet the players and told we can watch the 1st team train ahead of their match against City In a few days time. Tomas Is allowed to go right up to the area where Ramsey, Giroud and Oxlaid-Chamberlain are involved in what resembled a mine-field of carefully placed obstacles that the players were to pass in and around. It looks impossible but the ball moves around fluently and this one drill seems to accentuate exactly what Arsenal are unfortunately about, playing very attractive football.
As a qualified coach I'm amazed at the fluency of the drills. The clever part of the practice is that it doesn't stop, it's on a loop and whilst the players might rest for a minute while others work, the ball is continuously on the move and the focus required from the players doesn't break. After a specified time the players then move on to another free flowing drill designed to work other certain aspects of their team play that will apply to the next game. Tomas Is smiling from ear to ear, to see his hero's outside of the familiarity of a premier league match is such an eye opener for him.
I'm a man that enjoys his food so I was very happy to be sat for lunch alongside Tomas, he's entourage and Arsenal Legend Nigel Winterburn for what looked like the most impressive buffet on earth. The chicken and leek soup was incredible to start with and I just hope nobody noticed that whilst the players started to come over to sign Tomas's shirt, I was busy eating one of absolutely everything that the catering staff had put out that day. When I'm now asked what my favorite restaurant is, my reply; "the Arsenal training gound" - although I'm sure Tottenham's is a'la carte.
The players seemed used to having visitors sit amongst them for lunch and while Ramsey and Sagna didn't look entirely thrilled about having my son Fred sit next to them to ask 20 questions, they, as with all the other pro's, had time for everyone and gladly signed shirts and posed for snaps. There was one guy who went particularly out of his way, even going on hands and knees to sign Billy's shoes as requested.
I was really impressed with Kieron Gibbs, a player that vitally cleared a Hull chance off the line that would of sent the game to 3-0 and arguably out of there reach and has also flirted with the England set up and is quite unlucky that for what our national team lacks in other positions, seems to make up for with an abundance of very competent left backs so he was unlucky to miss out on Brazil this year. Gibbs went a step further than most, made conversation with Tomas, asked him how he's day had been and made sure he had everything he needed. He even went and rounded up a few other players to sign Tomas's shirt. His effort was truly noted and he certainly earned a huge amount of my respect that day and no doubt endeared himself to Tomas as one of his firm favorites in the process.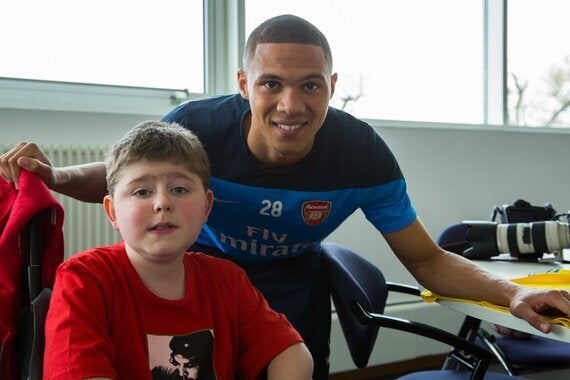 So I had witnessed one of Sports Connection Foundations 'Sporting Wishes'. A hugely sentimental and significant occasion for Tomas who will treasure his shirt and photos with the players for sadly as long as his illness allows him to. Huge credit to Arsenal on this occasion, the staff acted admirably, well done to the players for appreciating how much weight even a moment of their time meant to people and to the charity for putting It all together. I hope they continue to be able to provide their services and for those that want to know more visit www.sportsconnectionsfoundation.com for more information.
I happen to know the charity are desperate for people to donate money so they can help more terminally ill children like Tomas and they also really need individual's and companies to adopt them as their charity of the year. Maybe you could hold a fundraising event for them? I'd certainly do my best to attend if you were.
Popular in the Community