I've just got back from a rather fortunate week of employment in the Maldives filming a competition for This Morning which a few of you might like to enter when it's shown throughout January, but only if complete relaxation and amazing food in paradise is your kind of thing?!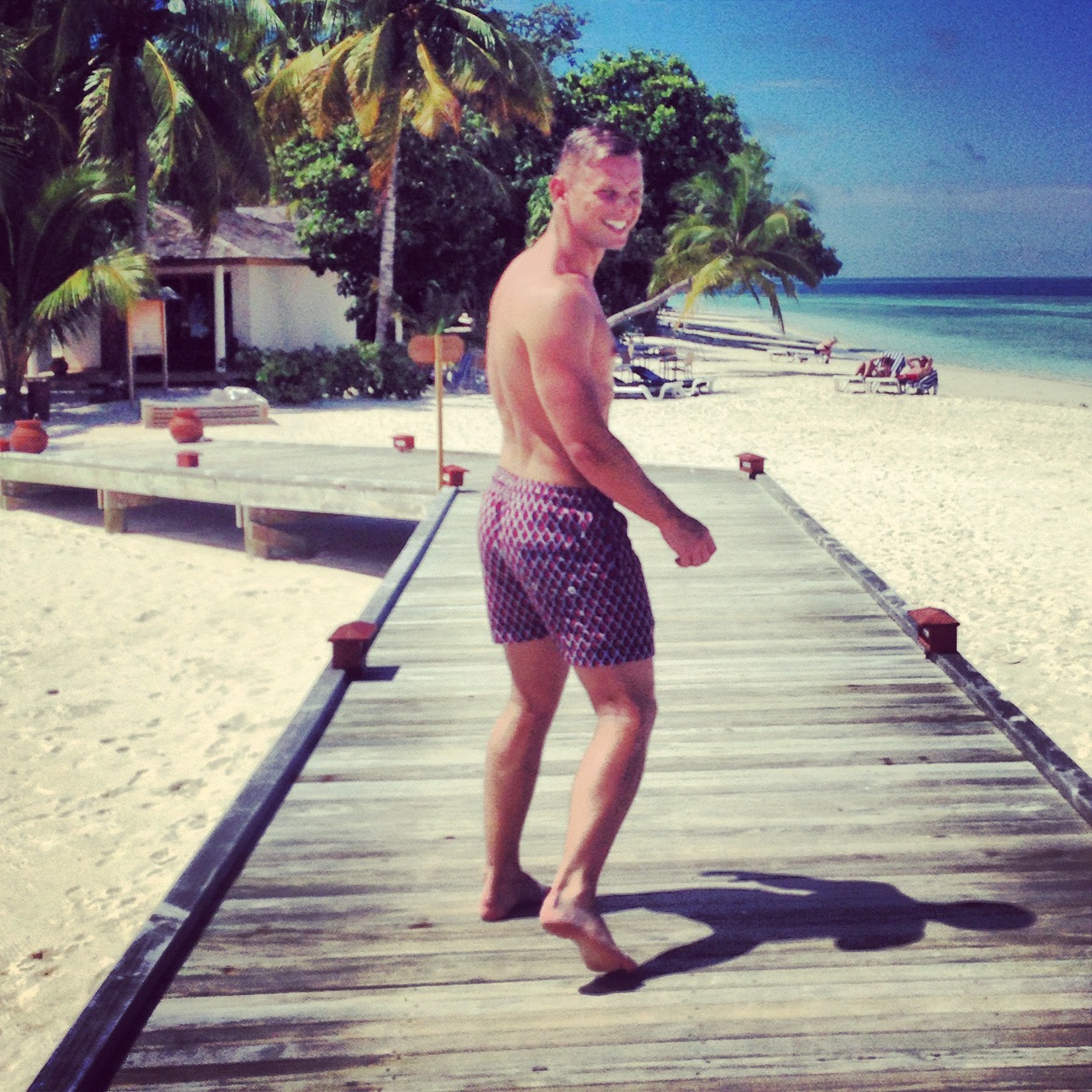 Me in the Maldives
We stayed on a remote Indian Ocean Island resort called Villamendhoo and even though we were 'busy' erm...working? It was ridiculously perfect. To pick out a few highlights, snorkelling alongside a manta ray three times the size of me, staring up at the stars each night, winning the surprisingly competitive 'staff v guests' football game (which in a stupid way made me feel like I was representing my country) and then...
The most perfect gesture, an act of kindness - teamwork that gave me a huge surge of pride and purpose that given the perfect surroundings made me feel as satisfied and fulfilment as I have been for a long while.
To start at the very beginning, in the summer I ran a Twitter competition proposing to my followers that I would travel anywhere in the UK to cook dinner for the winner, it was a brave and ambitious move, potentially stupid depending on who out of the thousand or so entrants won! Well this is where the eerily fateful adventure began.
My Twitter competitions are always run fairly and as I had expected the winner - the person to answer my question ahead of everyone else - was geographically far from local. Ironically I had worried the winner would be local, as I feared the occasional and unjustified cries of 'fix'. I needn't have worried though for I was off to Stockport in Cheshire some 250 miles up the road. Nobody cried fix.
I was obviously forgiven for being instantly curious to learn more about the people I would be cooking for, questions like: "will it be a group of young girls?" were not only on my mind but also becoming the main line of inquiry from my girlfriend...
In the initial exchanges between the female winner and I, a nurse no less (oh no, women in uniform!) I was relieved to learn that the winner Hayley was not necessarily going to be too interested in me in THAT way because Hayley and I had something in common, we both had girlfriends called Nicola! Suddenly my girlfriend approved.
My arms full of food shopping Nicola and Hayley welcomed me in to their warm and inviting home and I met all of the family including a five-year-old chap called Matthew who has Cerebral Palsy, a coincidence considering my brother Spencer has CP too.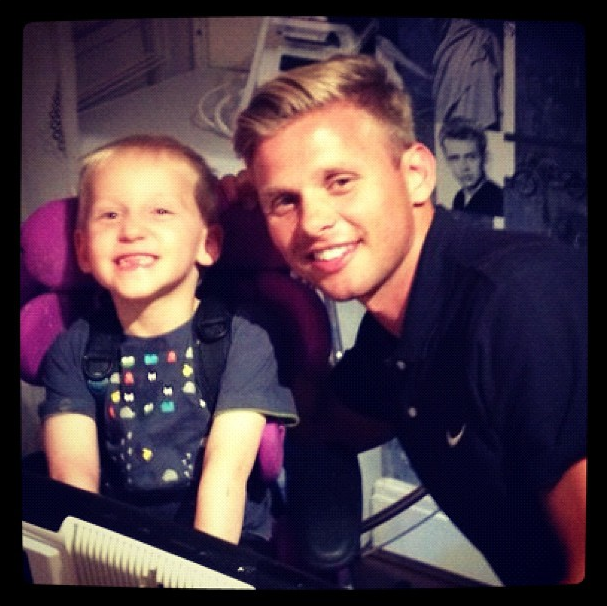 Me and Matthew when I met him back on the Twitter comp day
I had a lovely time making dinner for the gang but on my long drive home late that evening it dawned on me that there might just have been a special reason why Nicola won the competition in the first place, and why it led me to meet Matthew.
Matthew is a great lad: cute, happy, determined. I learnt of his wishes to be able to play out in the street with his brother and friends while they play on their BMXs but although the family were trying to raise the money, the £1600 required to buy a specially made trike was a long way off, maybe that was my purpose on this occasion? Could I help?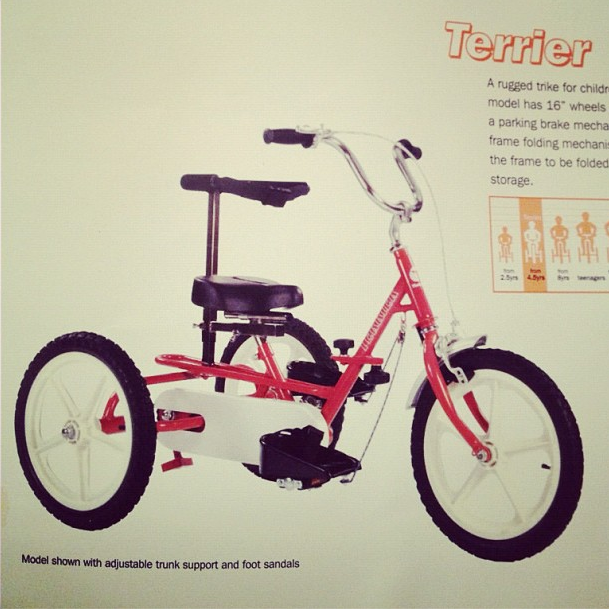 Matthew's trike
Christmas started to creep up and I finally decided to attempt to raise the funds through Twitter while I was in The Maldives, one day at sunset after we had finished filming. It wasn't my first choice of ways to generate the money; I intended to stand in my local supermarket bag packing until I achieved the figure; but in order to get the trike before Christmas Day it needed to be more instant because time was now a real factor. Supermarkets will only allow you to collect money if it's for a registered charity, not an individual cause, so I thought I best get on with it in my own way.
I had raised money on Twitter before to great effect by posting a link to my justgiving page. I cycled 400km through Sri Lanka in October and raised just short of £4000 thanks to the kind donations received from only 0.3% of the amount that follow me! Imagine if a different 1% donate every time I climbed a mountain or run a marathon, we could raise tens of thousands every year for a variety of causes.
That evening I proceeded to tell whoever was listening about Matthew's situation and hope that people would help.
Fortunately many did. What followed was an instant, incredible and slightly unexpected show of support. After just four tweets highlighting the necessary information I spent two hours watching many heroically come forward without hesitation to make Matthew's Christmas very special this year.
I think the vast majority of people on Twitter wouldn't actually object to someone attempting to raise awareness or funds for a charity via their Twitter account but sadly there are one or two that took offence. "Why don't you just pay for it yourself, you're loaded" was the response from one person. Missing the point sadly.
I think it's fair to say that on Christmas Day when a little boy receives something that will grant him a recreational independence he hasn't previously had, should the parents grant permission, I will share a photo of Matthew smiling from ear to ear, deliriously happy and for those who chipped in it'll feel like the best money they have ever spent. This is why I, actually this is why anyone does what they can when they can to help others.
Hopefully Matthew will look a little like this on Christmas day when he receives his present generously donated from all of my twitter fans
I appreciate that as far as giving to charity is concerned whether it's me or a man collecting with a bucket, there is no expectation. We are both hopeful that someone who does have some spare change walks past and is in the mood to part with It. My advantage is I've worked out that Twitter doesn't just have to be about people telling everyone what they had for breakfast, it can also be used as the modern way of standing outside the shops with a bucket, just much smarter.