To celebrate reaching 300,000 followers on Twitter recently I proposed to set a competition entitling the winner to a terrible fate, to put their lives into my hands by allowing me to visit their home and cook them and their friends a meal. Trust was the key issue here but surprisingly a good few thousand Individuals entered for the right to see me chopping and dicing In their kitchen.
A very unique prize as far as Twitter is concerned, it was also a massive gamble on my part. I promised in a tweet that "no matter where the winner lives in the UK, from Lands End to John O'Groats, I will travel by rail, road, boat, hovercraft, plane or parachute to honour my promise".
Fearing someone in Essex would win (to the collective cries of fix) I was as relieved as I was concerned when a young lady called Nicola, a community specialist practitioner from Stockport in Cheshire was first to correctly respond to my question.
"Blimey how far is that?" I thought - Oh only 200 miles! Stockport was a town I had never had the pleasure of traveling to but I'm very pleased to report they have a lovely Sainsbury's which was a relief as I wasn't organised enough to have brought the ingredients before I set off. In fact I had travelled directly up the M1 from a successful round of golf where my friends Coops and Rains joked that I should leave the winners address with them incase anything sinister took place and I failed to return that night!
They questioned If I was brave or stupid to be so au fait with rocking up at a strangers house to help myself to all the utensils and appliances before sitting down to eat with some people I had only ever direct messaged on Twitter. I guess they were right, Nicola and her gang could have been a right handful, so with doubts racing through my mind I arrived in an ordinary street adjacent to a hospital. I wondered if these guys were nurses, I like nurses though.. they're almost always lovely and caring aren't they? and besides, ordinary streets with ordinary houses are inhabited by ordinary people, or so I hoped...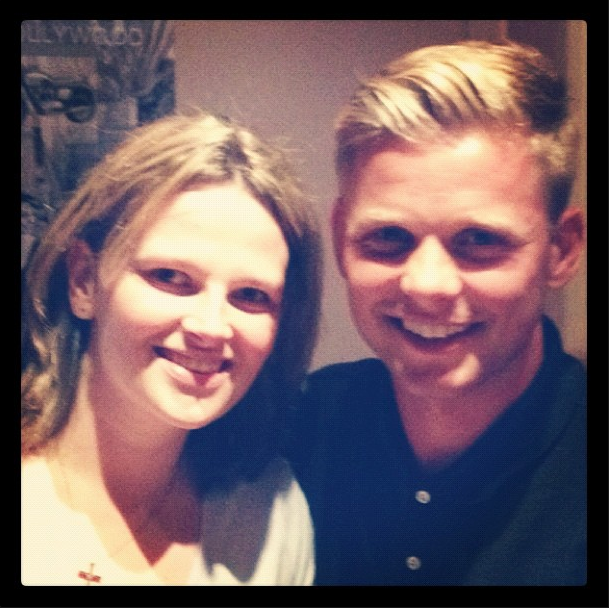 Me and Nicola, the winner
I was met by a young lad who came racing over to greet me, it transpires he's James (or Jim If you wish to upset his mums) "It's Jeff Brazier!" the eight year old cried before legging it off to play football as bothered about meeting me as any eight year old should be (not very!) Nicola, also a paediatric nurse and our competition winner, came out to greet me and I was promptly introduced to her partner Hayley, a special school & paediatric nurse and the rest of the guests, Caroline, Claire, Lynne and a very special lad called Matthew.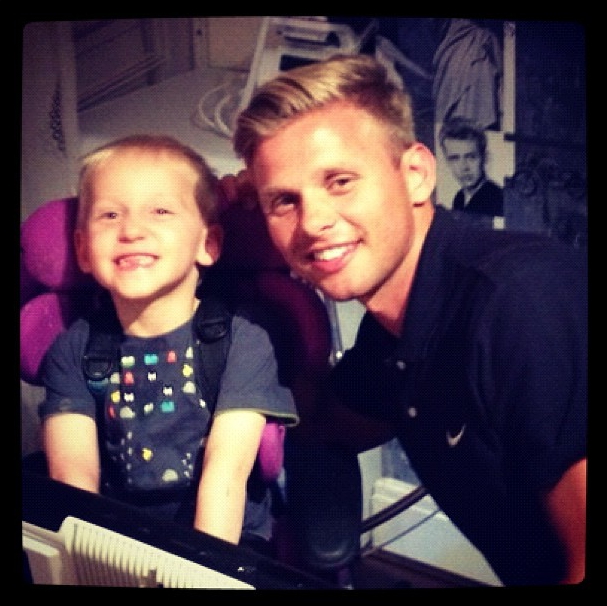 Me and Matthew
I'd inquired about the numbers of guests and any dietary requirements before hand which was sensible so I knew there were many mouths to feed and shopped accordingly, there was enough food, so far so good! No sooner had I been made a cup of tea for like all good northern households would, I was straight into the kitchen to get to work.
I didn't want to have everyone waiting too long so I chose my dishes wisely and with a 'come dine with me' joint winners medal (certificate) in my trophy cabinet (loft) I knew how to turn a good meal around in no time. For starters, orange salad consisting of shredded Carrots, Mint, Clementine pieces, toasted pine nuts, Olive Oil and Lemon Juice.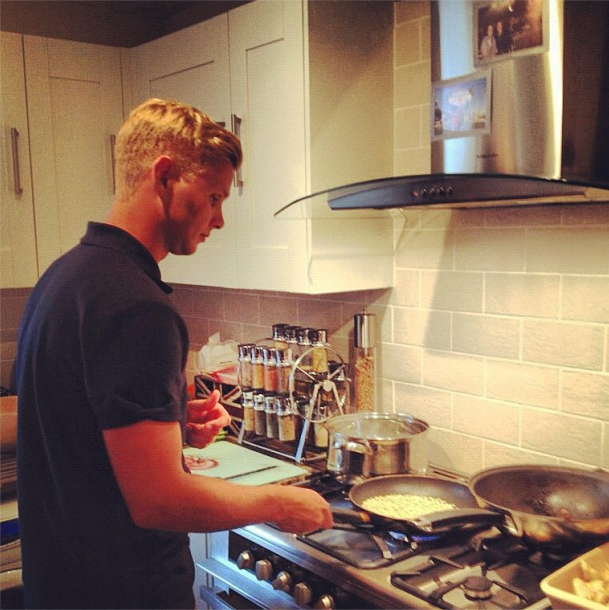 Me cooking up a storm
For main: sliced chicken breast with mozzarella balls and sun dried tomatoes. (Honestly I cheated by just whacking the mozzarella and sun dried tomato concoctions that you get from the supermarket and after sealing the chicken whacking it all in an oven proof dish together) accompanied with Potato 'Champ' (new potatoes lightly crushed with lots of salt, pepper, Olive Oil and Spring Onion.)
I will always believe that everything happens for a reason, too many coincidences occur in my life to ever feel any differently. I'm not surprised Nicola won the competition because I would like to consider it fateful that I should meet this family especially seeing as young four year old Matthew has Cerebral Palsy, the same condition as my brother Spencer.
We talked mainly about Matthew's future, the eye recognition computer equipment he is using to play games on, which is building up his ability to communicate using the device in the not so distant future. We also spoke at length about Matthew's incredibly close relationship with his elder brother James who I guess represents me when Spencer and I were younger and was relied upon to communicate on his behalf, as James instinctively does for Matthew.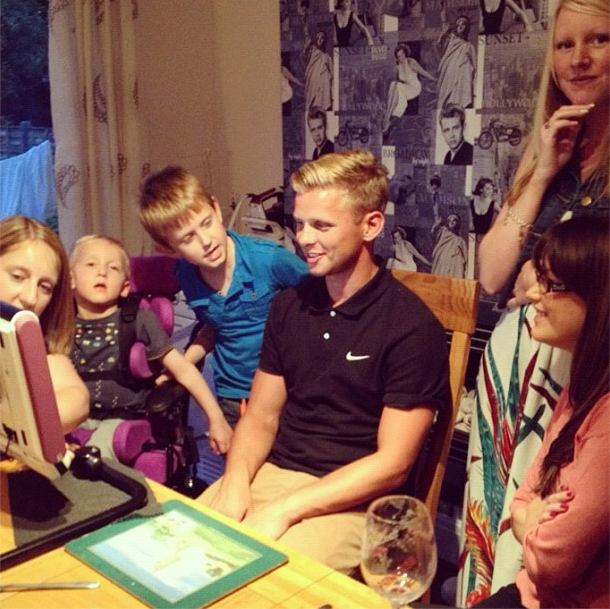 Me and the gang as I try out Matthew's eye recognition equipment
It was interesting to discuss how this effects James, because of the focus that is often placed on Matthew's physical requirements, and it was great to be able to share some of my own experiences from our childhood so that these caring and forward focused parents can maintain a balance for both children. Yep I had landed in the right house not just because everyone was great company or because there were many things shared in common, but mainly because I will be able to help fundraise for Matthew's first bike the 'terrier hitch' by Independence cycles by competing in a triathlon In his honour.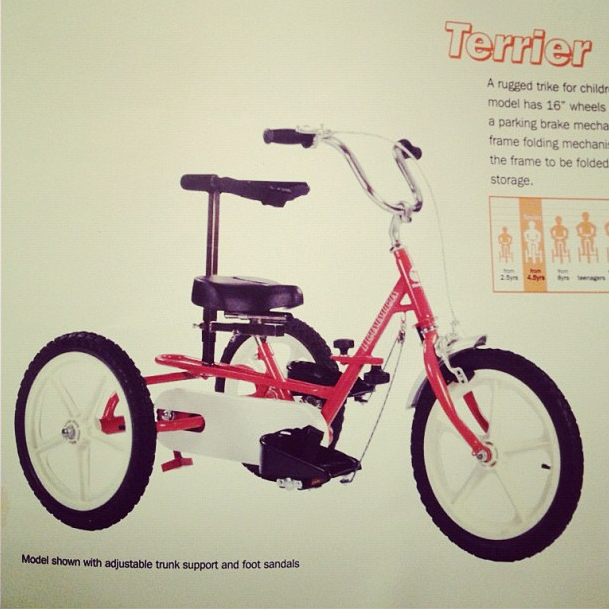 The Terrier hitch bike
The six hour round trip was very much worth the effort. I'd had a great night, met some special individuals and wasn't held captive, handcuffed in the basement against my wishes. So, although at a point it seemed to those around me that this was one crazy competition too far, I'm glad because It has introduced me to Matthew and now I have some fundraising to do!
If you want to help Matthew to experience what it feels like to ride his bike up and down the street with his friends where he lives just click on the link and sponsor me on my forthcoming triathlon. Thank you in advance.
P.S. Of course I didn't deny them dessert! We had Pineapple, Raspberries, strawberries and blackberries and mascapone with chopped nuts sprinkled on top. The boys loved it so my mission was complete!