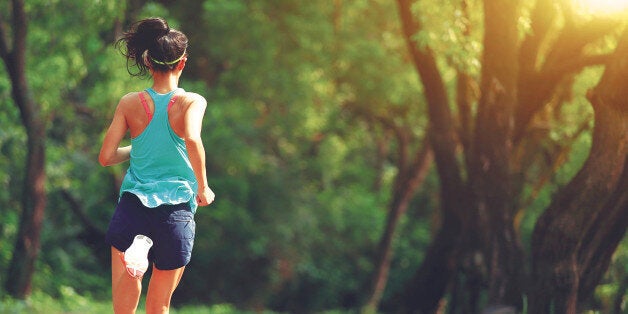 More of us are trying to get fit than ever before. We've all heard about how we can use technology to track things like our heartbeat and number of steps. But what about beyond that? Now technology gives us more fitness opportunities from ever before. Helping us do everything from workout in our pyjamas to join in with a zumba class in the back garden. Forget workout DVD, these tech hacks take fitness to the next level...
1. Belt Up. Slendertone has been around for ever but the newest version is designed to get the most of your technology. The Slendertone Connect Abs is an update which keeps the product relevant in today's expanding fitness market: while the core product (which uses EMS technology to activate core muscles) stays the same, this one hooks up to your smartphone; with an app that acts as a personal fitness trainer. Perfect for getting abs while binging on Netflixs.
2 . Use a webcam. Using a webcam to connect with a personal trainer is the latest tech crazy. Fitness Angel aims to reach out to those that can't afford traditional person training but offering them the chance to save money by connecting with webcams instead. Perfect for those who want tailored support from their living room.
3.Stream classes from your phone. The new Wireless App (Coincidentally named 'Wireless fitness' ) allows users to stream a voice of a class instructor and exercise music into their headphones- allowing you to join in with classes on the go. Perfect if you are motivated by exercise classes but don't want to make a fool of yourself during Zuma.
4.Get Motivated Have you ever wondered just how long you'd have to walk to banish the kebab you ate on the way home? Like everything these days: there's an app for that. App movesum is a pedometer after our own heart: it tells you how many steps you've burnt in food equivalent, e.g how many burgers you can have after ditching the bus and walking to work.
5. Invest in a fitness monitor. Pedometer apps are fine for a casual walker but when fitness gets serious, turn to a tracker. IFit offers a range of upmarket, beautifully designed gadgets that monitor everything from number of steps to number of times you wake up in the night.
6. Locate fitness classes at the touch of a button. Got to Train is an app that promises to locate the nearest fitness classes or a personal trainer when you are on the go: perfect for people who travel a lot of work or leisure and can't commit to a gym yet still want to stay fit.
Popular in the Community