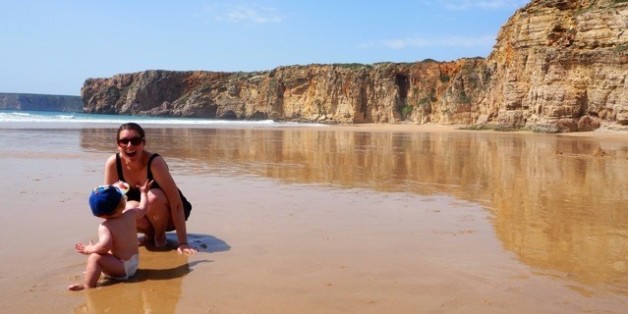 Travel As They Grow

Do you sit in the office stare out of the window and think 'is this it'? Do you then think about your rent, mortgage, bills and social life and then think 'what other choice is there?'.
This used to be me, staring out onto the street, tapping away at budgets and spreadsheets, and wondering what was next. I was not content with life and to be honest I never really have been. Travelling after university had changed me, but things at home hadn't. I found it difficult to sit back in the office and not yearn for something more.
In the years leading up to our big decision I gave the 9-5 my best shot. My husband and I moved to Bristol, took on a mortgage and secured stable office jobs. We travelled a bit, but only during designated holiday time. It didn't quite match up to our need to wander and when our baby, Ethan, arrived I felt we needed a change.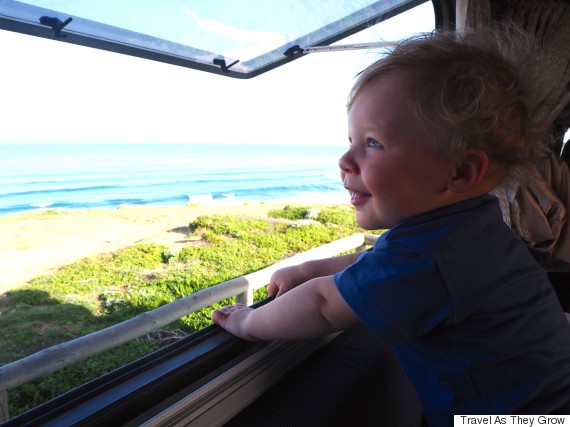 I'd had nine months off work, living a new life of baby groups and weaning, and got quite used to not being a slave to the laptop. When it was time to go back into the office and 'back to reality', I was a changed woman.
All my money went towards extortionate nursery fees and I found it mindboggling that I paid someone else to look after my son, while I stared out of the window wishing the day away until I could pick him up. The baby I'd waited so long for, to basically just put him to bed. I wanted something different.
It was a big risk to admit that this wasn't the life I wanted for myself and my son, to my husband Terry. I knew our lives would change as soon as I told him. He hated his commute to work and was out of the house 7am-7pm, sat at a desk all day, doing something he semi-enjoyed, only getting up from his desk to go to the printer.
Within 24 hours, our decision was made and our whole life turned upside down. We decided to sell our house, quit our jobs and go travelling, in a motorhome! And for the first time since Ethan was born, we were invigorated.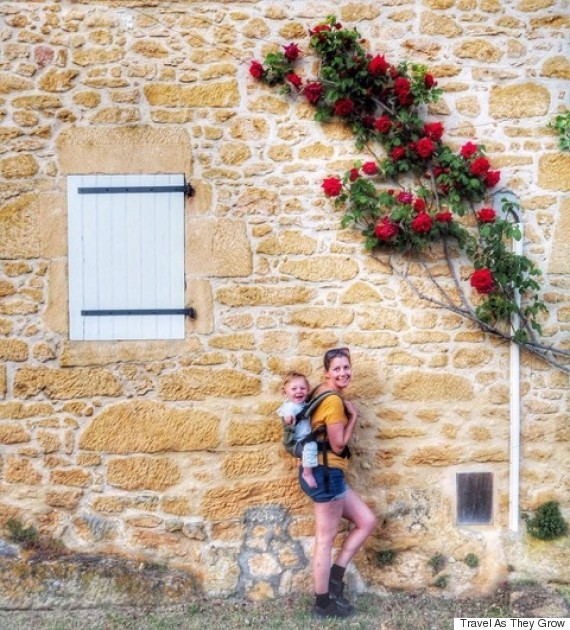 Our plans were all over the place. We thought about volunteering in Costa Rica, road-tripping through America and sailing through the Bahamas, but decided that Europe was the best place to start. We were going to travel Spain, Portugal and France first, add in some voluntary projects to meet some cool, like-minded people, learn new skills, whilst living in a motorhome for who knows how long.
I'd only been back at work for a few days when I handed my notice in. I told my boss I didn't want to say goodbye to my baby every day to sit in the office and discuss how we can make more money.
Terry waited until we had actually exchanged contracts on our house before he handed his notice in. He walked out of the office on his last day, took a deep breath and hurried home for our final celebratory, 'oh my this is f'ing mad, we actually did it', curry takeaway.
It took us three months in total to finish up our jobs, put our house on the market and sell everything we owned. We boxed up a few photo albums, some of Ethan's baby clothes (I'm soppy like that), and a few travelling memorabilia. Everything else we owned, we sold. It could all be bought again. Well, that's what I kept telling myself over and over as I realised we were giving away everything we had just built up in the last few years. Once we handed over the keys to the new owner, our new house was ready and waiting on the driveway for us.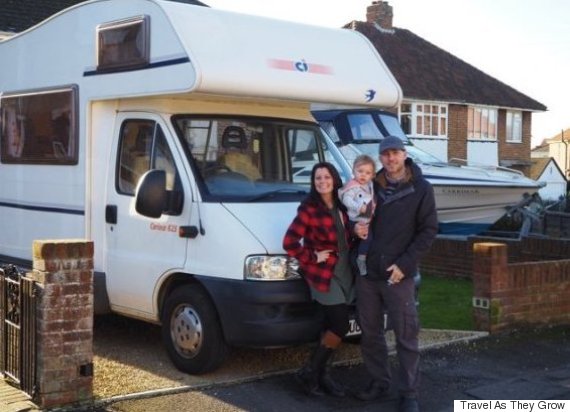 Our first few weeks were... how to put this... testing. At the same time as visiting new places, experiencing new sights and taking pretty pictures, we were also living the complete opposite to our life just a few weeks ago. We now live in a 6.25 metre long motorhome, with a bathroom you can barely turn around in and a bed that takes at least 15 minutes to put together. Add to that a crawling, inquisitive 16 month old who just wants attention and food 24/7.
We've certainly learnt the art of patience. We've learnt to listen to each other, respect each other's way of doing things, and that nothing happens quickly when there are three of you to get out the motorhome. But, waking up without an alarm, snuggled up to our little boy, with beautiful views out of the window and no solid plans for the day ahead, just with the knowledge that you'll do something cool together as a family, is totally worth it.
I can honestly say I have not looked back since. Not once have I regretted our decision. I am the happiest I have ever been. I'm writing this whilst Ethan and Terry are playing on the beach. Ethan's chuckling as he chases Terry with his much-loved bucket and spade.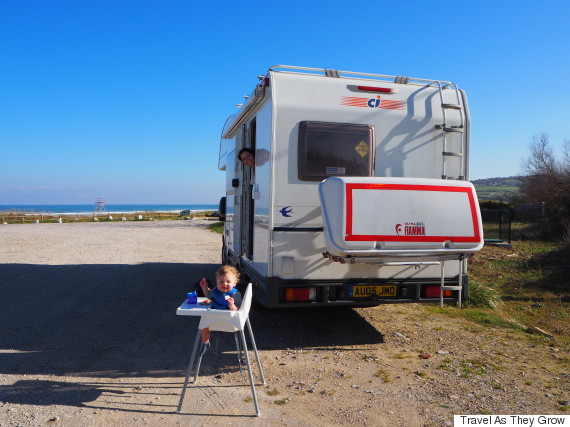 Ethan took his first steps alone next to a castle in Portugal, touched his first piece of snow in the Picos de Europa mountains, said his first word (wow!) on top of Europe's highest sand dune in France, rode his first metro in Barcelona, and chased his first wave on a paradise beach in the Algarve. His and our lives are full.
We have no real plans for the future and while most people would freak out at not having a solid plan for work and a home, it sits ok with us. The UK is filled with unnecessary pressures - mortgage, bills and hours of traffic - that we have come to dislike.
For others, this whole journey may seem bizarre, brave, or just darn stupid - we've been asked why would we ever give up a house in such a crowded market? Why would we risk Ethan's future? And also been told that our son won't remember any of it anyway, and it's selfish!
It may not be the most sensible thing to do, but who says sitting in an office all day, wishing the day and week away until we get two days rest, before dreading Monday, is the sensible way to live? Not me.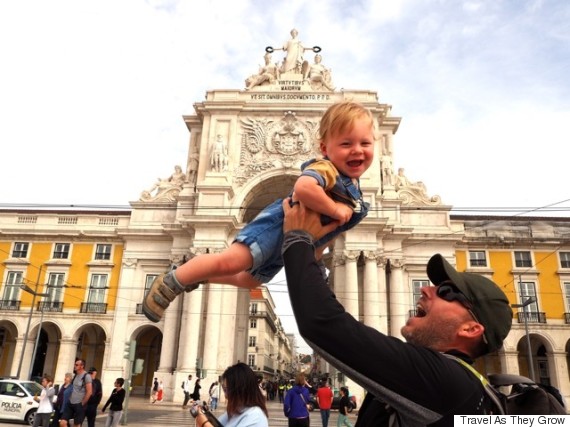 Life is meant to be lived being happy, and enjoyed. And at 16 months old, and growing by the day, we are ready to enjoy every minute of watching him grow as we travel the world together. We're not saying it is going to be easy and we're not well off people, but we have ideas of how to make enough money on the road to support ourselves.
We're also not saying it's going to be forever, we do need to provide Ethan with schooling further down the line, so big decisions will need to be made. We dream of owning our own little piece of paradise somewhere in the world, but we just don't know what the future holds for us yet, and I've got to say that feels pretty exciting.
To follow Jennifer, Terry and Ethan on their adventure visit their blog Travel As They Grow.
Life Less Ordinary is a weekly blog series from The Huffington Post UK that showcases weird and wonderful life experiences. If you've got something extraordinary to share please email ukblogteam@huffingtonpost.com with LLO in the subject line.