When I think of ending violence against women and girls, I think of women that I met in Bangladesh many years ago, on my first ever work trip to a developing country with ActionAid. I was interviewing women garment workers in Dhaka, who told me about the unbelievably tough conditions for poverty pay in supply chains to UK supermarkets they work in.
But on top of this, there was another common thread to all the stories I heard - women were facing the daily threat or reality of violence - in the workplace, at home, on the way to work.
The Bangladeshi women's stories have stayed with me, but what also stuck with me is their defiance. And their courage to organise themselves, in this case as part of a women-led trade union, to fight back and demand better. But that comes with risk. In a new survey published today almost two thirds of women's human rights defenders (62 per cent) say they feel less safe than they did two years ago and of these, 19 per cent said they felt much less safe. Of those who said they felt the same or safer, over half still reported cases of harassment or threats.
As Thulisle Msiza, a South African activist and Director of Ekurhuleni LGBTI (lesbian, gay, bisexual, transgender and intersex) puts it: "It seems that as lesbians we cannot go anywhere. We cannot be ourselves. We have to hide ourselves, otherwise we get killed."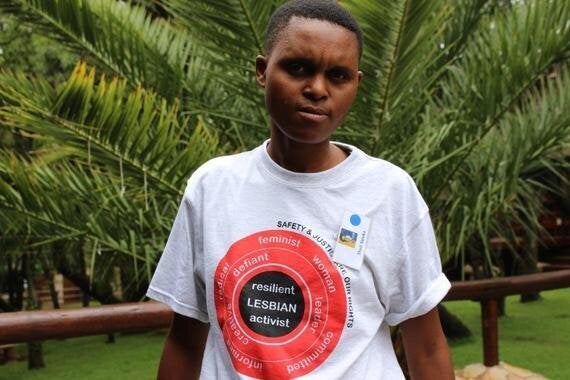 Changing this is why today ActionAid UK is launching our new campaign, Fearless. With one in three women facing violence in their lifetimes, this is an epidemic that still needs urgent action. Violence locks women into poverty - robbing them of choice and control over their own bodies and lives. The scale of abuse that women face is shocking, and the impacts are profound.
But there has been progress. The women's movement has won many battles to tackle violence against women over the last few decades, particularly in getting landmark conventions, laws and agreements in place both at national and international level to tackle the problem.
These are proud achievements. But they're not yet having the impact they need to. We need to take our lead from the Fearless women who are making a difference to know where to go next in this struggle.
Najiba, a trained paralegal who is at the frontline of supporting women's rights in Afghanistan said: "The power and the authority of the warlords and the people in power are an obstacle. All the laws that exist in our country to protect women - none of them are being implemented. The international community should monitor whether the laws are being followed. They need to do more than speak, they should follow up, they should see. They can't just give us words."
Najiba has helped to resolve more than 100 cases of violence against women in Afghanistan, often putting her own safety at risk.
But we have found that the opportunities for change spearheaded by women like Najiba are constrained by shrinking civil society space, widening inequalities and rising religious fundamentalisms - alarming global threats that hit women and girls hardest and first.
Our research has found in a study of 70 countries that women are almost twice as likely to experience violence in countries that have weaker civil rights than in countries with a stronger civil rights framework.
Now we have a moment in time to take the next step in this struggle. The Sustainable Development Goals to be agreed this September at the UN will agree a target for the elimination of violence against women and girls in every country. This is welcome. But it's not enough.
That's why here in the UK we are calling on the UK government to take action. They must do three things - champion the implementation of this target, put women's organisations at its heart and the energy and experience of fearless women like Thulisle and Najiba at the forefront of its implementation, and ensure that this effort is properly financed. Without these elements, warm words and commitments at summits will ring very hollow to millions of women around the world facing violence.
This is action that cannot afford to wait. We cannot afford to miss this moment. If we do, women and girls will continue to pay with their bodies, their choices, their opportunities and their lives for generations to come.
Related