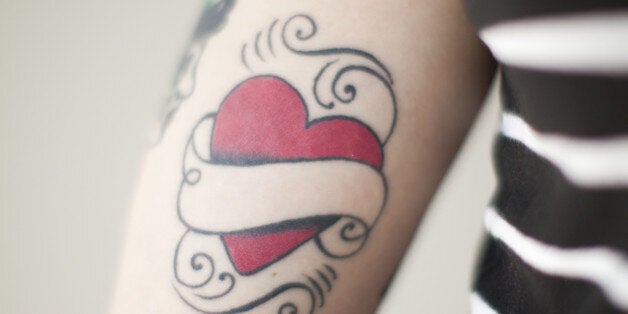 "I wanted to get a tattoo, I think to have a physical connection still with him. Yes, I claimed a hoody and a favourite shirt of his, but I wanted something to represent the fact that our love never spoiled. Something that marked me as his. I think if I was thinking rationally at the time, that's how I would have put my feelings into words."
24-year-old Kelsie has experienced more than her fair share of grief and heartbreak. When she was 18, just starting university, her boyfriend Tim suddenly died.
One frosty January morning, Tim woke with a start, realised he was late for work, quickly dressed and ran through town. His journey was swiftly halted when he suffered from a cardiac arrest caused by an undiagnosed heart condition - cardiomyopathy - and died.
"All of a sudden, my blissfully naive existence was shattered," remembers Kelsie. "I spent every waking moment trying to recall every conversation, every glance, every insignificant detail about my soulmate who had been so cruelly taken from me."
Kelsie made the decision to have a memorial tattoo in honour of Tim. Just like a growing number of people in the UK, she felt that it was an important way of remembering the person she loved, of having a permanent connection to him.
Tattooing is an ancient practice, but many modern-day Brits are embracing the art of body modification, 21st-century style. Studies suggest that one in five of us and almost a third of 25-39 year olds have a tattoo.
Grief affects people in unique and sometimes unexpected ways, and everyone has different ways of coping with bereavement. The practice of permanently marking our bodies to memorialise a loved one is not a new invention, and has been used for centuries to acknowledge the heartache of losing a loved one. Margo DeMello in The Tattoo Project suggests that memorial tattoos are as old as the art of tattooing itself, citing Hawaiian tribes who for centuries have tattooed their tongues in remembrance of community members. An intensely painful procedure, the practice represents a physical manifestation of the pain of grief and a permanent reminder of that important person.
Physicality is a huge part of what makes the memorial tattoo emotionally significant. First and foremost, it is permanent and cannot be removed, save for painful and expensive procedures. When the death of a loved one makes life feel uncertain and transitory, many bereaved people find comfort in stability and permanence - reflecting our love for someone lasting forever. The idea that a tattoo will mark our bodies for the rest of our own lives is also a symbol of defiance against decay and death.
But more than this, memorial tattoos are a chance to tell a story about what is happening in our hearts - to make what is inside us outwardly visible.
Phil, from Stratford-upon-Avon, tells me about his memorial tattoo in memory of his grandad: "This is a crown I got on my forearm. It reminds me of playing chess with my grandad when I was young.
"It constantly reminds me that no matter how big the challenge in front of me or how tough my competition, if I'm smart and patient there is always a way to succeed. It's the best life lesson I was ever taught."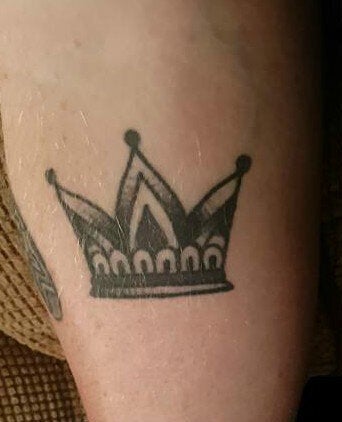 Phil's crown design, in memory of his grandfather.
For Phil, tattoos are clearly more than just a superficial decoration. "I also have an anime symbol, that was used as a symbol of brotherhood," he says.
"I got it done as a representation of my relationship with my little brother. He has severe autism and constantly checks that it's still there."
Like Phil, Alexandra, from Birmingham, has a memorial tattoo for a special grandparent. The elephant design on her leg is in tribute to her grandmother.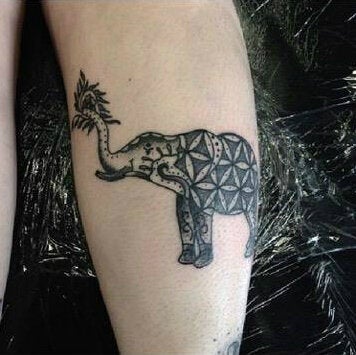 "I had quite a few tattoos already so I wasn't concerned about the permanency or the pain," she says. "I think it was just important to have something tangible related to her on my person at all times, given that spending so much time with her when I was younger forged a massive part of my personality.
"She used to wear an elephant brooch and left it to me. It's a subtle way to remind myself that I come from a line of strong women without having something too cheesy or overt tattooed on me."
Like Phil and Alexandra, Kelsie chose a symbolic tattoo, inked on her ring finger, to remember Tim.
"Tim's mother officially banned me from getting his name tattooed on my body anywhere, no initials, nothing," she explains. "In hindsight, this was a very good point, mainly because if someone asks me about my tattoo, I can make the choice of whether to honour them with the true story or not.
"I decided to get the infinity symbol. Not only did it represent the fact that Tim will forever be important to me, but it is also similar to a figure 8, which was Tim's lucky number and birthday.
"I had read that it was once believed that the ring finger was chosen as such because it had a vein that ran directly to the heart. This is the finger that you wear an engagement or wedding ring on, and that seemed the perfect place to symbolise the fact that our love will always remain constant.
"It's no bigger than one centimetre in length and half that in width, and remains my one and only tattoo. Even though it's on my finger it isn't immediately obvious, and I like that. I believe tattoos should be a narrative, and I love that I can catch a glimpse of my own and it can instantly recall a life with a man I was lucky enough to know."
Related