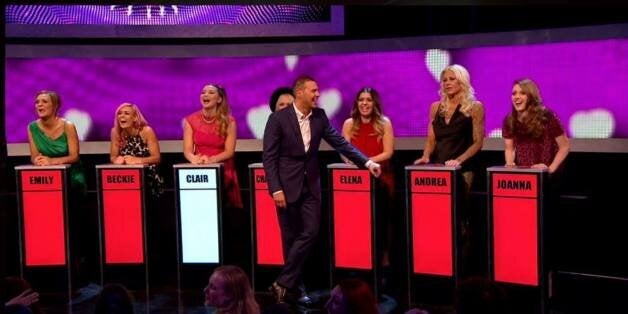 This February The Huffington Post UK is running Making Modern Love, a fortnight-long focus on what love means to Britons in the 21st Century. Built on the three themes of finding love, building love and losing love, HuffPost will feature human stories that explore exactly what it is to be in love in modern times

It is a couple of weeks since my Take Me Out episode aired and I am still asking myself why I did it.
Being one of 30 girls all fighting for the attention of one man doesn't exactly sound like a recipe for love, but it is the basic premise of the show - which I recently appeared on, against my better judgement.
Meeting someone in real life is a lost concept on me after living in London for almost three years and I have (unsuccessfully) tried all the apps, from the standard Tinder and Bumble to more left-field options like 'Coffee Meet Bagel'. Going on TV to be paired up with someone seemed almost like the next natural step in my dating life.
I applied to appear on Take Me Out purely out of boredom, never thinking I would get an audition - let alone end up on the show. I never considered myself the "typical" girl for the programme, therefore I was not expecting to hear back. And yet, a few weeks later I was on the line up as a member of the original "Flirty Thirty" girls, competing to find love with whatever interesting (and interested) man comes dancing down the love lift.
The first question people ask when I mention being on the show is "So, did you find love?". My response? Of course not, and I didn't expect to. Sure, in the back of my mind I secretly hoped my dream man would come down that lift, after a few guys I started to realise that it wasn't happening and it was time to try and win a date and just have fun. From my experience TV dating is not a format where you look for love, it is meant to be taken as fun and to be as much of yourself as you can with cameras everywhere.
Getting to meet someone new is always a fun experience in my eyes, and as a result dating is rarely awkward. As it turned out, my TV date was probably the most uncomfortable dating experience I have had. Choosing your paramour based solely on their looks isn't too different to Tinder, but at least I usually have a few days' chat before engaging on a date, never mind jetting off to Fernando's together.
We all know that first dates are usually quite nerve-wracking - now imagine being filmed by a camera crew with a microphone recording every embarrassing word that comes out of your mouth. Did it feel natural? No. While the date wasn't scripted, there was plenty of off-camera prompting from producers hoping to spark some romance - which tends to make you think the date is going better than it is. Although maybe if the date was going better, the prompting may not have been required...
It is possible that I went on TV due to a millennial craving for social media approval - or at least acknowledgement that someone finds us attractive. Every Saturday night, I found myself obsessively monitoring Twitter and Facebook, looking for a comment about myself or someone trying to troll me. As satisfying it was to receive positive comments, the desperate need to find someone commenting on my appearance or manner was unhealthy and I couldn't be happier to have social media silence now. Best of all were past dating partners that got in touch after seeing the show, which I have to admit was gratifying - especially when I realized I was no longer interested or excited by their messages.
So where am I now? For the next six months I plan on not dating at all and focusing on myself. TV matchmaking has made me realize how fickle the dating market is. After all, they paint a picture of romance in Fernando's, but I was one of the unfortunate few who ended up getting rejected on national television. My Take Me Out journey might have come to a slightly painful end, but it helped me make up my mind to delete my dating apps and go down a more conventional route of maybe, just maybe, meeting someone in person.
Popular in the Community