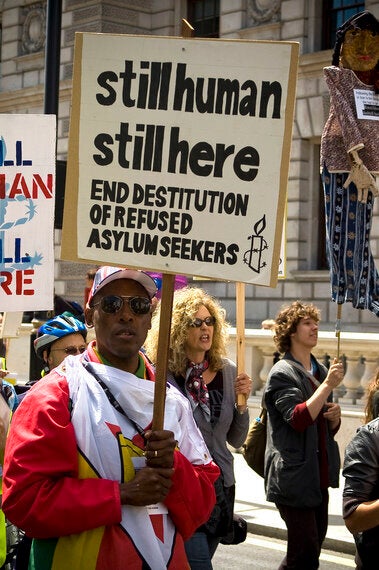 Unable to put his anger into words after visiting the deplorable Traiskirchen refugee camp near Vienna, Austrian Raoul Haspel decided he didn't need words.
Haspel's Schweigeminute - a wordless moment of silence that has now topped the music download charts in Austria and Switzerland - offers both an opportunity to protest Europe's scapegoating of refugees in response to the crisis, and reflect in silent empathy and shared humanity on their suffering.
Given the magnitude of their suffering, this minute of silence is deafening. Given the EU's response to the crisis, this long minute has the power to adversely change EU politics, foreign policy and history forever. It's one minute worth taking, to contemplate the fickle state of the hard-won but rapidly eroding European solidarity, and the EU's haunting loss of moral authority as fear of immigrants turns to mob violence and inclusiveness turns to xenophobia.
Europe's responses grow frightening
In this minute, the people of Heidenau have heard shouts of "Heil Hitler," again, as neo-Nazi arsonists torch yet another refugee shelter in Germany. There were 150 such attacks in the first six months of 2015, despite Germany's comparatively open stance toward refugees and Angela Merkel's efforts to create a coordinated European response - a response that the United Nations, understating the obvious, has deemed insufficient and has pleaded for a more humane and coherent strategy. "Let's not pretend that what the EU and its member states are doing is working. Migration is here to stay," said UN Special Rapporteur on the human rights of migrants, François Crépeau.
This same minute is filled with the ugly rhetoric of Viktor Orban about building internment camps for illegal migrants, a moment interrupted by the sound of tear gas being hurled at refugees along the Hungarian border where the fortress wall to seal the Serbian border is nearly complete. The strategy to shift the path of incoming refugees away from Hungary and towards Romania, Croatia and Bulgaria has led the Bulgarian Interior Minister to deploy armored vehicles and soldiers on its border to protect the country from the "apocalypse" of refugees.
This is the minute that threatens the principle of open borders of EU nations, that pits neighbors against each other in a "beggar-thy-neighbor" crusade against refugees where wide-eyed nationalism overcomes common sense.
In this minute, Slovakians, Poles and Czechs hear their leaders grudgingly agree to accept some refugees - but only if those refugees are of the Christian faith. In Macedonia, this minute holds both the screams of thousands of refugees, and of the baton-wielding authorities that confront them. It's been a long minute in Greece as refugees are blamed for economic woes, in France where they're corralled at Calais, in the unilateral stridency of Italy, and in the political rifts and Brexit threats of the UK.
Scapegoating refugees, shunning responsibility
And what's missing in this moment: the meaningful and moral response of European leaders ready to acknowledge that the influx of refugees is, in large measure, the consequence of Europe's own policy and foreign intervention failures. "While Libya continues to descend into chaos, and Syria and Iraq subsist in a state of bedlam," writes Middle East expert Ramzy Baroud, "both France and Britain discuss the problem of refugees attempting to cross into both countries as though the refugees are swarms of locusts, not innocent people who were victimised mostly by US-European wars." Baroud adds that those who wage war, including the geographically distant and "unperturbed" U.S., do bear moral responsibility.
"Not a single word about the western world's contributions to the wars in the Middle East," he says of this on-going European debate. To be sure, Baroud emphasizes cause and culpability, what commonly we might call blame, rather than outlining a road map for resolving the crisis. But blame is at the heart of Europe's immigration crisis response, and blame is making scapegoats out of the innocent victims of Syria, Iraq, Afghanistan and Libya.
London historian Andrea Mammone, author of the forthcoming "Transnational Neofascism in France and Italy," points out that these scapegoating trends of right-wing nationalism are not new. But a Europe whose modern history bears the still-fresh scars of the rabid search for scapegoats needs to write its own history of this long minute without neo-Nazi attacks, tear gas, and undue eschatological references.
If 'reaction' is all that far-right nationalism understands 'leadership' to mean, then finding victims to blame for social change or economic impacts will likely escalate as addressing the root causes fuelling the swell in asylum seekers are nowhere on the political agenda.
But there are other ways to fill this minute, and Mammone offers a solution I also advocated for in a previous post. His answer includes the equal distribution of refugees across EU member nations, increased investment to ensure their successful integration, and EU financial support for nations involved in the effort to rescue them. And one more thing: "the purposeful avoidance of rhetoric that supports division and breeds extremism," he adds.
"Until Europe learns to act as a single actor and embraces true solidarity among its nations, this will not happen - whereas these damaging and divisionary nationalist tendencies will see their strength flourishing," Mammone concludes. Banging the nationalist war drum is not in the interests of the European Union. It's not in the interests of the global community. It's not what Europe can choose, not for one more minute.