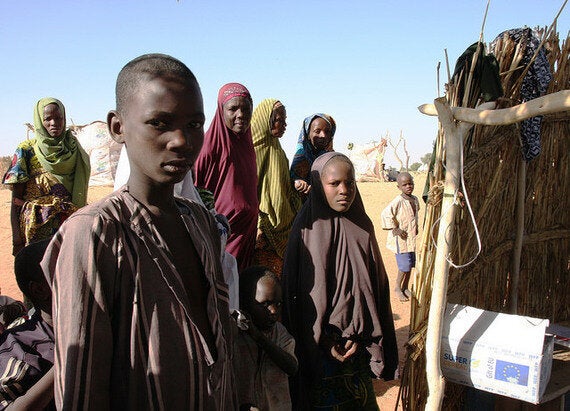 Following the announcement by Boko Haram's leader, Abubakar Shekau, pledging allegiance to the Islamic State of Iraq and Syria on March 7, ISIS responded in a similar tune a week later, broadcasting "the good news of the expansion of the caliphate to West Africa because the caliph... has accepted the allegiance of our brothers of the Sunni group for preaching and the jihad". Despite headway made by both the Nigerian Army and the regional task force composed of soldiers from Niger, Chad and Cameroon, in taking back Boko Haram strongholds, the most recent announcements have raised fears of a more powerful and well connected insurgency in north east Nigeria.
Boko Haram, whose name roughly translates to "Western education is sin", has attacked schools, villages, towns, and military bases, killing over 14,000 since the start of their violent campaign in 2009 and creating one of the world's worst humanitarian crises. With 3.3 million people internally displaced in Nigeria, it is the third largest displaced population in the world. The sheer scale of the devastation is becoming a threat not just to Nigeria, but to the region as a whole.
While many have fled south from Nigeria's distraught northeast, where a state of emergency remains in place in the Borno, Yobe and Adamawa states, very few of the displaced are living in government run refugee camps, with the majority surviving around towns, churches and mosques, largely depending on the help of family friends and strangers. According to the International Rescue Committee currently active in Nigeria, households in Adamawa's regional capital Yola, now host on average 30 people.
But this dire humanitarian crisis stretches far beyond Nigeria's own borders, now encircling the areas surrounding Lake Chad and creating an increasingly deteriorating humanitarian situation in Chad, Niger and Cameroon. The latter is host to the UN-operated Minawao refugee camp, which is currently home to over 30,000 Nigerian refugees and counting. According to Najat Rochdi, the coordinator for UN systems in Cameroon, with such large numbers of refugees crossing the border, there are significant problems providing water, toilets, health and education, with some refugees even claiming they had not been fed in 15 days.
Along with the UN and Red Cross efforts in the area, the EU has also boosted humanitarian aid to the Sahel region as a whole in light of severe problems of malnutrition, complicated by conflicts in Mali and Nigeria. However, the 12.4 million euros allocated to Nigeria and Cameroon to tackle their food and security crises, which accompanied the flow of refugees coming from the Central African Republic, will barely prove sufficient should Boko Haram continue its bloodshed. As Boko Haram expands its attacks to Chad and Niger in retaliation to the countries' own air and ground operations, a new approach is needed.
With Nigeria's elections looming over the horizon, the future of the country and the stability of the region rest in the ability of the two main presidential candidates to show their willingness to cooperate with regional and international bodies and put an end to both the Boko Haram insurgency and the urgent humanitarian crisis left in its wake. On March 28, incumbent President Goodluck Jonathan of the People's Democratic Party will square off against former military dictator Muhammadu Buhari of the All People's Congress party, in what could be the first democratic transfer of power since Nigeria's reestablishment of democracy in 1999. Although President Jonathan has been making strides in recent weeks against Boko Haram strongholds, he has been the subject of criticism for failing to defeat the insurgency and root out corruption among public ranks.
For his part, Buhari has taken advantage of Jonathan's perceived shortcomings and is running on a muddy "change" platform, promising to wipe out Boko Haram once and for all. However, General Buhari's previous experience as head of state following a military coup d'état in 1983, casts a dark shadow over his commitment to democracy and human rights. Ruling the country with an 'Iron Fist', General Buhari terrorized his own population as he battled with indiscipline, jailed opposition leaders and journalists critical of the government, eventually resulting in his overthrow in a counter-coup in 1985.
In light of the grave humanitarian crisis and rising death toll as a result of Boko Haram's terrorist campaign, Nigeria needs a leader who will work with international stakeholders to stabilize the country and come up with a coordinated approach for Nigeria's displaced. Buhari's shady human rights record and instigations of violence following his defeat in the 2011 elections, raise fears that his return to power could signify a step backwards for democracy and freedom for the population.
A fall in the quality of life in Africa's most populous and largest economy would spell further disaster for the continent. As refugee camps become overpopulated, leading to insufficient supplies of food, medicine and education for the camps' inhabitants, the humanitarian crisis could grow manifold. Finishing off Boko Haram is just a step in a long process of ethnic and regional reconciliation.
Nigeria's future president will have the unenviable task of ensuring the stability of the nation, while working with regional and international organisations to "win the peace".