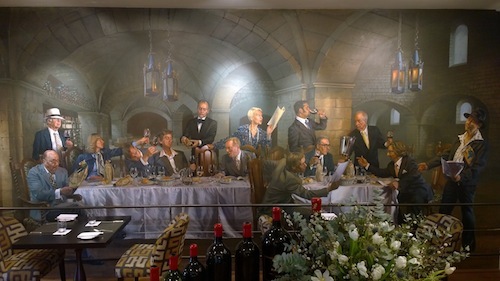 The horror of French wine critics immortalised in Gary Myatt's painting of
The Judgement of Paris. Photo: Paul Allen
Alan Rickman in Truly Madly Deeply always has me reaching for a hanky and his portrayal of Severus Snape in the Harry Potter films is brilliant. There's something about his deep, velvety voice that compels me to watch anything he's in and Bottle Shock, a film based on an infamous blind tasting of French and Californian wines in 1976 is no exception. When the top French wine critics gathered at Englishman Steven Spurrier's (played by Rickman in the film) Paris wine shop, Les Caves de la Madeleine, for a blind tasting, the result (in favour of Californian wines) was so controversial that several critics tried to withdraw their ballots and several either quit or were fired from their jobs. The 'Judgement of Paris' wines were tested 30 years later in London and Napa in 2006, with much the same result, a further testament to the strength of Californian wines.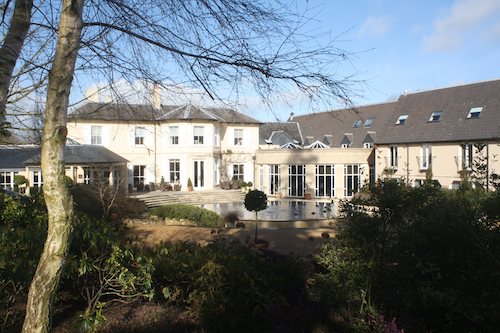 The Vineyard hotel, near Newbury, Berkshire. Photo: Paul Allen
With this in mind, I was intrigued to hear that a hotel in the heart of Berkshire stocks over 800 Californian wines, some of which are from the owner Sir Peter Michael's winery in Knights Valley, Sonoma. The Vineyard recreates a 'Judgement of Paris' experience on a daily basis and is also the UK's only exclusive Californian wine merchant, selling wines from the owner's vineyard, as well as others from the Golden State.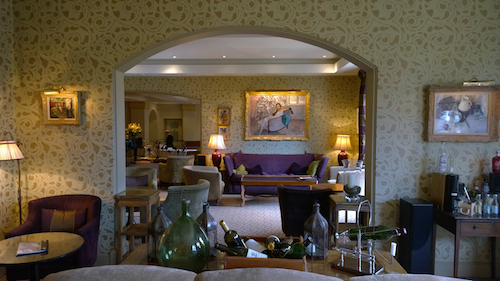 Cosy art-filled bar and lounge. Photo: Paul Allen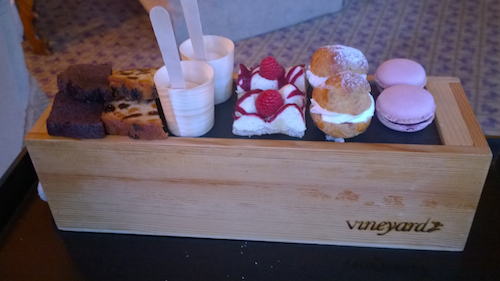 Afternoon tea: the sweet selection. Photo: Paul Allen
Despite their focus on California, the Vineyard hotel, located in Berkshire near Highclere Castle where Downton Abbey is filmed, couldn't be more English. Dame Maggie stays in the hotel when filming, apparently always in the same room. Traditional English afternoon tea, accompanied by what might be the finest scones I've ever tasted, further the English feel to the place. Yet it also feels French, especially the bar area where the English tea was served. Well, we were surrounded by French paintings, part of the owner's vast art collection, over 500 of which are displayed throughout the hotel.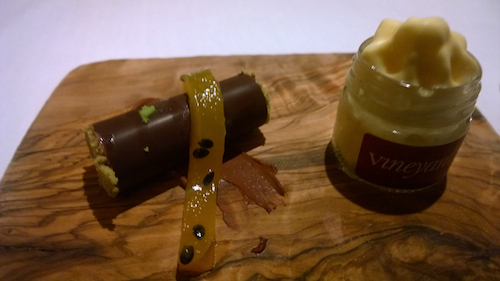 Dessert course in the Judgement of Paris menu. Photo: Paul Allen
And the French theme continues when we experience 'the Judgement of Paris' ourselves -
a seven-course menu accompanied by two glasses of wine per course, one Californian, one French, some of which are blind tastings. The meal starts with an amuse-bouche that is naturally a glass of wine, a crisp white, thus setting the boozy tone of the evening. We get the blind tastings wrong most of the time but it's fun trying to guess and unlike the Judgement of Paris experts, neither of us prefer French or Californian overall. Paul is certain the bubbly is Californian rather than a classic Mouet Champagne and I'm convinced the 2007 Merlot from Napa is actually a 2000 Bordeaux from Chateau Monbousquet, France. The wine is paired with fish (brill and skate) and fowl (duck and guinea) and concludes with a dark chocolate, green tea and passion fruit dessert, all imaginatively prepared by Michelin-starred chef Daniel Galmiche.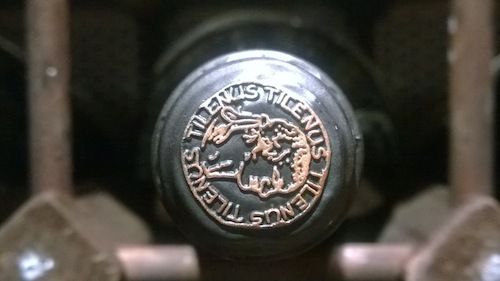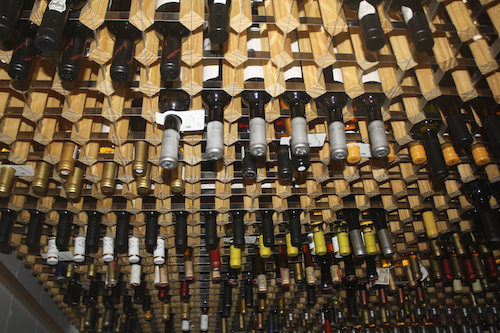 A few of the 30,000 bottles in the wine cellar. Photos: Paul Allen
After our four-hour wining and dining experience, we still manage to get out of bed to check out the spa before breakfast the next morning. This is followed by a tour of the wine cellars where we are shown wine from the Peter Michael vineyard that has been enjoyed at the White House and Downing Street. Our tour and stay concludes after a viewing of the oldest bottle, a 1921 Châteaux Cantermerle, 5eme Cru Classé, Haut Médoc, Bordeaux, France and the most expensive, a £20,000 bottle of Pétrus, Pomerol, Bordeaux, France (Double Magnum, 1982).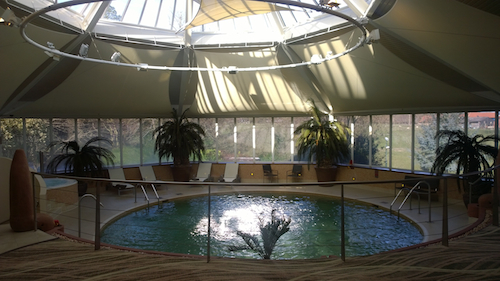 Pool and spa area. Photo: Paul Allen
Loaded down with wines from Sir Michael's vineyard, we leave in such high spirits that even our thwarted attempt to see Highclere Castle, which is closed for the winter, doesn't dampen them. We'll revisit the Vineyard for a wine class and go on a search for Lady Mary, Bates and the Dowager Countess then.