In a few days, the Royal Academy of Arts in London will open its doors to showcase its annual Summer Exhibition, the world's largest show of open-submission contemporary art. If previous editions of the exhibition have been easily dismissed for its populism and conservative curatorial criteria and display formats, the 2012 Summer Exhibition is an unquestionable success in the way it celebrates colour and form, both in the diversity of shapes and textures explored by the artists and in the creative layout of the pieces.
Now in its 244th year, the exhibition continues the tradition of showcasing work by both emerging and established artists in all media including painting, sculpture, photography, printmaking, architecture and film. This year's Summer Exhibition, coordinated by Royal Academician Tess Jaray, attracted 11,000 entries, the highest number in its history, and only approximately 1,500 were selected to go on display.
The exhibition begins in the Wohl Central Hall, whose bright red walls pay homage to Matisse's 1911 painting 'The Red Studio' while framing a diverse range of work that introduces visitors to the richness and variety of work on display throughout the Academy. From this space, visitors can glimpse the architecture gallery straight ahead. This year, this thematic gallery was curated by architects Chris Wilkinson and Eva Jiricna with the purposeful intention to blur the boundaries between architecture and the fine arts.
CONTINUE READING THIS ARTICLE HERE.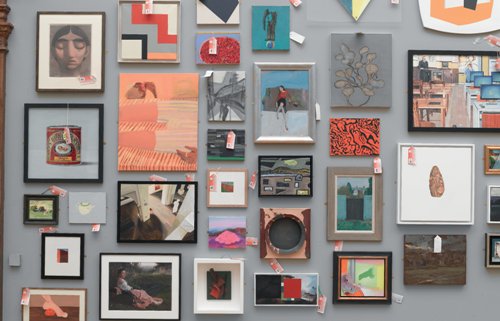 View of Gallery III; photograph courtesy John Bodkin