It's been said many times before by more eloquent moaners than myself, but when I failed to get a single ticket after promising the best part of £400 in the first round of applications to go to events at the 2012 Olympics, I was gutted, especially as I've been a Londoner for 16 years.
Being a lifelong horserider (don't worry, I wasn't rich enough to have my own horse and looked after a dumpy New Forest pony who belonged to someone else), the bulk of my mythical money had been spent on equestrian events (three day eventing, show jumping and dressage), with a few cheeky invisible quid on another love, tennis. However, after Locog's computer said "no", I resigned my sulky self to sneaked glimpses of my favourite events on telly - but totally wrote off my chances of watching any dressage even on the box, being as it is, one of the most niche sports at this year's capital-based sport fest and not favoured by the likes of the BBC.
But the angels/universe/unicorns were looking down on me, and just two days ago due to unforeseen circumstances, a friend said she had a spare ticket for the mane, sorry, main event - DRESSAGE! - and would I like to trot along with her to the grand prix in Greenwich Park on Thursday morning?
To say I was chuffing thrilled to bits and champing at the bit is an understatement. Okay, I appreciate few people have a Danny La Rue about what dressage actually is (and I'm no expert), but I was a bit baffled when most couldn't understand my excitement. A colleague mused, head cocked in a confused manner: "Erm, it's pony ballet, isn't it?" or as another friend grumped: "It's just horses trotting sideways."
Well, yes, there are elements of hoof, sorry, truth in both. But if you are looking for one of the purest, poetic and most beautiful of sports in the Olympic canon at this year's London 2012, then this is it - if you give it some attention. Ultimately, it's the thousands of years-old struggle of human trying to bring 1500lbs of potentially wild horse to heel. Horses are big, powerful and can potentially kill you - but dressage riders make them dance gracefully and make it look effortless. All while wearing top hats.
And even more brilliantly, Britain are some of the best dressage riders in the world, and a hot tip to bring home yet more gold for Team GB - after yesterday, Carl Hester and Laura Bechtolsheimer are in first and second place. Their teammate Charlotte Dujardin is still to ride today, and equally fancied to bring home a medal.
And that is no mean feat. With the flick of a fetlock (ankle to us humans), medals are won or lost. With horse and rider both immaculately turned out (silk titfers, an approximation of white tie and supremely kinky black leather boots on the men/women riders, while plaited manes, tails and oiled hooves for the horses are de rigeur), they perform a ridiculously hard and precise set test in the sawdust arena before FIVE sets of judges, all nitpicking about the perfection of a walk or a circle performed by horse and rider.
And it's never that simple either. With intricate messages sent to the horse with the twitch of a rein, nudge of a heel, shift of weight in the saddle or position of a leg, the riders coax their magnificent steeds to perform increasingly difficult tasks of utmost precision in a smooth and seamless manner, to make it look like horses would do this every day themselves while mooching around the paddock. But let me tell you, without the rider, they wouldn't. These are no one-trick ponies, ahem. This is the ultimate in equine training, where horse listens to rider - because it loves and trusts them and wants to - in a split second.
In fact, anyone that feels that the horses only do the tests by rote like canine agility dogs for the odd Bonio should have seen Canadian rider David Marcus, who had to retire after his horse Capital went batshit mental and started bucking and rearing for no good reason in the arena. And the relatively tiny human rider really couldn't do anything about massive hunk of nag having a paddy. See?
And as much as dressage is the ultimate test of athleticism for horse and rider, the 71-year-old Japanese rider Hiroshi Hoketsu can still take part because of the added subtlety and cerebral nature of the discipline and get an impressive score on his beautiful chestnut horse Whisper. Seriously, how cool is that?
Thing is, dressage is a supreme communication between person and animal and the nuances in a pumped-up, muscle-bound, human-centric London 2012 are just gorgeous.
And that's before I start gushing about how beautiful the setting of the temporary arena in Greenwich Park is, how amazing the 2012 volunteers are, how incredible the flag-waving, all-nations atmosphere was, how the sun came out (bar the soaking I got on the way back to the DLR) and how I totally and utterly finally fell under the spell of London 2012.
But the best bit? Our reigning dressage king Carl Hester steering his stunningly sleek black steed Uthopia faultlessly around the arena to a soundtrack blasting out on the PA of discofied, easy-listening versions of Queen's greatest hits.
It's a kind of magic? Oh yes.
Some key dressage movements:
Half pass - horse trotting sideways
Piaffe - appearing to trot on the spot in an imperious manner - horse looks like a wondrous mechanical toy
Pirouette - horse canters round in a circle whilst its hindlegs stay roughly in the same spot - bit of a disco move
Extended trot - at it's best, the horse looks like it's floating on air as it strides down the edge of the arena
Rein back - horse walking backwards as if there are some oats behind it
Flying change - horse changes which leg it leads on while cantering, to make it appear as if it's skipping. SERIOUSLY, HOW COOL IS THAT?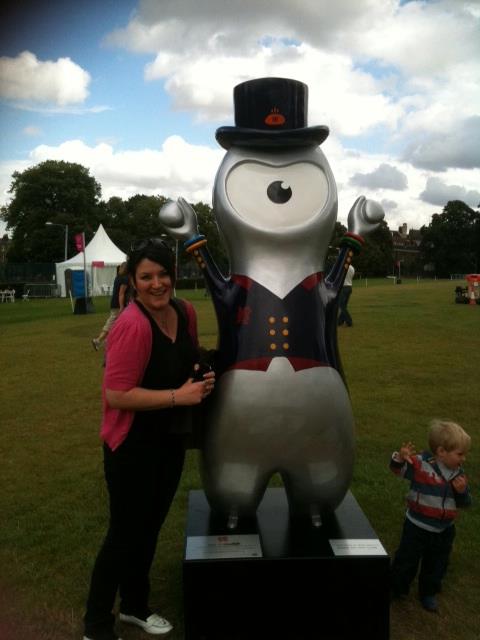 Me and Wenlock, kitted out in dressage garb, at Greenwich Park at the London 2012 dressage Grand Prix