2015 was the year of the adult colouring book. Their popularity caused a spike in sales of physical titles as they sold in their millions, providing stocking fillers and Secret Santa gifts nationwide. Bestseller lists remain full of them well into 2016: wild flowers, swear words, Jeremy Corbyn - you name it, you can colour it in.
Its biggest attraction though seems to be the opportunity it gives people to switch off and engage their creative side. With mindfulness titles filling non-fiction book charts too, it seems we're all just after ways to find a bit of head space.
It's well-established that walking provides a good opportunity to day dream, reflect and process problems. However, this is often associated with long countryside hikes when actually everyday walks offer great opportunities to think too, and nothing illustrates this potential thinking and creativity time quite like the story of Chris Callaghan.
Chris has walked with his daughter to school throughout her primary school years. Just ten minutes there and ten minutes back. Doesn't seem like a lot, does it? But those ten minutes have added up and resulted in a new - and creative - career direction for Chris.
A former aircraft mechanic and military man, Chris had held a range of jobs. Some he walked to and some he had to drive to. When he walked he felt more prepared and ready to start the day so when the time came for his daughter to start school the family moved house to be close enough to walk so that she had the same opportunity to start every day well.
At that time he expected walking to school to offer all the usual benefits: financial savings, and a chance to get active and blow away the cobwebs. The biggest bonus he experienced though was the time he and his daughter have been able to spend together. Free from other distractions, they've been able to really talk to each other. He's had the chance to find out what's going on at school and answer questions she has about the world. In particular they've shared and made up stories about different characters and crazy situations. Chris kept coming back to this one idea, what if chocolate became extinct? He threw the idea around on the walk to school and was inspired to write his first ever book, The Great Chocoplot.
Originally Chris wrote the book as a Christmas present for his daughter. A few months later and a publisher had an open day and six months after that he had a book deal. As of this March, the book will be available to all as Chris becomes a published author - in a large part because he took 20 minutes a day to walk his daughter to school and back.
National Walking Month takes place each May, and this year we're encouraging everyone to fit 20 minutes of walking into their day - Try20. Like Chris, you could fit this in on the school run or instead you could go for a walk on your lunch hour or at the end of the day to unwind.
Doing a little exercise is scientifically proven to make us feel happier and healthier. Just 20 minutes could get your creative juices flowing too. Give it a go, Try20 - we might just be seeing you and Chris knocking some of those colouring books out of the charts.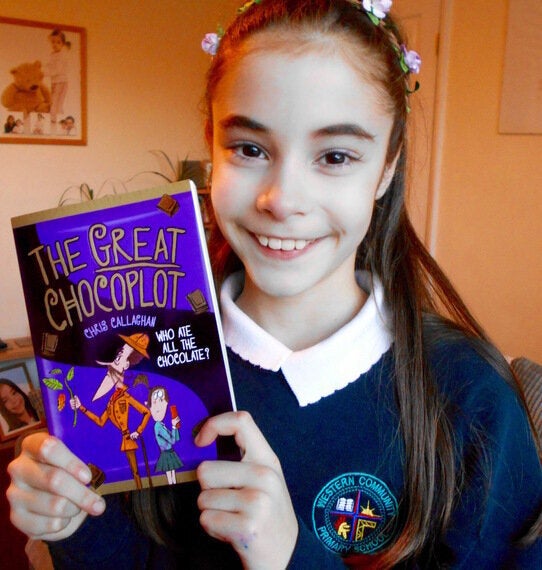 Chris's daughter and The Great Chocoplot, published on 3 March 2016.