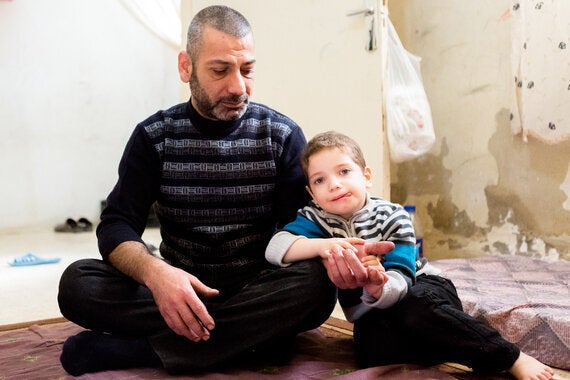 The smell of cardamom-scented coffee fills the damp room in a suburb of Amman, Jordan. Reema places the tray on the floor. 'Ahlan wa sahlan!' - she welcomes me with a smile. Hospitality and warmth are the only things this Syrian family has left since they fled their homeland in 2013. Now Reema, her husband Abed and their five children live in this single bedroomed flat with its tiny, windowless kitchen and bathroom teeming with cockroaches.
Kneeling on the floor, in front of worn-out couches, Abed speaks softly. 'We were surprised when we received the news. Our file is being reviewed at the US embassy. We might be resettled'.
Next to him, four children giggle and play. Cradled in Reema's arms is one-year old Mohammad, who is suffering from a severe heart condition. Abed spreads out the medical file which has pages and pages of tests, results, diagnoses and an impossible verdict: open heart surgery that starts at 10,000 Jordanian dinars (£10,000).
'We were told he was very ill when he was two months old. Ever since, we've been in and out of hospitals. It costs a fortune, and the only solution is surgery. How will I ever be able to afford this? Our only hope is the US', says Abed. He takes his son from his mother's arms, sits next to me, and removes the layers of clothes. The baby is small for his age. 'Touch him,' he tells me. Mohammad's heart pounds furiously and irregularly against my fingers as I lay the palm of my hand on his chest.
'At night, when everything is silent and we are all asleep, I can hear his heart beating, like a wall clock,' says Reema, her eyes filled with sadness. 'I hope help is on the way. You'll see, if you go to the US, they will give him the care he needs,' I reply. Moments earlier, I was thumbing through pictures on my phone to show her my own healthy children. I don't know what else to tell her.
While they wait to find out if they'll be resettled, Abed is trying tirelessly to keep a roof over his family's head, working illegally at night in a coffee shop, and earning £220 a month. Half of it pays the rent for their flat.
The family had two appointments with US officials in Amman, the second just a few weeks before I visited them. 'I was told that our file might be fast-tracked because of Mohammad . If not, we were promised to be sent to another country with a faster process,' says Abed.
I visited the family on a cold, sunny Tuesday. The following Sunday, Mohammad died. In the interim, we had tried to contact local medical organisations to see if he could have his surgery urgently in Jordan. On Monday, I got a call from a colleague: 'Joelle, Mohammad is gone'. I paused for a moment that felt like an eternity. Nothing mattered anymore. No embassy appointments, no medical files, no resettlement interviews. The world stopped when Mohammad's heart stopped, both losing a battle that could have been won.
And here we are watching rich countries debating yet again whether Syrian refugees should be allowed in or not, whether they pose a security threat or are linked to terrorist groups. At Oxfam, we've been calling for the resettlement of 10% of the most vulnerable five million registered Syrian refugees. That means children like Mohammad, whose life hinged on medical care, fathers like Abed who work night shifts to provide their families with a home, and mothers like Reema, who pray daily for their children to be safe and healthy. For all of them, the choice is: return to Syria and face potential death, or live in destitution in neighbouring countries. How many more children like Mohammad will die from preventable deaths if states do not open their doors and extend a merciful hand?