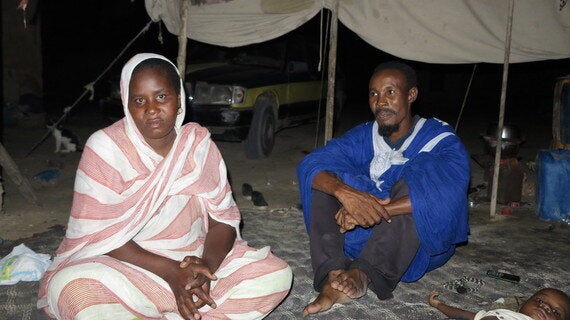 Perhaps one of the worst phenomenon's occurring on this earth at this time.
No freedom to make choices in your life. No ability to protect yourself from violence. No means to stop yourself from being raped.
No rights to have rights.
This is the reality for all the men, women and children who are still being held as slaves in Mauritania today.
Mauritania is ethnically divided between the white Moors and various black African groups. Traditionally, the Harratin's have been the main ethnic group who have been enslaved by the white Moors in Mauritania.
One of the unique aspects of slavery in Mauritania is that it is decent based. If your mother was a slave, then you will be a slave too.
In 2007, slavery was officially criminalised however the practice is still widely believed to be continuing.
Slavery affects both men and women, however according to the human rights advocates and the many ex slaves who I met while in Mauritania, it is women who suffer the most under Mauritania's slavery system.
There are a number of reasons for women's increased suffering. One of them being that women are usually subjected to sexual abuse by their master or their master's son. One ex female slave said she was raped by her master, her master's son and the friends of her master. Anyone who wanted to have sex with her could.
For slaves who have been born into slavery and have never been educated it's difficult for them to find other ways of living. This is particularly so for women who face discrimination because they are women.
Emmanuelle from Anti Slavery International explained, 'often they go back to their masters. This is all that they have known. Even if you know slavery has been criminalized and you can leave, if you've been raped many times and humiliated then what can you do. We're trying to provide more socio economic opportunities to slaves so that they don't have to think about going back.'
Female slaves they face even further discrimination through Mauritania's Sharia Law system which prohibits sex outside of marriage. If you are an unmarried woman and you have a child, you can face charges. Even if you have been raped.
Dah Boushrab an activist with IRA an anti slavery organization operating in Mauritania that is primarily comprised of ex slaves, confirms that conditions for women in Mauritania are harsh.
'For women in Mauritania, it is like jail,' he says. 'I am living here and I can tell you that. The traditions and customs put women in jail.'
He explains how there is much violence against women in Mauritania, including sexual violence with the poor being the most vulnerable. 'Men might offer a small girl who is hungry some food and then they do whatever. To rape a slave is nothing, it's the same for the poor.'
Sarah Mathewson from Slavery International explains how gender roles that are forced on women are around subservience and submission and roles for men are around authority. Because of the stereotypes women are pushed into a more subservient role.
'Women have the same legal status as children,' explains Matthewson. 'Women have very few rights under Mauritanian law. Domestic violence is legitimate. Women are living under the domination of men in Mauritania,' Matthewson explains.
Women and girls are at a massive disadvantage as second class citizens, even within the activist struggle. Aside from women led organizations, women are often relegated to secondary roles within the anti slavery struggle.
I met with two women from the Pulaar ethnic group just on the outskirts of Nouakchott. After being greeted by the two women wrapped in long white robes, Maimouna Alfa Sy and Aissata Mamadou Anne sat down to explain the situation for women and girls in Mauritania.
'There is inequality here,' explains Maimouna. 'I am never allowed to make a decision. There are no women in high levels. In Mauritania there are no rights for women at all.'
She continues to explain how there is violence from husbands, rape and violence from police. There is forced marriage and child marriage. Girls can be forced to get married at just 12 or 13 years old. There are parents who think that a girl doesn't have to go to school, she just needs to stay home to do the cleaning and to get married when they are young.
'We are fighting for justice but they are not listening. It's very difficult to have rights.'
As we sit on the floor of her dimly lit home I ask why there is so much violence against women in Mauritania. She shrugs her shoulders and says, 'women are like furniture here. She is the slave of her husband. It is very, very bad.'
'I want women to be free. That they have the same rights as men,' she says.
As the battle against slavery continues in Mauritania, women and girls face a double battle. Fighting against the bounds of slavery and that of patriarchy. As in much of the world, cultures and traditions restrict the freedoms of women and girls.
On human rights and specifically on women's rights, Mauritania has a long way to go.
Related