Running events evoke all sorts of emotions. There's the nerves in the build-up; the desire as you spring from the start line; the agony of over-worked muscles; the flickering between camaraderie and competition. Mother Nature can propel you with her splendour or floor you with her harshness, stealing your heart one moment, your resolve the next (she may even steal your shoe). Mischievously designed routes will take you along busy roads, across rickety bridges or down barely discernible rabbit trails - sometimes you'll have to break through a wall. There are times when your body will scream "stop", while your mind orders you to continue. Across miles of unpredictability, the only certainty is a determination to finish - the knowledge that, whatever comes your way, you will reach the end.
I've run dozens of events over the years, and most of them have offered one or more of the above. But it's rare to come across an event that offers them all. Last week I ran one that does - in spades. It's an called 'The Darth Mannion', a cross-country half marathon that takes place on the jaw-droppingly beautiful Gower Peninsula in South Wales. On a wet and windy Welsh Saturday I and 450 others ran (shuffled, walked and hobbled) the route and somehow we reached the end.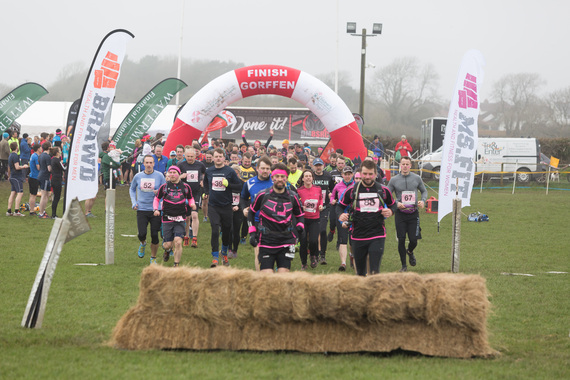 Runners depart. Photo courtesy of Morgan James Photography
Of course, to describe The Darth Mannion as 'a cross-country half-marathon' is like calling a tiger 'a big cat' - and if you approach it with this mind-set you might get mauled alive. To get to the finish you have to wade through rivers, submerge yourself in the sea, cross 'a sheep dip' (don't ask), trudge through sand and climb endless muddy slopes - sometimes twice. As I approached mile 11 (with one sea dip still to come), I was battling cramp in at least five places. On the final hill, a few of us resorted to crawling - one person digging his fingers into the mud, another with only one shoe (again, don't ask). It was hard - really bloody hard. But God it was worth it.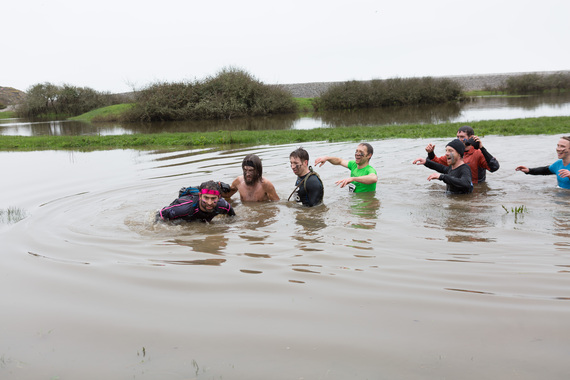 River Run No. 4 Photo courtesy of Morgan James Photography
It wasn't just the physical challenge that made the event so memorable. A huge part of its charm lies in its picture-postcard backdrop. The Gower was Britain's first designated area of outstanding natural beauty and one reward of climbing hills, is the breath-taking view of the peninsula's coastline - if the lung-busting slopes haven't taken your breath already. As you trot along windy coastal paths you can observe sheer black cliffs meeting bright yellow sand, and a deep blue sea whose embrace you would long for, were you not suffering from mild hypothermia having jumped in it minutes earlier.
Beyond breath-taking beauty and energy sapping hills, lies the defining feature of the event - the ethos of the people involved. The Darth Mannion is a challenge not a race, and inclusivity lies at its heart. All runners are organised in pelotons according to their running ability. There are only a few standing marshals so no runner can break away - they must remain in their pelotons throughout. Anyone who runs ahead will face disqualification, and anyone who falls behind is bundled into the safety bus. Each peloton is populated with pink-clad 'Regulators' - an eclectic bunch of experienced runners who lead, cajole and support the participants as they progress. For many, the well-placed encouragement of a Regulator was the difference between success and failure. This spirit of inclusivity separates the Darth Mannion from many other events. The focus is on your fellow man (or woman) - whether it's the shared exhilaration of jumping in the sea or the split-second connection as you are pulled out of the sheep dip.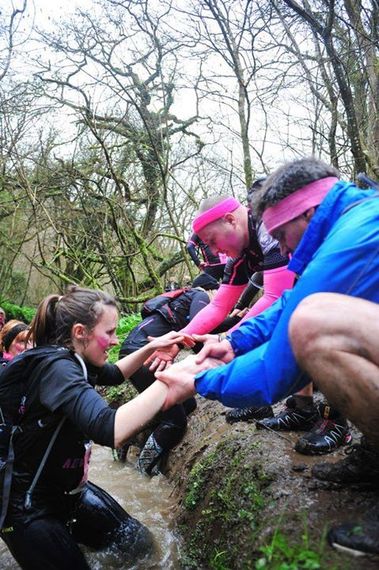 Photo courtesy of Wales Air Ambulance
The unwavering support of Regulators is exceeded only by the mobilisation of the local community. You can find them as race marshals directing, or as supporters inspiring. They can be seen donating their skills as medics, masseurs, firemen, photographers, artists, auctioneers, musicians, marketers, soldiers, teachers, chefs or bakers. Others lend their energy to an after-party that continues into the small hours. If you ever doubted the stamina of the people of the Gower, then their ability to run for 3 hours and party for 12 more will have you thinking otherwise.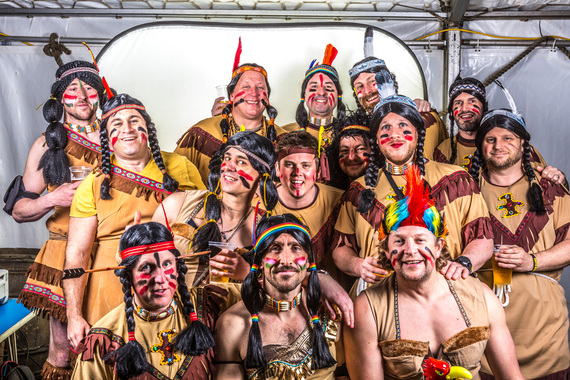 Slipping into something more comfortable. Photo courtesy of Morgan James Photography
And finally, the icing on the cake. In the cauldron of planning an event of this scale, not a penny of profit is made. Every single organiser and contributor provides their time for free. If money exchanges hands, it either goes to the rugby club hosting the event, to cover direct costs or to the Wales Air Ambulance (the event's designated charity). It was telling that the biggest trophy last week was reserved for the event's Top Fundraiser, rather than the fastest runner. And perhaps here lies the secret of the event's success. The set-up is a well-oiled machine, but it is not gripped by the talons of capitalism. There are no money-grabbing extras or cost-saving short-cuts - quite the opposite, in fact. The Darth Mannion is about welcoming people to a thriving community, in an arena that strengthens them physically and psychologically. It's about the potential of the individual and the power of the peloton. It really is one of a kind. Everyone involved in its creation should be incredibly proud.
I'll be back next year. And if you fancy something different, I can't recommend it enough.