It's Friday now, but in the preceding 48 hours I've been filming for a new ITV drama, in which I play a singer; I had a styling meeting for my new video; and then played a gig with Patty Griffin at Union Chapel, London. But it wasn't until I was walking around on Thursday afternoon, in the London sunshine, that I realised I'd met two rather interesting people; two people who had been bold enough to attempt to change their lives and careers. Changing path is an exciting but scary thing to do. (And I'm not just talking about moving from one desk to another, I mean pilots deciding to be make-up artists, or musicians becoming physicists, or vice versa - think Prof. Brian Cox.) These are people who say "what the hell", throw caution to the wind (or do loads of research and come to an informed conclusion about their new direction in life), and say "I'm changing career".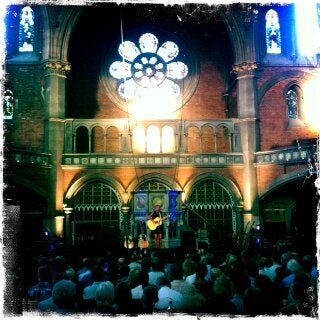 The first was Toby. I met him on set on Wednesday afternoon. At university Toby trained as a tuba player but more recently decided to retrain as a stunt man. Extraordinary? Yes, I thought so too. The second was Zoë, an old friend of mine, who I haven't seen in a long while. Zoë and I met up, ate frozen yogurt, drank tea (I love tea and so does she), and sat in the park. There she informed me that she was training to be a Unitarian minister. Zoë originally trained in design, and the last time I saw her she was running knitting workshops. Both people amazed me; their versatility, bravery and determination were inspiring. It got me thinking about my own choices and where I saw myself in the not so distant future.
I've pretty much always wanted to be a musician, with the exception of some very brief periods during my early childhood, of wanting to be a dancer, and a housewife. When I started my career I thought music was something you never walked away from - never retiring and never giving up - but Toby disproves this. I also thought ministers were people whose families were religious; people who, from birth, were destined to be church leaders, but none of this is entirely true either. People are flexible, changeable and most importantly, they are capable of being more than one thing.
So, will I always be a musician? The answer is "yes, probably". This fact might be a shame. Talk to one of these people who have made such huge changes to their lives and guess what? They are interesting, insightful, open and enthusiastic. As exciting as a career in music is I can't help but be jealous that some people will experience life from some wildly contrasting perspectives. Zoë will see life as a normal person and then she will see it as a religious leader. Toby will play music and then jump from cranes or out of planes.
I wish everyone could be so mobile in his or her career choices, but unfortunately this isn't always the case. I'm sure lots of people are capable of perusing new and exciting paths but whether or not they have the time, money, education or support to do the things they want are the bigger questions.
As for me, I'm pretty much certain that I was going to be a musician from day one. However, I could always jump out of planes for charity.
Photo: Josephine live at Union Chapel, London.
N.B. Names and professions have been altered slightly for the protection of privacy.