This blog is part of a month-long focus around sustainable fashion across HuffPost UK Style and Lifestyle. Here we aim to champion some of the emerging names in fashion and shine a light on the truth about the impact our appetite for fast fashion has around the world.
We founded Wan & Wong Fashion in 2013, after Kelvin took part in The EcoChic Design Award 2012, the Hong Kong based sustainable design competition. As a finalist he showed an up-cycled collection at Hong Kong Fashion week and was awarded most promising student by the judges.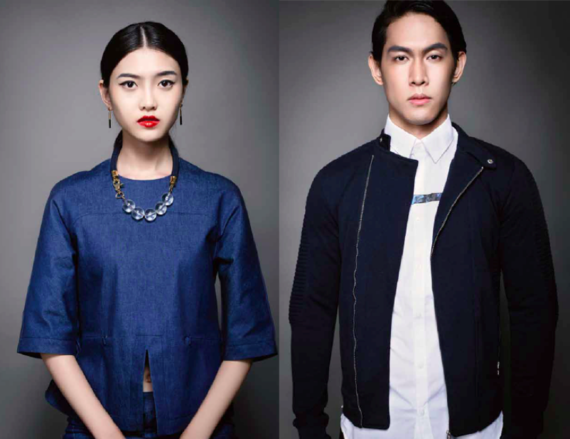 Wan & Wong Fashion 2016 Collection: China Blue
We built the brand on the principles of change, with a strong belief in the need for sustainability in the fashion industry. We recognise the need to co-exist with the fashion industry and hence from the onset aimed to build strong relationships that resonate with our brand vision. For example, 70% of fabrics that we use in our designs are sourced from factories in Mainland China and Hong Kong which we have built long term partnerships with. These co-operations are mutually beneficial; as an emerging brand we are able to keep our production costs low as we are often able to buy these 'waste' fabrics at a reduced cost, which in turn allows us to do more to further establish our brand. On the manufacturers side, we are enabling them to clear their dead stock and to reduce their overall waste. A bonus is that we are living on the doorstep of one of the largest clothing manufacturing hubs so our brand's supply chain is also local.
Much of the time we find that the factories are simply holding onto stocks of fabrics because of the initial investment that has been made. There are not enough of each fabric for them to be able to use for mass production or develop for another collection but many are kept for a long time mainly due to there being no established system in place to sell on fabrics other than for scrap, so working with a brand like ours can be beneficial.
However, we admit it has not been easy to start these relationships. It takes time and perseverance to develop long-term partnerships and there can be barriers to overcome. Factories are very cautious and need to consider the value they have tied into these fabrics. As the years are passing it is getting easier all the time. We are demonstrating that something meaningful can be done with this dead fabric stock. Some of our partners also find it appealing that they are supporting the future of the industry by working with an emerging sustainable brand like us.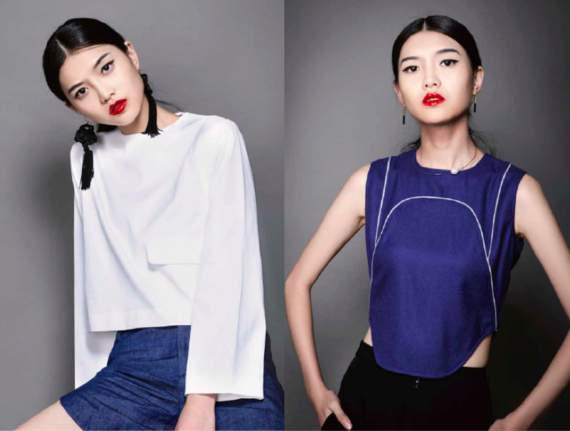 Wan & Wong Fashion 2016 Collection: China Blue
We are particularly excited about a recent partnership established with a factory who are supplying us with end-of-roll fabrics, at more than 25 yards on each roll. As in the past we have not been able to create a whole collection with the smaller amounts of waste fabric we sourced, this is an important milestone for us as we can now call a larger portion of our collections up-cycled.
Our design philosophy is based on minimalism and simplicity, with a focus on sharp lines, stark silhouettes, balance in proportion and finishing of textiles resulting in a unique harmony in design fundamentals. In addition to a focus on using textile waste, through our collections we also concentrate on zero-waste pattern design to improve our brands sustainability, applying it to most of our SKUs. We are doing this by blending the off-cuts from production back into our designs as detailing. For the 2016 'China Blue' collection detailing is inspired by traditional Chinese buildings. Denim heavily features and Chinese knots are a common theme, constructed from the waste materials from our jewellery line.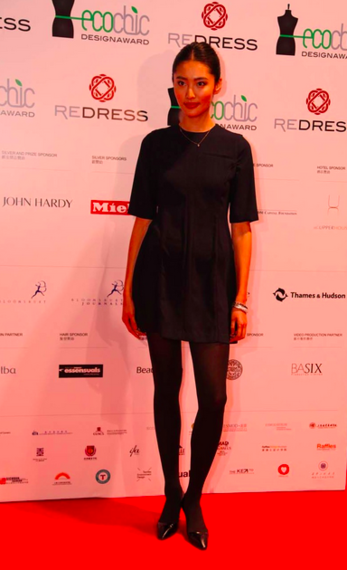 Supermodel Bonnie Chen wearing Wan & Wong Fashion
Since we launched Wan & Wong Fashion, our collections have achieved worldwide recognition. Our collections have been worn by celebrities such as Cantonese pop-icon Sandy Lam and supermodel Bonnie Chen. We have been featured in Harper's Bazaar, Marie Claire, Times, Elle Hong Kong and SCMP Post Magazine and more. Recently, in 2014 we showcased with Joyce Cares at PMQ Hong Kong. We had also started collaborations with brands like Yahoo Hong Kong, SASA Cosmetics International and more. Our works are being featured on shows like Brighton Fashion Week 2014 and Hong Kong Fashion week annually since 2012.
We have been encouraged by these successes that the acceptance of sustainable fashion is on the rise. We hope through continued cooperation with industry partners we can continue to grow our brand and urge other emerging brands to explore textile waste in their collections as a way to be an active part in reducing the industry's negative impacts.
Follow Wan & Wong Fashion on Facebook and Instagram
HuffPost UK Lifestyle is running a special series around Sustainable Fashion for the month of September. Livia Firth is creative director of Eco-Age and founder of The Green Carpet Challenge, and will be guest editing on 18 September. If you'd like to blog or get involved, please email us.