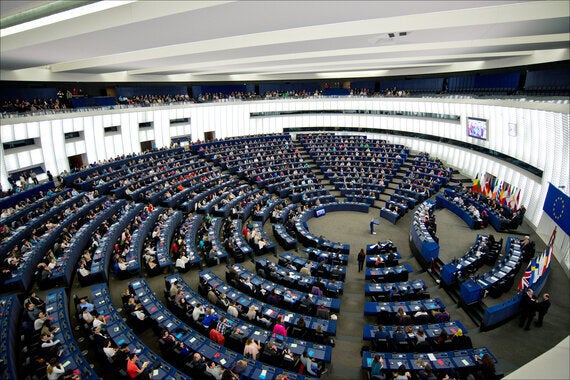 In his five years in office, David Cameron's to-ing and fro-ing over Europe has reduced to rags the UK's reputation in the European Union (EU), relegating our once-influential nation to bystander status on global issues. Leaving the other European leaders to negotiate over what to do about the crisis in Ukraine, the rise of ISIL and the Eurozone's continued troubles, our Conservative-led Government has gone into retreat, instead choosing to focus on peripheral concerns and indulge in Euro-bashing of most juvenile kind.
However without a Labour Government, the ability of Labour MEPs to get the best out of the EU for Britain is limited at best. Aside from the very real threat of pulling out of the EU altogether following Cameron's promised referendum, Tory Euroscepticism is preventing EU investment from reaching the lives, businesses and communities that need it most even while our membership remains intact. Its disdain for all things European is blocking key European reforms that would create new jobs and training opportunities for the young, support businesses and protect our most vulnerable members of society.
Take the Government's rejection of the EU's Youth Guarantee, for example, which promises all under-25s a quality offer of employment, education, apprenticeship or training within four months of becoming unemployed or leaving full-education. In the UK, where under-25s are now three times more likely to be unemployed than the rest of the population, the adoption of such measures would have immeasurable benefits. If implemented, our North East constituency, which suffers from the highest rates of youth unemployment in the UK, would receive a vital injection of an additional £20 million worth of funding.
By blocking these funds and ignoring repeated calls to implement such recommendations in the UK, instead insisting on continuing support for centralised, underperforming and unpopular domestic measures, the UK Government has shown a dismissiveness that borders on contempt for its young people.
A Labour Government would reverse this trend and prioritise the young once again as the drivers of growth. Our Jobs Guarantee would guarantee starter jobs and training for all young people out of work for a year, funded by a tax on bank bonuses and restrictions on pension tax relief for the wealthiest citizens.
Even more shocking, the Government has rejected European funds, worth a total of £22 million to the UK, dedicated to protecting the ever-increasing number of individuals and families who do not have enough money to eat. With food bank use estimated to have more than tripled since 2010, food insecurity in the UK has reached crisis levels under this Government: the European Aid to the Most Deprived fund could provide organisations such as the Trussell Trust with a vital lifeline. It is only thanks to the hard work of Labour MEPs that food banks in the UK will have access to any funding at all: a measly £2.9 million, or the same amount as Malta, Europe's smallest Member.
Finally, last week Labour MEPs secured a crucial victory in the European Parliament, releasing millions of pounds worth of key investment for Britain's poorest regions that was being blocked by Government incompetence. In a seemingly total disregard for the impact of its actions, in 2010 the Coalition upturned completely the mechanism by which EU regional funding is coordinated in England. Yet its failure to equip the new funding bodies with the appropriate powers, resources or accountability caused delays to EU investment worth almost £1 billion to the UK.
This left regions such as ours unable to access the £724 million allocated to it up to 2020, the first gap in European funding for the North East since the UK joined the EU. Funding to address unemployment, grow business and provide training.
Contrary to David Cameron's scaremongering, the EU as it stands is not a dangerous encroachment of British liberty and lawmaking, but rather a vital support to a UK suffering miserably from the harsh reality of Tory Austerity. This Conservative-led Government has proved it will stop at nothing to appease its Eurosceptic ranks and to claw back votes lost to UKIP. It has even buried the conclusions of its own report, the Balance of Competences Review, which after exhaustive research and analysis found no evidence to suggest that the EU was interfering excessively in any aspect of British life.
The Labour Party understands the value of our membership of the EU, on which depend our prosperity, security and millions of UK jobs. We know that trading in the single market drives competitiveness and innovation in UK businesses and encourages investment and capital into Britain, so boosting living standards. The EU protects our fundamental freedoms and promotes cooperation as a means to improve the lives, heath and surroundings of its citizens. Labour is committed to restoring Britain's role as a key player on the world stage, to working with other Member States to ensure that the EU is the best it can be, with British interests truly at its heart.
On Thursday 7th May the UK faces a stark political choice. A choice between a Conservative Government intent on withdrawing from the world, or an outward-looking Labour Government invested in shaping a prosperous and fair Britain that is at ease with itself on the world stage. The biggest threat to our future is not Europe, it comes from within.
Jude Kirton-Darling and Paul Brannen are Labour MEPs for North East England