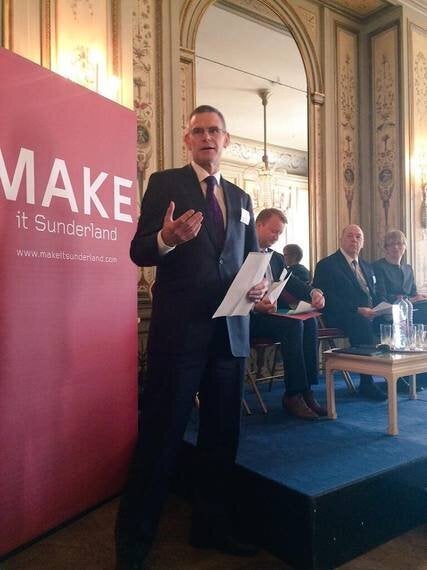 Increasing innovation is one of the cornerstones of the European Union's plan to reindustrialise Europe and ensure a solid recovery from the economic crisis. It is a laudable aim. Economies with strong manufacturing industries were more resilient to the impact of the economic crisis. Cooperation within the EU was founded on our basic industries - coal and steel - and today industrial cooperation is key to European industries mastering the challenges of the 21st Century.
The recently adopted Horizon 2020 programme aims to boost research and innovation in the EU by investing €80 billion over seven years.
In this context, on Wednesday (4 February 2015) I was keen to attend an event at the British Embassy in Brussels on the importance of innovation in high value manufacturing. Sunderland City Council's leader Paul Watson and Nissan were given the opportunity to share their collective experience with Belgian industrial actors to encourage region-to-region dialogue. In this instance, the North East's representatives were in discussion with Flemish business leaders, and their conclusion was the same: the importance of human capital and skills in achieving good innovation results.
It makes sense that countries with higher levels of workplace satisfaction see more innovation. The Innovation Union Scoreboard 2014 makes this case quite clearly: of the EU Member States, the Scandinavian countries (Denmark, Finland and Sweden) and Germany are the most innovative societies. These countries outperform all other economies in terms of global competitiveness. But it is crucial to recognise that these are also the countries with progressive worker rights and high levels of worker representation.
Successful innovation is thus dependent on worker participation, and in particular on good industrial relations between workers and management. Being able to adapt to technological change and a continually shifting economic situation demands negotiated flexibility, which makes people feel secure and valued at work. This is a long way from being under the threat of easy 'hire and fire' rules. Happy workers are not only productive workers, they are innovative workers, too. These are the lessons from the best performers in class.
MAKE it Sunderland was set up to promote the wealth of business and investment opportunities on offer in a city known for its entrepreneurial spirit and ability to make things to a high standard. At its heart is active collaboration between the public and private sector and between businesses and employees, and the exchange of new ideas. Their cooperation has delivered a world class automotive sector in the North East, producing more cars last year than Italy. Nissan's Qashqai model, built in Sunderland, broke records recently by surpassing 8 million units in just eight years of production.
The automotive industry, more broadly, is a great case study for the importance of social innovation and anticipation of change in industry. Studies show that successful workplace innovation normally finds its origins in the ideas of ordinary workers, who are best placed to identify how best to make improvements to the working environment, production techniques and whether or not a product should be continued. Organisations often take on these ideas and replicate them on a wider scale.
Thirty years ago, as the majority of the shipyards closed, car manufacturers set up shop in the North East. At that time, the industrial challenge was ensuring the transition of workers from one sector to another and converting skills - making carworkers out of shipbuilders. Today we face no smaller challenges as the automotive industry shifts towards electrical vehicles and new forms of propulsion.
Just last week, while commenting on the latest CBI/Accenture survey 'Growth for Everyone', the North East CBI recognised that "for the first time, however, in the survey's 17-year history, concerns about skills have overtaken employment regulation as the most significant threat to workforce competitiveness".
Social innovation has a key role to play as the engineering industry addresses the challenge of attracting young people and importantly more women to opt for engineering as a career choice.
The EU has already made some headway together with the European Association for Women in Science Engineering and Technology, which just recently celebrated its 25th anniversary. But more can always be done, and I and my fellow Labour MEPs are working hard to get more women into industry. Again here collaboration between industry, schools, trade unions and the public sector, is crucial. We should be learning from the best practices elsewhere and the EU provides a forum to do this.
If the EU, and particularly Carlos Moedas, the new Commissioner for Research, Innovation and Science, are serious about the reindustrialisation of European regions and creating an economy founded on innovation, they must place worker participation at the heart of innovation policies and directives. It's up to us, as Labour MEPs, to draw the Commission's attention to the success stories from our own constituencies, to make sure this happens.
Jude Kirton-Darling is Labour MEP for North East of England