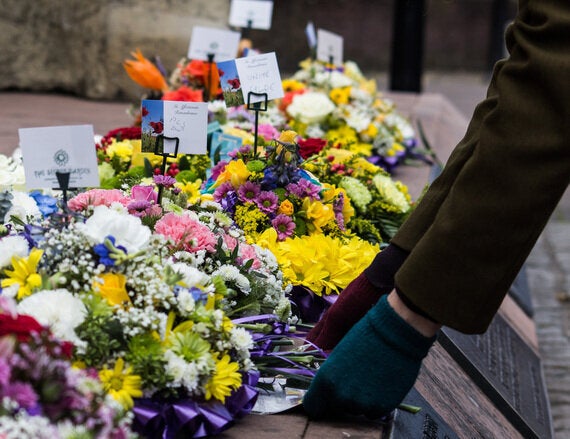 This Tuesday millions around the world will stand to 'Remember the dead and fight for the living' at events, demonstrations and vigils held to mark International Workers' Memorial Day (IWMD). This annual commemoration for all those who have been killed, disabled, injured or made ill as a result of accidents at work or occupational disease, is also an important opportunity to highlight the tireless efforts of groups and individuals who are fighting to improve health and safety at work and to protect current and future working populations from largely preventable harm to their health. Groups across the North East will be among their number, from Consett to Gateshead to Hartlepool, recognising our region's understanding of industrial disease and collective conscience to address it.
This year the focus is on exposure to hazardous chemicals in the workplace and the 100,000 men and women who die every year in the European Union (EU) as a result of occupational cancers. Specifically, the European Trade Union Confederation (ETUC), of which I was a Confederal Secretary until the European elections last year, is demanding legally binding exposure limits for 50 of the most toxic chemicals blamed for causing cancer and fertility problems.
Every year more people are killed at work than in wars, the vast majority as a result of exposure to dangerous substances that are linked to asthma, dermatitis, lung disorders and cancers. Asbestos-related diseases alone, like mesothelioma, claim 3,900 people every year across the UK, with the North East a higher than average hotspot because of the legacy of our shipyards and heavy industry.
So it is understandable that the European Commission has drawn sharp internal and public criticism for causing severe bureaucratic delays to life-saving health and safety legislation on hazardous chemicals. Since October 2013 the Commission has blocked a Directive on exposure to Carcinogens and Mutagens in the workplace, during which time the ETUC estimates that 150,000 have died. Currently only three cancer-causing chemicals have European exposure limits.
Such delays are the result of 'better regulation' within the EU. What this means in practice is that European law-making is becoming subject to a meticulous and slow process of cost-benefit analysis, at the behest of the deregulators including our own government.
An official definition of hormone-disrupting chemicals has been postponed while the Commission carries out its assessments, to the dismay and confusion of experts and campaigners. These widely dispersed pesticides and biocides, which are linked to numerous chronic diseases including hormonal cancers, diabetes, learning disabilities and fertility problems, are recognised by both the World Health Organisation and the United Nations Environment Programme as a global danger to public health and the environment that needs to be addressed urgently.
The Commission itself has already spent years working with experts to gather scientific evidence on the subject, and in 2009 and 2011 the European Council and Parliament voted to remove them from the market. Critics claim that the present impact assessment is merely evidence of filibustering tactics that pander to regulation opponents within the industry.
Along with Members of the European Parliament (MEPs) from across the political spectrum I have co-signed a condolences card in support of the ETUC's demands, which we will present to the Commissioner responsible for Employment, Social Affairs, Skills and Labour Mobility this afternoon.
While such postponements have led the Government of Sweden to sue the Commission, the UK Government shows no such solidarity with its own workers.
Since 2010, David Cameron has sought to crack down heavily on health and safety laws and what is considered to be a growing 'culture' of compensation. Following a report published in October that year, official safety inspections have been restricted to a small minority of 'high risk' workplaces and access to financial recompense for work-related injuries and disease has been dramatically curbed.
Changes to the process by which the UK's Health and Safety Executive (HSE) calculates work-related fatalities, injuries and occupational disease have led to a shocking underestimate of the problem. In what the TUC has described as a 'stupid and dangerous move', many self-employed workers are to be exempted from the enforcer's scope despite the growth in self-employment nationally.
The HSE itself has seen its budget and workforce slashed, and it is feared that worse cuts are yet to come if Tory plans are enforced after 7 May. This forms part of a much broader effort by the Coalition to reduce costs: in March 2013, then business minister Michael Fallon asked businesses and regulators to help create a legally-binding measure requiring regulators 'to take into account the impact of their activities on the economic prospects of firms they regulate.' The message is clear: in the eyes of this Government, profit will always trump worker safety.
Today, thousands up and down the country will come together in respect of, and to show unity with the workers that Cameron's Coalition refuses to protect. In Hartlepool, dozens of wreaths will be laid to commemorate this important occasion. A programme organised by the local Trades Union Council (HTUC) will feature guest speakers, a one minute silence and the lowering of flags on all public buildings.
Today is the day to show that human life is worth so much more than just another line in the balance sheet.
Jude Kirton-Darling is Labour MEP for North East England