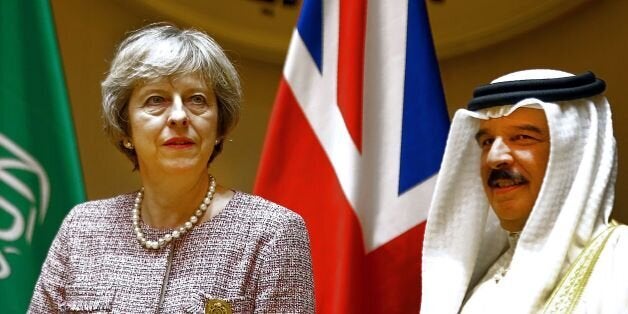 This week the Prime Minister is off to Bahrain to address a Summit of the Gulf Co-operation Council, the regional organisation that brings together Saudi Arabia, Kuwait, the United Arab Emirates, Qatar, Bahrain and Oman. Ahead of this important exchange, Theresa May has suggested that Britain should focus on trade and not complicate our negotiations with difficult discussions around human rights, labour standards or environmental protection. However, she couldn't be more wrong - new research demonstrates that when we care about people and planet, our trade flows benefit.
One of the things that the EU does on behalf of its member states is external trade policy, so depending on the Brexit deal at some point in the future Britain will likely be in charge of its trading relations - possibly entirely on its own.
The government will soon be on the frontline to defend the UK's trading interests abroad and protect workers from undercutting at home. The government will also be tasked with the tough job of promoting human rights and sustainable development across the globe. This is not just some Brussels-inspired fancy, but a long-standing British tradition that predates our membership of the EU. Our country has something to bring to the world that goes way beyond shipments of goods or the delivery of services.
Human rights makes good economic sense: a study presented this week in Brussels by the International Labour Organisation (ILO) shows that trade agreements that include strong labour standards actually increase trade more than agreements that are limited to tariff reductions and quotas.
This is because having such human rights promoted in trade deals has a significant and positive impact on employment levels, gender equality and the participation of women in the economy, and the improvement of working conditions overall. All of these are crucial elements of a healthy, productive economy, which in turn produces increased trade flows.
These findings are backed by strong empirical evidence, a detailed study of 77 trade agreements that contains such provisions. These results come from a respected international organisation, associated to the United Nations, of which the UK is a member in its own right.
So when Theresa May downplays the importance of human rights in our trading relations with the Gulf as she did yesterday, she's not only morally wrong: she's also wrong as far as our national business interests are concerned.
Trade - and in particular access to the UK market - gives us leverage, which can be used to secure real improvements in third countries. Merely "encouraging [these countries] and supporting their plans for reform" won't do it. Binding and enforceable commitments on international human rights, labour standards and environmental protection must be a pre-condition to all of our future trade deals, no matter how hard the conversation is with our partners.
Popular in the Community