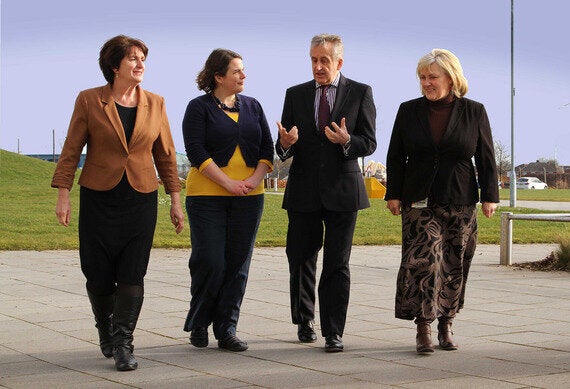 UK universities have for many years been an important gateway into the world of work for young people, providing them with the transferable skills, knowledge and competences sought by employers as well as careers advice on how to make the daunting first steps to getting a job. Increasingly important is their role in supporting young entrepreneurs and small businesses to get going, in response to new challenges presenting themselves in a time of economic downturn. The North East's cluster of five universities, supported by key EU funding, is leading the way in this field.
Though the number of people aged 16 to 24 in full-time education has more than doubled over the last 30 years, youth unemployment is increasing. Under 25s are now three times more likely to be unemployed than the rest of the population - the largest gap in more than 20 years. Youth unemployment is currently at 16%, with 30,000 more young people out of work in January alone.
In this hostile atmosphere young people are more than ever turning their hand to starting their own companies: in particular the kind of businesses that look beyond the profit margin and towards a social goal, too. The Global Entrepreneurship Monitor found that in 2008 there were 1.7million people leading social organisations in the UK, providing a huge range of products and services.
The UK needs these social entrepreneurs more than ever: in a time of deep and swingeing cuts to local authority budgets under the Tory-led Coalition - an estimated £20billion, or 40% since 2010 - social enterprises are providing innovative solutions to support local need.
Universities are ideally placed to grow and develop these entrepreneurial skills, and the North East's Higher Education institutions are responding to the challenge with vigour.
Last month, I visited Teesside University to hear about the work of the North East universities to develop local small businesses.
Teesside University, which works with hundreds of businesses every year and which won the Queen's Anniversary Prize for excellence in the field of enterprise and business engagement, is giving crucial support to local graduates to establish their own businesses and pursue not-for-profit objectives, which in turn create jobs and boost the local economy. It has established a national business hub at its £13million campus, offering a centre for businesses to access R&D, training and professional education support. This is crucial in a region like the North East, which suffers from significant skills gaps and the UK's highest rates of youth unemployment.
This is inspiring stuff and others are watching attentively, too. A couple of weeks ago, Teesside's Karen Race (on behalf of the North East's cluster of 5 universities) and UnLtd's Ellen Shipley spoke at a European Commission conference about the importance and wide-ranging benefits to a region, like ours, of supporting social enterprise. They came over to the European Parliament afterwards to discuss next steps and future plans.
It was great to hear how EU funds are supporting social innovation across the NE, promoting cooperation between our five universities and ensuring that our graduates are able to build new businesses which benefit the local economy. Both UnLtd and the North East cluster receive European Regional Development Funding.
The University is also a partner in the EU's Enterprise Europe Network, which brings together around 600 business support organisations from more than 50 countries to help small- and medium-sized enterprises (SMEs) make the most of the unrivalled business opportunities on offer in the Union.
The European Union recognises that entrepreneurship, particularly in the form of SMEs - which make up 99% of businesses in the EU - is key to creating a flourishing and resilient economy, and has made it a key focus of its recently adopted Horizon 2020 programme. The scheme aims to boost research and innovation in the EU by investing €80billion over seven years, of which €2billion will go towards providing direct funding and indirect support to increase the innovation capacity of up to 20,000 SMEs.
With youth unemployment at 23% across the EU, and with an extremely volatile European business market that is changing at an unprecedented speed as it struggles to pull itself out of recession, we need our young people to have the skills to cope: those of agility, resilience, creativity and innovation. I am extremely proud of the leading role the North East is playing in this field, and will do everything in my power as Labour MEP to ensure that EU funding continues to reach the places that need it most.
Jude Kirton-Darling is Labour MEP for North East of England
Popular in the Community