Ah Paris - whether you are there for an hour, a day or a week there is just something about Paris that is magical. I've often had only a few hours or just barely a day to enjoy the delights of Paris and so to help others choose the best places to visit with limited time I've put together an outline of one such flying visit to the delightful Parisian streets. I only ever travel Eurostar so I have assumed that as your start and end point - good travelling!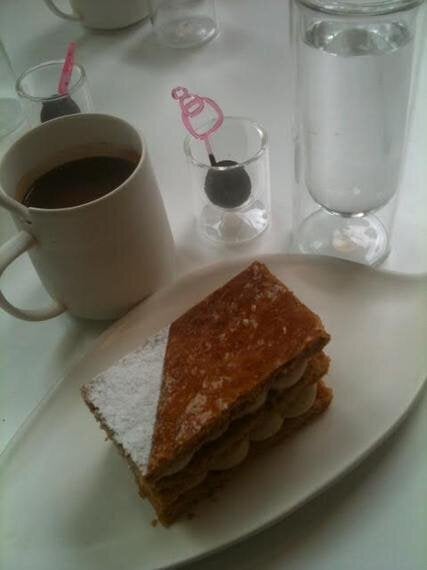 Upon arrival in Paris, Les Patesserie des Reves is usually everyone's first stop but it isn't that close to the metro and it isn't that close to the Garde du Norde which is where you'll be starting your journey. While I moderately enjoyed my visit, the cafe was always heaving and was expensive for a hot chocolate and a pastry so it is probably best to get this one out of the way early if you must (or cut one shops off and make an afternoon of it). If you're coming from London just skip it and visit the LPDR in London. In all honesty it's just as good and less stressful.
I'd start with perhaps Un Dimanche a Paris with its beautiful interior and gorgeous patisserie. There is so much to discover here and while I didn't dwell to long there is a restaurant so you could make it your last stop before the train home. It's not too far from the Garde du Nord as it is close to the Mabillion Metro station so take the purple line (4) from Gaede du Nord towards Mairie de Montrouge/Porte d'Orleans and change at Odeon. There are so many patisserie to choose from here but don't get too many as you want to make sure to leave room for all of them ;-)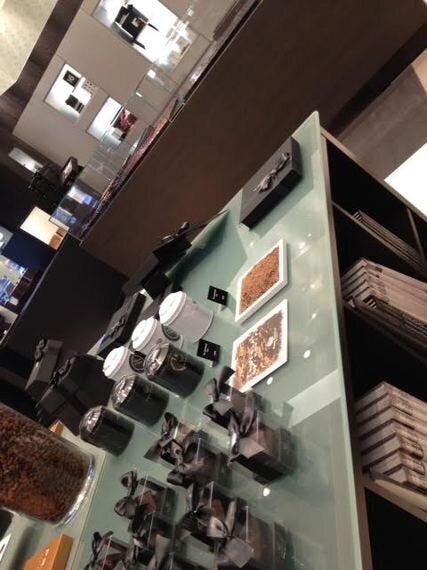 Image credit: Judith Lewis
Pierre Marcolini is a must-visit for the bean to bar enthusiast. If you go to Un Dimanche a Paris you might as well drop in to the Pierre Marcolini location near the Mabillion station. There are several locations around Paris but this would just be convenient. My favourite is probably the one on Rue Scribe near Opera but all the shops are amazing. Get the dark chocolate spread - I could eat that like pudding! Treat yourself to some ganache or the patisserie. The ganache is made from the bean at Pierre's facility outside Brussels (which I have visited) as are his origin bars. As a chocolate or patisserie fan you need to make this one of your stops for pick up and go. There is a shop in the Eurostar waiting lounge but it is small and doesn't have patisserie so don't miss out!
Want to do some amazing chocolate in quirky packaging? Chapon is one of the most delicious chocolate bars I've had for a while. Their Madagascar and Venezuela were outstanding when I had them. I understand they are packaging someone else's coverture but it is outstanding quality and well worth a visit because of it. I also loved their ganaches, their packaging and the cute shop. Absolutely worth the visit for the quality of the chocolate alone, if not the absolutely cool retro packaging from the Victorian Era. Hop on the line you were just on in the same direction and hop off at Severes - Babylone. It's actually at Rue du Bac station which you can get to if you change to the green line (12) but it is one stop or a 7min walk. By the time you change platforms and wait for the train, you'll have walked there.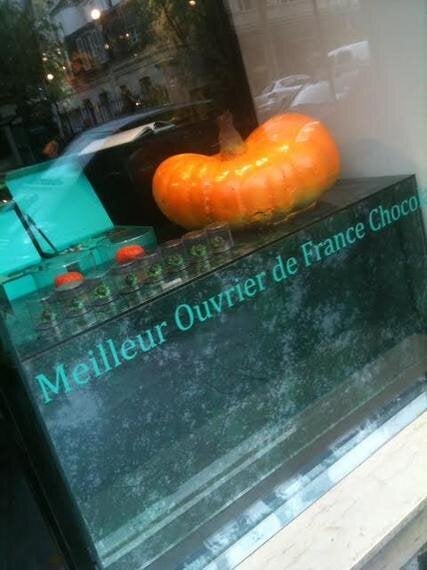 Image credit: Judith Lewis
Of course you can't go to Paris and not go to Patrick Roger. This is one of the most amazing chocolate shops. While again not bean to bar, if you want a slickly presented bar of remoulded high quality coverture you can't get better. The chocolates are amazing, the ganache, the sculptures, everything is a delicious feast for the eyes and the mouth. You're sure to overspend in this shop and I won't discourage you from doing so! The one I went to was close to two different stations (and thus in the middle of them) but SO WORTH IT! Make a point of going but there are several other locations around Paris you can choose from. The one I recommend for you is the one at Rennes station as you can walk to Rue du Bac and hop on the 12 going south (towards Mairie d'Issy) and hop off at Rennes for the short walk to the shop.
There's also Café Pouchkine (Pushkin) on the Metro - in fact there are three locations. I went to the one near Havre-Caumartin/Saint-Lazare but there are two other locations you can visit. While not a huge location it is absolutely worth a visit. There are different patisserie here than you will get elsewhere so I definitely recommend a visit if you want to try something different. I believe they are all Russian influenced patisserie and flavours but really, who cares? It's all delicious! Hop on the Metro at Rennes and take line 12 (towards Populaire) and hop off at Saint-Lazare for the short walk to the Café.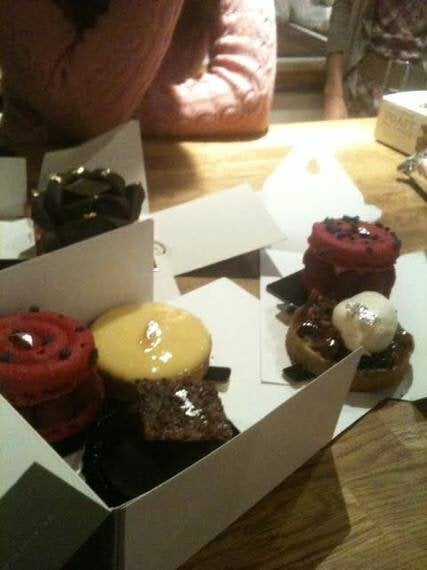 Image credit: Judith Lewis
If you are heading back to London now, walk to the RER station on the pink line E at Haussmann Saint-Lazare for a straight run back to Garde du Nord or you can take line 9 from Haver-Caumartin to Strasbourg - Saint-Denis and change to line 4 which will take you back to Garde du Nord.