It's finally over but for me, but the supermarkets are about to start dressing the shelves for Christmas 2014. How is Christmas already over for me? Every July & August there are a flurry of Christmas events which I end up hauling myself around to in the hottest weather of the year trying to feel Christmassy (even with seriously torn ligaments in my foot this year). It's interesting to be able to get such an early look at Christmas 2014 and then give friends hot tips to get in to places early. This means I can tell you now what's hot and what's not for this holiday season, hopefully saving you tons of time and helping you get a posh look on the cheap!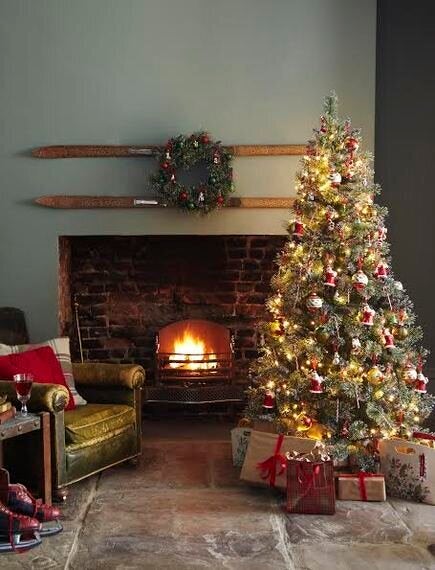 There was a striking difference this year with supermarkets featuring their goods quite differently. Tesco had a very interesting range, focusing on some themes such as gold and black, Marti Gras and a rustic Christmas. Rustic/rural was a theme I saw echoed across a number of shows including Harrods. Top tip - buy Tesco deer cushions and other rustic items to make it look like you went to Harrods ;-)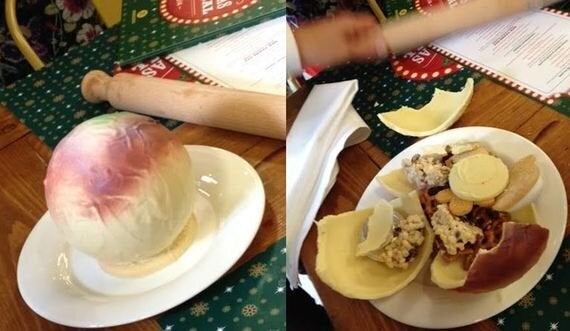 Image courtesy Judith Lewis
Morrison's really impressed me with their food. While I'm a HUGE fan of Aldi, I had to admit that Morrison's had an impressive range of items of food available for parties or families. Their turkey bombe was fascinating as was the white chocolate globe filled with treats - that was perfect for the kids table if you cover the table in some plastic.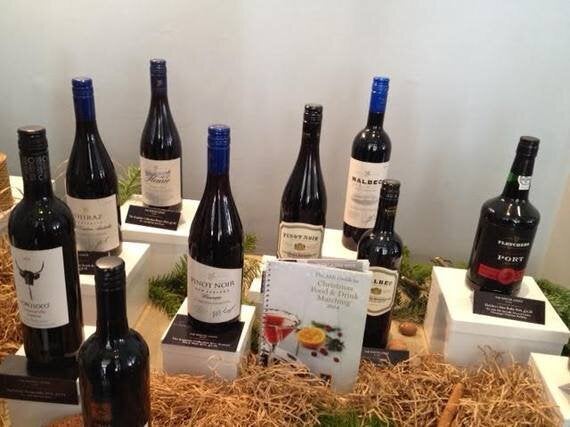 Image courtesy Judith Lewis
Aldi has won Christmas booze for the fourth or fifth year in a row it seems. Inexpensive and impressive, their wine, champagne, sparkling wine, brandy, port and other alcohol is inexpensive and delicious. I can't imagine how they can do it so cheaply but long may they continue.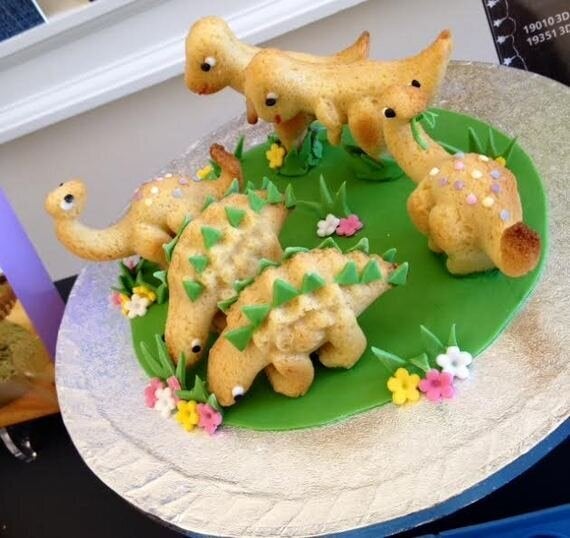 Image courtesy Judith Lewis
Lakeland and their 3D dinosaur cake moulds won me over though. I want to buy those for my nephew NOW and I simply cannot wait! On top of that they had a great chocolate book by Paul a Young for the really keen chocaholic in the family plus you could buy all the bits for it. There were also the usual amazing range of Lakeland items such as gummy moulds, ice lolly trays, amazing cooking pots with special thermal designs, juicers and more. It is kitchen heaven.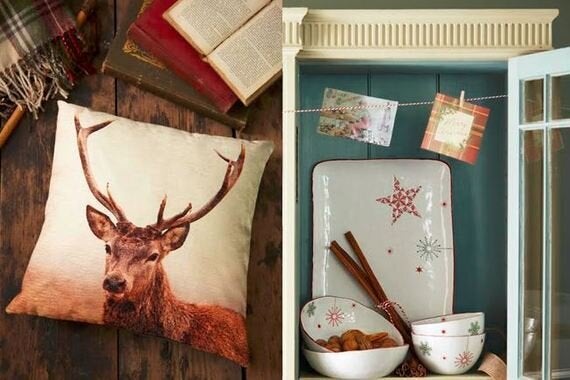 Tesco I feel beat Waitrose and Sainsbury's in the 'supermarkets-close-to-me-I-will-shop-at' category. Their breadth of reasonably priced but still luxurious items meant I could decorate in the Fortnum's or Harrods style at a much lower price. Waitrose had some fun stuff but I wasn't as impressed as I have been in previous years. There was an effort to do some new items but others seemed like rehashing the same thing in a different size. It was a bit disappointing like opening your third joke sweater on Christmas morning.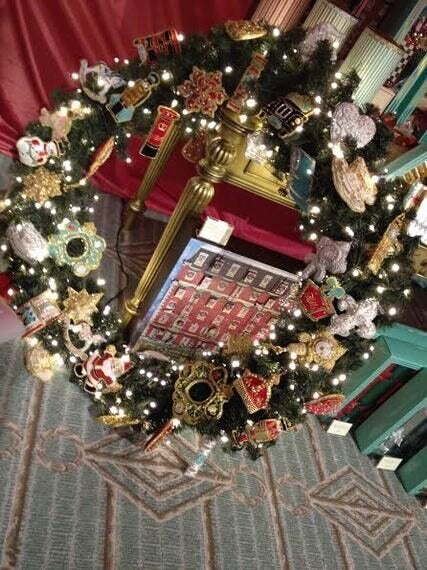 Image courtesy Judith Lewis
Fortnum's and Harrods which are both luxury department stores put on a luxurious spread but I think Fortnum's edged into the winning spot of the two. While Harrods relied heavily on their concessions to wow journalists without much in the core range, Fortnum's focused on core branded ranges of delicious chocolates and indulgent pies worthy of any table, fabulous festive foods and more. I loved the range in Harrods who had the greater choice across several themes, but Fortnum's won Christmas for me - unless you include Selfridges which is a bit radical for some.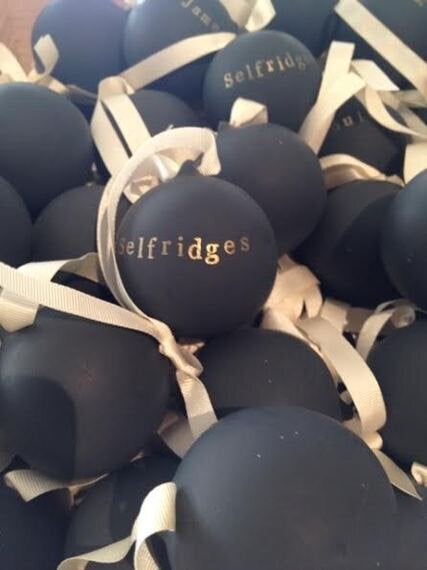 Image courtesy Judith Lewis
Going for a completely personalised approach, Selfridges are making Christmas extra-special this year (and making re-gifting absolutely impossible) by offering dozens of personalised gifts. From present sacks and tree ornaments to embossed leather and engraved brass plaques, they personalise everything from a set of Dominoes (nephew is getting a set - thank goodness at 5 he doesn't read my posts but my other nephews do - NO TELLING!) and Mr Men pictures, to clothing and jewellery. I was impressed with the approach and execution *but* as it is personalised make sure you a) can spell and b) know what everyone's name actually is. Don't be like me (whoops - apologies to my mom who I woke in a frantic panic).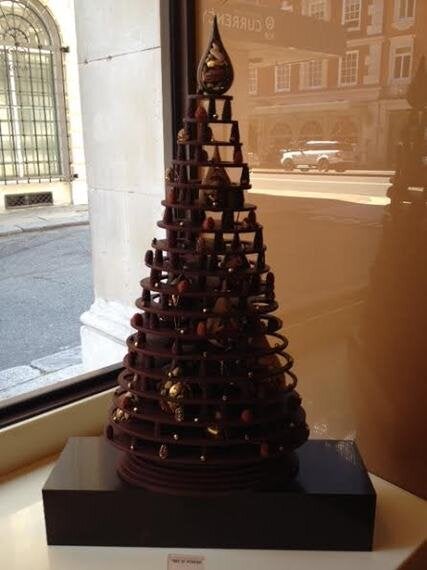 Image courtesy Judith Lewis
Of course, Christmas is big for chocolatiers and Paul A Young displayed an amazing array of chocolate delights - from fruit and nut brownies, through to locally sourced alcohol for his truffles, the array of chocolates this season is massive. Last year I think La Maison du Chocolat had a stronger selection for me but Paul's core range for Christmas is absolutely breath-taking. La Maison, however, have stunned again with their absolutely magnificent and reasonable priced chocolate tree (considering the work involved). Considering the £1,300 Harrods exclusive Charbonnel et Walker chocolate box and the £700 tree, it makes the tree reasonable considering the work involved. Delicate tiny chocolate pine cones support each layer of chocolate. There are chocolate ornaments suspended within the tree skilfully by building up the layers around it. You have to see it to believe it.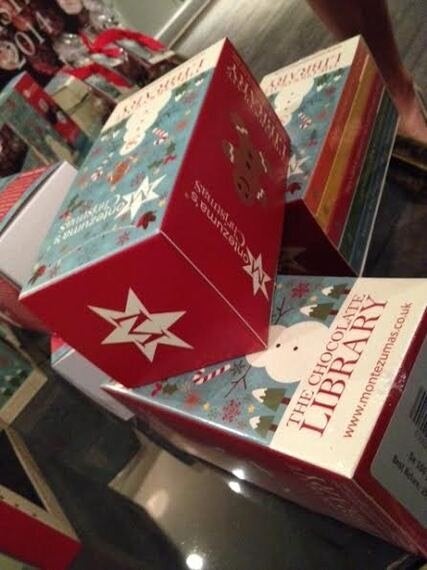 Image courtesy Judith Lewis
Montezuma has a chocolate gingerbread man almost as large as Aldi's but they also had a chocolate beer that tasted of chocolate. Novelties aside, you might wish to consider their chocolate library for the chocolate lover in your life. Thornton's of course have an amazing range of Christmas chocolate. Whether you go for the retro chocolate (old recipes brought back with a modern twist), the cute dessert flavours or the girly cocktails, there is something for everyone.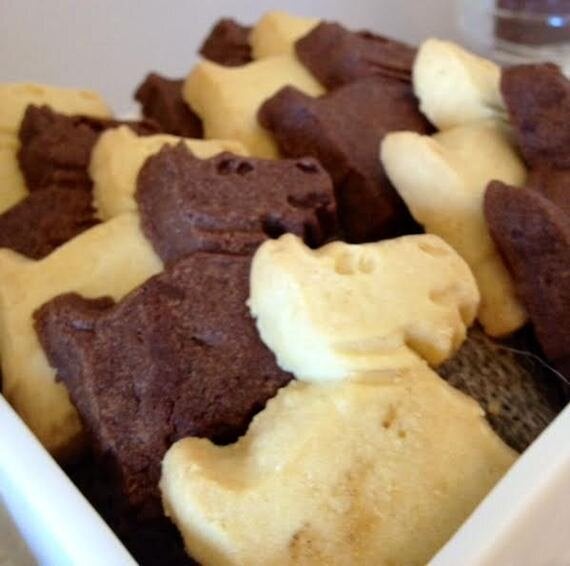 Image courtesy Judith Lewis
The nephew is certainly going to be getting some piles of chocolate from me this year! On the chocolate front, Sainsbury's won my heart with chocolate Scottie and Westie dogs. White and milk chocolate, plain and chocolate shortbreads and more. Our friends with as new Westie are going to be getting a LOT of these goodies this year. Divine have some amazing chocolate bar flavours for the holiday season incorporating both spice apple and toffee in milk chocolate andn pear and ginger in dark. Everything possible is Fairtrade sourced and the farmers own 45% of the company so I like to support them. If bars aren't your bag, try their box of their shaped Belgian chocolates! My nephew might also get some of these... I do want to also send him some of Hotel Chocolat's puddle penguins (SO CUTE!) but the absolutely stunning salted caramel milk chocolate snowflakes are staying with me. Hotel Chocolat have a huge selection and I spend far too much money with them every year ;-)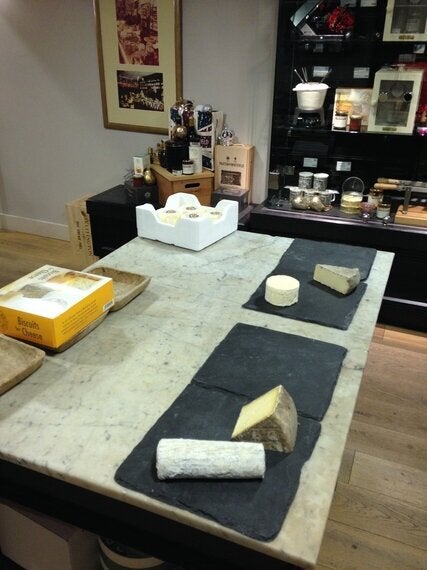 Image courtesy Paxton and Whitfield
Chocolate and cheese is often a popular combination amongst chocolatiers for some reason but this year I suggest heading to Paxton and Whitfield for an expertly curated selection of cheeses. In fact, if you just kind of know what you like, they can guide you to new cheeses and new combinations that will put to shame the tired old port and stilton combination. I was gobsmacked by how rich and diverse the world of their cheese was with some exclusives. I had no idea there was such a thing as exclusive cheese. Everything I tried was delicious and most of it was local to the UK so perfect for buying local.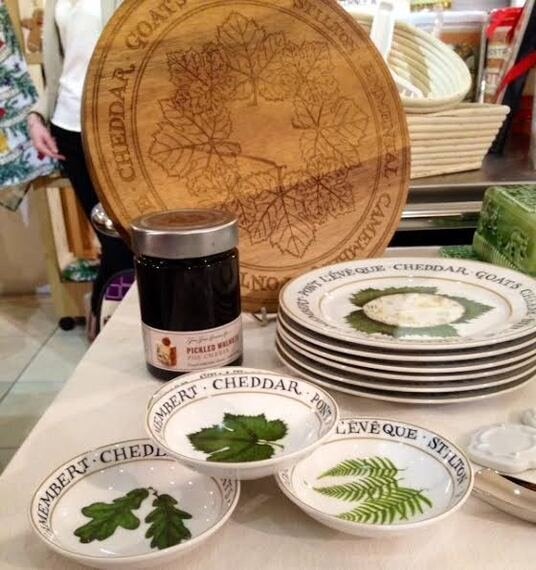 Image courtesy Judith Lewis
I have to finish by saving the best for last. Divertamenti was an absolute Aladdin's Cave of kitchen treasures. I cannot even start to talk about what I loved as it would simply read like a catalogue. They had everything from what will be my friend's Christmas present of cheese plates matching their existing French-themed ones, to some knives I'm considering for dad, to some dishes that if I ever win the lottery are going to be my daily dishes. If you walk in to this shop you will find yourself unable to walk out empty-handed. Whether it is flowering tea or a new whisk, a tin for Oxo cubes or a new mixing bowl, there are things great and small, expensive and inexpensive here. This could solve every Christmas dilemma you have all in one go.
Overall my top pics are Aldi for inexpensive booze, Morrison's for inexpensive food, Tesco's for inexpensive decoration, Paul A Young for adult chocolate, Thornton's for children's chocolate, La Maison for a centerpiece, Fortnum's for posh bits, Sainsbury's for dog lovers, Divine for ethical chocolate, Selfridges to prove you put thought into your gift, Lakeland if you've got kids (old or young) who love dinosaurs and Divertamenti for those people who are tough to buy for. Buy some Hotel Chocolat for yourself ;-)
Did you find anything particularly excellent last Christmas or even particularly questionable? Share it with everyone!