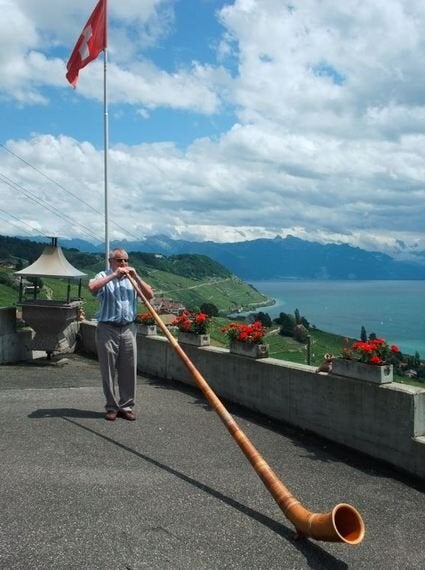 Switzerland is an absolutely beautiful place with fun traditions like fondue, bells, wine and Alphorn
Image credit: Domaine Crouix-Duplex - used with permission
I fell in love with Switzerland when I had a crush on a boy in school whose parents were Swiss. I think I still do have a crush on Switzerland... More recently I spoke at a conference in Montreaux and learned all about Swiss wines and the Swiss wine-growing regions, taking time to visit vineyards.
My love of Switzerland has seen me often in and around Geneva - and it is from Geneva that you can access the rest of Switzerland easily by train. I fly Swiss mostly as they go from Heathrow and can be inexpensive but with 8kgs in cabin baggage you need a hold bag too. Easier is EasyJet with heavy-as-you-want cabin bags. I recommend *not* returning to Gatwick late if you live outside London and take public transport as I've experienced trouble every time. Hard lessons learned by a frequent traveller.
Getting from Geneva airport is very easy as the main rail station at the airport takes you practically anywhere you need to go and the direct train to Lausanne takes less than an hour. I recommend buying only the ticket you require or there is Swiss Transfer Ticket to get you to and from Lausanne. Once you arrive at Lausanne make sure you get the Lausanne Transport Card from your hotel. It gives free use of all Lausanne public transport to every visitor staying in a hotel in Lausanne and you also benefit from substantial discounts on the boat crossing between Lausanne-Ouchy and Evian (yes, it's a real place not just a bottle of water), souvenirs and the admission price to various municipal and private museums.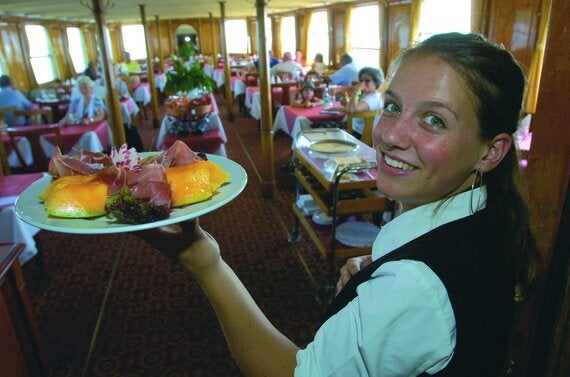 You'll be too busy eating to remember to take any photos on this cruise
Image Credit: © CGN Cruise - used with permission
Once you are in Lausanne, one of the nicest hotels is the Hotel Royal-Savoy on the Avenue d'Ouchy but you'll love the more reasonable Swiss Wine Hotel or the budget Lausanne Guest House. Once settled the city has so many delights and as Swiss has a 7am flight, you'll have time. Why not head to one of the many chocolate shops and grab something sweet? I do love Laderach's milk chocolate almond bark plus they have origin chocolate. As you'll have the afternoon I recommend a quick stop at the Café de Grancy on Avenue du Rond-Point for a snack and a rest then get yourself booked on the amazing gastronomic cruise by CGN Cruise on Lake Geneva. If you still have life in you after the cruise, why not pop to The Great Escape on Rue de la Madelene which has the best terrace and is near Lausanne cathedral.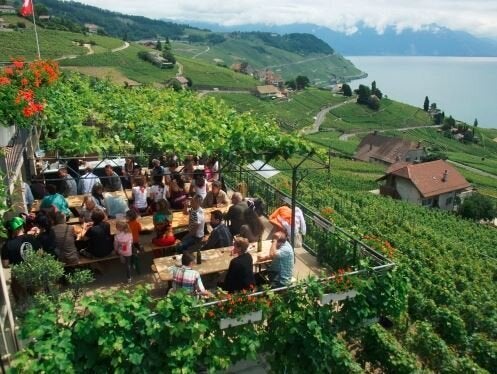 The vineyards at Domaine Crouix-Duplex are absolutely breathtaking and when you see them you'll understand why they are a UNESCO World Heritage Site
Image credit:Domaine Crouix-Duplex - used with permission
Saturday I recommend packing it in so get breakfast in you (most hotels will include it) and start the day with a guided city tour on foot. Make sure to get booked on one that includes the old city, the beautiful 13th century Gothic Cathedral, the pedestrian area, the city hall dating back to the 16th century and Lausanne's lake side promenade in Ouchy. After all that walking, head to the Traditional Market for a spot of cheese shopping before leaving the city centre for a lunch in a vineyard. Don't miss the opportunity to experience Chasselas wine country during harvest and go to Domaine Crouix-Duplex where you can get a lunch and a wine tasting in a UNESCO World Heritage Site. After your boozy lunch take in some of the culture of Lausanne through their many museums and art galleries. Personally, I think extra tastings in the vineyards sounds better but Lausanne has many museums and shops worth visiting. Walk off that lunch and head for a traditional Swiss dinner at Café du Grutii on Rue Mercene because CHEESE FONDUE! After all that cheese fondue or whatever you've chosen you'll want to walk it off before bed so why not continue your wine adventure by walking around to Vintage Wine Bar on Rue Langallerie.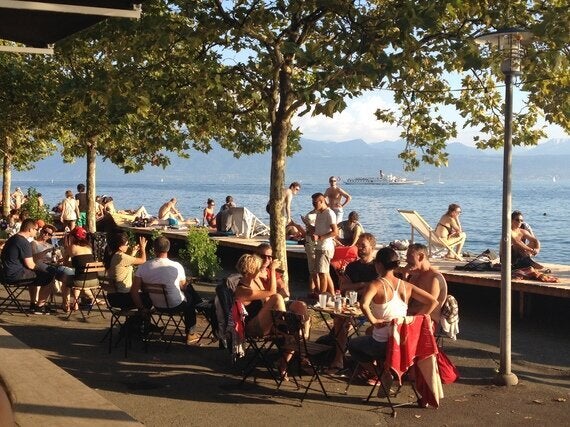 The jetty is an amazing place to sit and watch the world go by so don't miss a chance on a lazy Sunday to discover this gem
Image credit: © Lucas Girardet - used with permission
Sunday should be a day of rest but there are museums and more to get in before you leave! Remember to give yourself enough time to get to the airport but why not visit the Olympic museum or buy a few more bottles of Swiss wine to take with you (there is lots in duty free in GVA airport near the escalators to the other gates) or even just relax at brunch at La Jetee de la Compagnie by the lake!
It's grape harvest season and the weather is amazing so enjoy your city break in Lausanne!