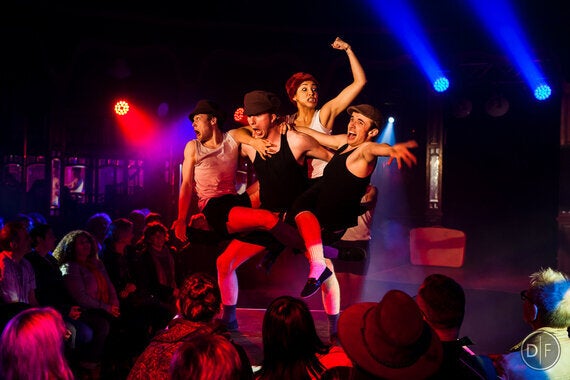 Brighton Fringe, England's largest arts festival, arrived this weekend with a record 3,584 performances of 784 shows at 171 venues across the city for the entire month of May. Ticket sales are already 15% up on last year, meaning that we should be expecting audiences of close to 290,000 people. Overall, there are 179 free events and 556 at under £10, so coming to Fringe definitely doesn't break the bank.
The festival caters for everyone, with theatre, music, comedy, cabaret, circus, dance, family shows, spoken word, film, tours, visual arts and workshops. Each weekend also features Fringe City, our free outdoor showcase, with excerpts from many hundreds of acts, street food and drink.
Brighton Fringe WINDOW Showcase
Because no artistic judgement is imposed on participants, Brighton Fringe acts as a springboard for new and established work, and we have a number of schemes to help promising artists flourish. Our WINDOW programme offers ten talented performers or companies the chance to take the next step in their careers by connecting them with bookers, talent scouts, producers, critics and other figures from the arts industry. Shows this year include BurntOut Theatre's Muscovado (5-6, 26-27 May), a scorching new play by Matilda Ibini, Soho Theatre's Writer-in-Residence; Wildspark Theatre's The Bombing of the Grand Hotel, based on the true story of the reconciliation between Pat Magee, who planted the bomb, and Jo Berry, whose father was killed in the blast (6 , 7, 9 May) and Mirando the Gay Tempest from the award winning Theatre North, an exuberant adaptation of Shakespeare's play peopled with gay characters (7-10 May).
From Edinburgh Fringe 2014 comes Lorraine and Alan, winner of the Brighton Fringe Award for Excellence, a beautifully staged, modern re-telling of the Selkie myth with live electronic sound design, song and several hundred plastic bottles. Amsterdam Fringe Festival Award-winners PAND 7090 and The Liberation of an Angry Little Man, two of the 57 shows from 22 countries featured in the Fringe this year, bring the best of Fringe from around the world to Britain's favourite seaside resort.
The Pebble Trust is supporting three talented artists aged 25 and under, one of whom is a world champion tap dancer. Each has won a bursary plus mentoring from seasoned performers including performance artist, choreographer and filmmaker CiCi Blumstein and West End actor Craig Whiteley.
For the first time ever, artists aged 60 and over are also being supported through a bursary. The line up of bursary winners is incredibly diverse and includes 80-year-old cabaret artist Lynn Ruth Miller; video artist David de Pinna, who creates plays solely for You Tube; a poetry, song and spoken word piece in remembrance of World War 1 from Alan Felton, and a production of Vlad the Impaler from the award-winning Brighton Theatre company.