Seventy five years ago today, on 1st July 1941, the Board of Trade introduced clothes rationing in Britain. It came completely out of the blue and almost everyone who heard the announcement by Oliver Lyttleton at 9am on the wireless was taken by surprise. Why was it necessary? Britain's resources had to be turned over to the war effort; raw materials and factory space were used purely for wartime purposes and the manufacture of civilian clothing was restricted. Churchill was against clothes rationing but eventually agreed it was a necessity.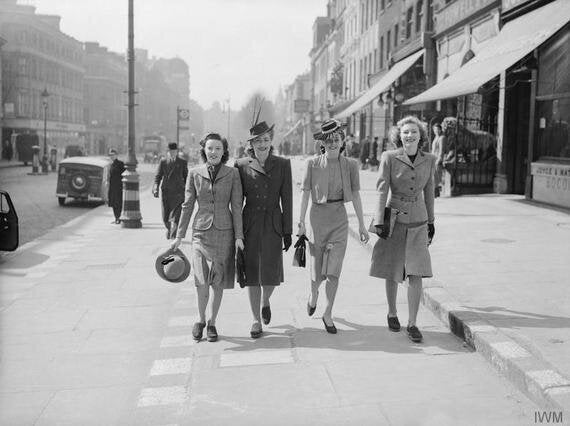 In today's consumer-driven world where clothes are cheaper and more readily available than at any time in our history, it seems extraordinary to think that every man, woman and child was limited to sixty-six clothing coupons. This would be sufficient to buy about one full set of clothes a year: 18 coupons for an overcoat, 13 for a coat, jacket or blazer like garment, 8 for a pair of trousers and so forth. Even underwear had points: stockings were 3 points and handkerchiefs 1. The bureaucracy of clothes rationing was so complex that the Board of Trade had to issue a clothing quiz annually so that people could learn now many points individual articles were worth each year.
The year after clothes rationing was introduced the government was still concerned that the demand for clothing outdid the supply. In 1942 it reduced the number of coupons per person and brought in the Utility scheme where long runs of small numbers of designs, ie mass produced clothing, would be cheaper and more efficient. The designs were dictated by a new concept: Austerity. This was brought in to limit the amount of material required to make dresses, trousers, shirts and so on. The number of pleats in skirts was limited, as were hem lengths. No more than three buttons could be used on a coat or jacket and men lost long socks and trouser turn ups, producing a howl of indignation that reached into the House of Commons.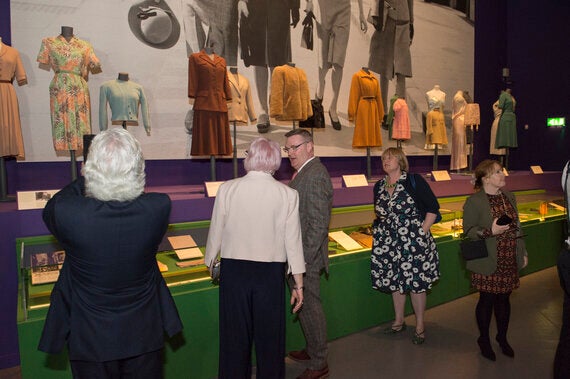 If this all sounds dire, dull and grey, think again. A stunning exhibition at IWM North in Manchester celebrates Fashion on the Ration, 1940s Street Style. It is an enlarged version of the exhibition that ran at IWM London in 2015 and is full of delights and surprises. The exhibition explores how style survived and even flourished in the face of austere restrictions. Despite the strict rules of rationing, fashionable trends and creativity on the British Home Front blossomed in new and unexpected ways.
The first section of the exhibition looks at uniforms. Nearly one third of the population was entitled to wear a uniform. Not just the services but ARP wardens, women bus and tram conductors, Land Girls and members of the Women's Voluntary Service. Uniforms offered women, in particular, a sense of independence and status. Louis Katin observed his wife in her tram conductress uniform: 'She commands people. She directs and controls them. She has joined the great army of uniformed workers who minister to the public, and the postman and the policeman are her natural allies. You have known her up till now as a woman. Now you know her as a social unit.'
Fashion houses responded at the outbreak of the war by rejecting the Paris-led nipped waist look for military style box skirts and square shouldered jackets. The editor of Vogue wanted women to look smart, even beautiful, but to be practical. She even advocated wearing trousers, which was frowned upon by both men and women in the countryside who thought it 'very peculiar' that women should be dress in slacks.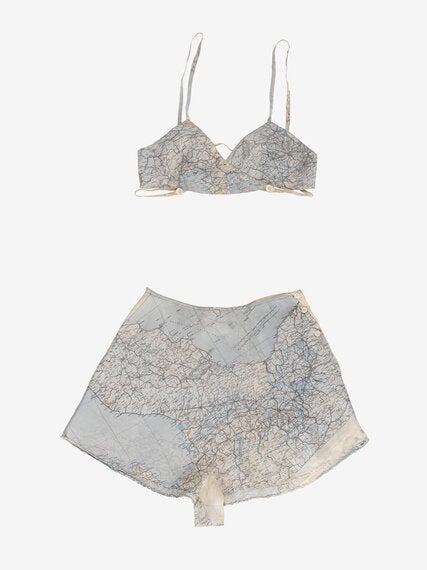 As the exhibition progresses there is more, not less colour and the styles become extraordinarily varied and the designs so inventive. There is a knicker and bra set made out of an RAF silk map for Lady Patricia Mountbatten and several example of Make-Do and Mend dresses, housecoats and even a long dress made from scarves.
The exhibition at IWM North is highly recommended. It is beautifully laid out with items given plenty of space so that they can be appreciated in their entirety. It is engaging as a visitor experience as there is so much material to study but the exhibition is visually strong so it has something for the casual visitor as well as for the aficionado. And one great advantage is that it runs until 1 May 2017 so there is plenty of time to see it.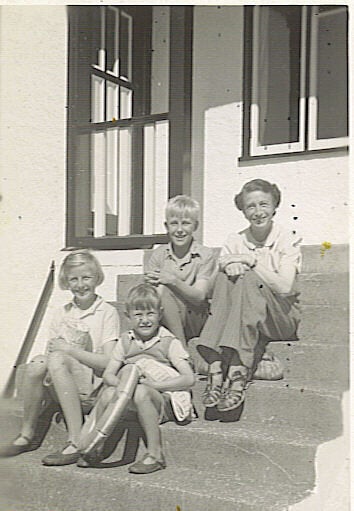 As part of the celebration of wartime fashion the museum is asking people to dig out photographs of What My Family Wore. I found this photograph of my grandmother with her three children, including my mother, taken at Rhosneigr on Anglesey in 1945. My grandmother is wearing slacks! She only ever wore trousers on the beach. At home she always wore a skirt and if it was a good tweed skirt, she would make sure she changed the position so that she didn't sit a bottom shape into it. The children all wore hand-me-downs and my mother remembers ripping her dress while climbing over a fence and getting severely ticked off for it. She only realised later that her mother was so upset because it was her only dress.
Fashion on the Ration:1940s Street Style runs from 27 May 2016 - 1 May 2017 at IWM North. There will be a major series of events including a Fashion on the Ration Weekender on Saturday 4 and Sunday 5 June and an In Conversation event with fashion designer Wayne Hemingway and journalist Lucy Siegle on Fashion and Sustainability on 5 October 2016.