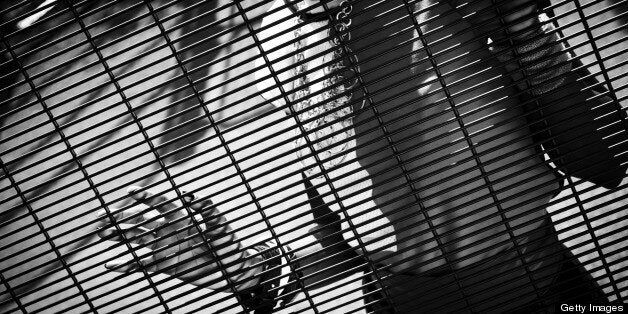 Juliet Lyon, director of the Prison Reform Trust, welcomes the growing involvement of women's civic society organisations in work to improve the criminal justice system and gain a humane, effective response to vulnerable people caught up in it.
Prison is our least visible, most neglected, public service. Perhaps no surprise then, that when people in communities turn their attention to the state of our prisons and the state of people in them, many feel impelled to get involved in changing a flawed justice system. Now Soroptimist International of Great Britain and Ireland is joining forces with the Prison Reform Trust to reduce the unnecessary imprisonment of women. Together we are launching an action pack at Westminster on Thursday. Over the year Soroptimists will gather information from police stations, courts, probation, prisons, women's centres and local authorities to profile what works to help women out of trouble and to expose, and make good, gaps in services. They are set to galvanise policy and practice across England, Wales and Scotland.
Soroptimist International is the world's largest women's service organisation with more than 90,000 members, in over 3,000 clubs in 127 countries - from Argentina to Zimbabwe. It holds Consultative Status at the United Nations. There are approximately 8,000 members in the UK. In 2012 the UK Programme Action Committee resolved to mount a campaign to reduce women's imprisonment in partnership with the Prison Reform Trust. This initiative ties in with its flagship programme, Violence Against Women - Stop it Now, which reports annually to the Home Secretary, Ministers and the Government Equalities Office. We will be producing a similar report on women's justice next year.
Today's Parliamentary launch, chaired by former Lord Chief Justice, Lord Woolf, and addressed by Baroness Helena Kennedy, will bring together MPs and Peers, policymakers and over 50 regional Soroptimist representatives. It's timely as the Government has recently published a strategy on women's justice and announced the establishment of an advisory board, chaired by Justice Minister, Helen Grant, to help shape future policy and drive through reform. Following the Angiolini review, the Scottish Government has committed to transforming women's justice and there are new proposals in Wales and Northern Ireland for improved provision for female offenders. Lord McNally, Minister of State for Justice and Deputy Leader of the House of Lords will speak at the reception. Although Government has yet to place reform of women's justice on a statutory footing, in a recent debate on the Crime and Courts Bill Lord McNally undertook to report to Parliament on progress in a year's time.
The Soroptimists were struck by the way women's prison numbers had spiralled out of control over the last fifteen years. Around 13,500 women are sent to prison every year in the UK, most to serve short sentences for non-violent crimes. Often victims themselves of domestic violence, trafficking and rape, many women, separated from their children, harm themselves repeatedly in custody and lapse into reoffending on release. Yet evidence shows that most of the solutions to women's offending lie outside prison walls - in treatment for addictions, mental health and social care, safe housing, debt management and employment and skills. Figures just released by the Ministry of Justice reveal that:
• Nearly half of female prisoners (48%) surveyed report having committed offences to support someone else's drug use, compared to 22% of male prisoners
• Women in prison are nearly twice as likely to be identified as suffering from depression as men in prison (65% versus 37%), and more than three times as likely as women in the general population (19%)
• Women in prison suffering from anxiety and depression are significantly more likely to be reconvicted in the year after release compared to female prisoners without such symptoms (this relationship is not found amongst male prisoners)
The National Council of Women of Great Britain, with an affiliate membership of more than 40 women's organisations, is also working to reform women's justice and is mandated to reduce women's imprisonment. Recently it took the decision to include young women in prison, and those on probation, in its groundbreaking new writing competition 'Giving Girls and Women a chance to change the lives of millions'.
Inspired by the tragic death by suicide in custody of the son of one of its members, the National Federation of Women's Institutes has worked resolutely over the last few years to call a halt to the inappropriate imprisonment of people who are mentally ill. With the Prison Reform Trust, the WI leads a powerful Care not Custody coalition. Including the Police Federation, Royal College of Nursing, Law Society and Prison Governors' and Prison Officers' Associations, as well as leading mental health and penal reform charities, this coalition is successfully holding Government to account for its welcome commitment to develop, in every police station and court in England by 2014, liaison and diversion services for people with mental health needs or learning disabilities.
Across the UK women's civic society organisations are mobilising, forming strategic alliances that combine knowledge and influence, and presenting a strong voice from communities across the UK to press for, and achieve long-awaited change. Government would be wise to listen.
Popular in the Community