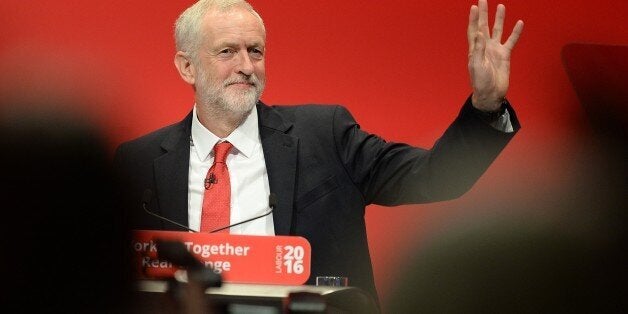 I've just returned from a conference that saw claims allegations of anti-Semitism are exaggerated and Holocaust Memorial Day isn't inclusive enough, heckling of a speech in which a Jewish organisation called for the speedy implementation of rules to crackdown on racism and a group of young Israeli Labour members being photographed by Palestinian activists suggestions they were sent as "agents" of the government. This was not a conference of some far right fringe party but that of Labour, a party with an unquestionably proud anti-racist tradition. Yet, somehow, I left the event with at least some cause for hope.
I pulled into Liverpool three days earlier with the words of friends and family ringing in my ears: 'Take care, better you than me," they said. 'Will you be taking security?', another said in jest. Battered by an incessant diet of troubling revelation after troubling revelation, such is the level of concern and mistrust that has built up towards Labour in large parts of Anglo-Jewry since Jeremy Corbyn came to office. No wonder some claim there was no hope left for Labour's relations with the Jewish community
But I found an atmosphere in Liverpool that, with disturbing exceptions, was anything but hostile. 'Welcome', said two delegates enthusiastically after I revealed, slightly apprehensively, who I was working for before asking for my thoughts on Shami Chakrabarti's report. Then there was the well known Labour MP who put his hand on my shoulder and started pouring his heart out about how he wanted our readers to know Labour is not an anti-Semitic party despite having a problem with anti-Semitism in its ranks. Through the week, I understand a number of conference-goers, from senior figures to grassroots delegates, approached Israeli diplomats to say sorry for recent events.
There were however repeated reminders of the running battles taking place within the party. It didn't get off to a promising start in Liverpool with a panel session at the parallel Momentum conference on anti-Semitism, for which the previously suspended Jackie Walker was deemed an appropriate speaker. Predictably, she suggested the extent of anti-Semitism in Labour was being "exaggerated" to smear Corbyn.
But within 90 minutes, elsewhere in the city, an event organised by the Jewish Labour Movement made such views appear part of a loony fringe. One by one, figures from the hard left to moderates, leading lights in Friends of Israel and Friends of Palestine, shadow cabinet members and those who can no longer stomach that badge, took to the stage to acknowledge the problem within, express shame and call for action. It's been an "appalling year" for Labour Jews, said shadow defence secretary Clive Lewis, a close ally of Corbyn. His appearance, alongside Louise Ellman, Luciana Berger and Momentum-backed NEC member Rhea Wolfson was a striking display of unity and could not have been a more powerful retort to Walker and her supporters.
The following day, we saw another public battle, this time on the main conference floor. JLM vice-chair Mike Katz was heckled by one or two people when he derided an earlier NEC decision not to debate at this year's conference a proposed rule change to make it easier to expel those responsible for anti-Semitism. But this was drowned out by the kind of prolonged standing ovation usually reserved for a party leader.
This is all very well, you might say, but what about the leadership's approach to issues close to communal hearts?
Corbyn could hardly have set the bar any lower at his last conference appearance before Labour Friends of Israel - THAT speech when he failed to even mention the word Israel.
A year on, he is no more likely to throw his hat into the ring to become Israel's next envoy to the UK. But Eitan Na'eh, the Jewish state's deputy ambassador captured the mood in the room when he said the leader's second appearance on Tuesday night was "better received, better intended, better prepared". It included no less than five mentions of the Israel, a clear commitment to two states and warm praise for LFI, an organisation few could have imagined him addressing just 13 months ago.
It was nothing near the kind of warm words we came to know from Tony Blair or Gordon Brown or have come to know from the Tory government, and his politics regarding the region will not have suddenly changed. But this was clearly an effort to speak directly to the audience and to make clear his readiness to engage; something underscored by plans for a first sit down meeting with LFI. It was a start that many regretted he didn't make a year ago.
Corbyn also used the conference to harden his rhetoric on anti-Semitism, first at LFI and then in his keynote conference speech. He even thanked those who had offered advise to his office on tackling anti-Semitism.
Now he must prove himself indeed, in every case and without exception, before he'll have even the slightest chance of eroding the mistrust that exists because of issues like peer-gate, the readmission of Walker and the controversy surrounding the Oxford university labour club. Making clear what action will be taken against those implicated in a party probe into the latter would be a start.
Corbyn also missed a golden opportunity by not ensuring the JLM rule change made it to a conference vote this time. It's no wonder if some question why an NEC looking to enforce the rhetoric of zero tolerance would not have done everything in its power to make this happen now.
Which leads me back to the villain of Conference 2016: Walker. Her suspension on Friday came after anger from politicians, community leaders and, significantly, from the left including Momentum over deeply offensive remarks on Holocaust Memorial Day and Jewish school security. The intervention of trade union boss Manuel Cortes - who clearly branded her views anti-Semitic - couldn't have been more forceful. It could be a landmark moment.
The start of a disciplinary process is welcome but must not be the end. It shouldn't be lost on anyone that community leaders protested her readmission in the first place; perhaps there's a lesson there.
Walker was readmitted speedily before Shami Chakrabarti reported. Decisive and speedy action to stop serial offenders Walker and Ken Livingstone will put a significant dent in claims that her report was a whitewash and show it has the potential to make a real difference in the fight against anti-Semitism. Anything else will once and for all render Corbyn's words about about action redundant. Many British Jews are already beyond the stage of listening but real action will make it harder for them to dismiss his words.
Some in the community were hoping that Corbyn's reelection might spark a mass high-profile walkout of Labour Jews. It didn't - and just as well. This conference has shown that engagement can and does have an impact.
What would the LFI speech have looked like without the engagement over the past year of supporters of Israel and the country's Embassy? Not too dissimilar from the fiasco of last year, I'd guess. What does anyone who cares about Israel have to gain from that scenario? Would Shimon Peres have been honoured with a minute's silence if not for the intervention of Jewish delegates? Maybe, and maybe not.
How would the conference have looked without the high-profile and well-attended events from JLM? Who would have been left to run the training session on anti-Semitism? Well, Jackie Walker would have been only too glad to step into the breach I imagine. Doesn't sound very appealing to me.