I'm sitting on a boat, with the sizzling sun beating down on me. The temperature is about 26˚C and the sea water gleaming. A group of ten people on board are darting back and forth, declaring their amazement at the adventure we've just been on.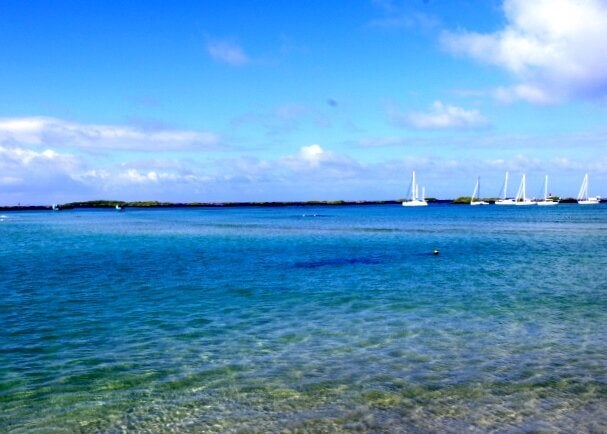 They are right; it was amazing, wonderful, slightly crazy and the ultimate adrenaline rush. We've just been swimming with sharks in the Galápagos Islands. Real, wild, toothy sharks and neither we, nor the sharks, were in cages.
My trip has been organised by a travel company called Contiki who specialise in group itineraries to far-reaching destinations. As someone who loves travelling but who doesn't always have mates who are able to join me, I've needed to be imaginative when it comes to finding travel companions and this concept of group travel seemed like an interesting way to meet like-minded wanderers.
Our tour kicked off in Ecuador's sprawling colourful capital, Quito, which is beautifully surrounded by the volcanic peaks of the Andes.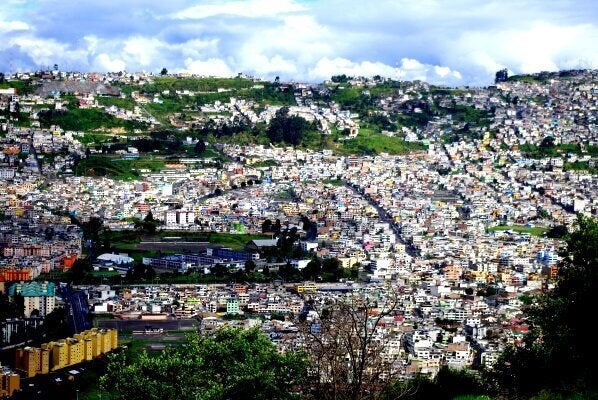 At 9,350 feet above sea level, Quito is the second highest capital city in the world (following the dizzying La Paz in Bolivia at approximately 11,975 feet). One by one, we gathered at the Fuente de Piedra Hotel in the district of Mariscal and headed out to explore nearby sights like the Centro Historico (old town), which offers striking panoramic vistas over the city. We got to know each other by milling through the overflowing stalls at the local Artisan Market, sipping guanabana juice and dining on traditional South American ceviche (raw seafood marinated in a sublime mix of lemon juice, chili peppers and onion). Yum.
Five hours, 1,000kms, an internal flight and a 'Galápagos National Park' stamp in our passports later, we were welcomed by our local guide, Zambo.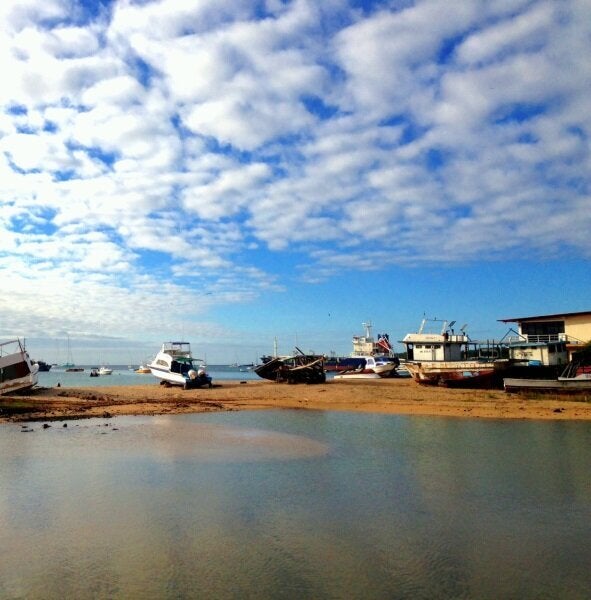 Just knowing it was at these islands, in 1835, that Charles Darwin arrived on the Beagle is brilliant. That he eventually put together his theory of evolution by natural selection thanks to his studies right here is incredible.
There are over 18 islands in Galápagos, and our itinerary was taking us to the well-known Isabela, Santa Cruz and San Cristobal. As the group's largest island, I was expecting Isabela to be far more built up than it was. Instead it felt the most remote. During the day, the wild side of Galápagos came alive here - our first experience snorkelling was welcomed by a playful sea lion that performed somersaults in the water. On the rocks, beady-eyed Blue-Footed Boobies watched. At the volcanic rock isle of Tintoreras, marine iguanas lazed in the sun beside orange Sally Lightfoot Crabs.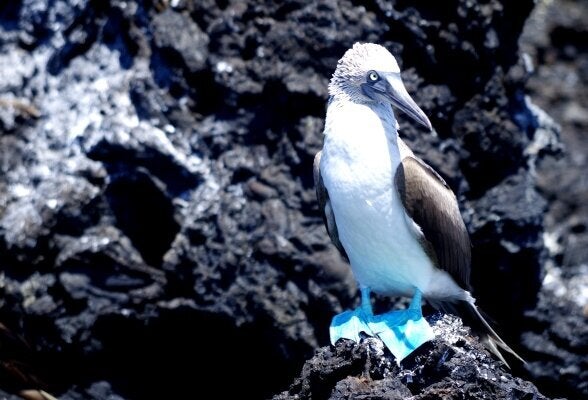 Our next stop was Santa Cruz Island, where shops and restaurants lined the beach road. However, we were here to meet the giant Galápagos tortoise. In fact, it was here at the Giant Tortoise Sanctuary that the famous Lonesome George passed away in 2012 at an impressive 100 years old.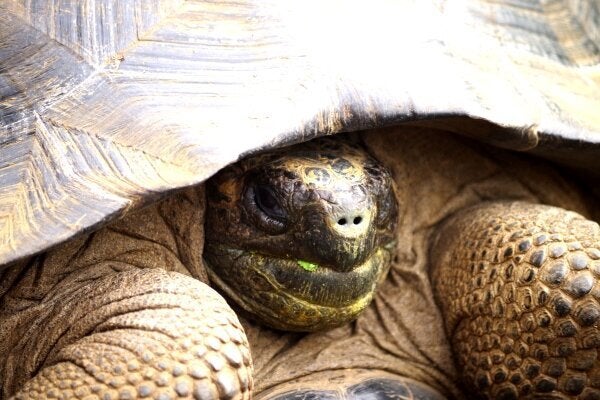 The following morning, after the surfers in the group had caught some waves at pristine Tortuga Bay, we took a final boat ride to glistening San Cristobal Island, where we were greeted by sea lions, who had taken over the benches around the docking area.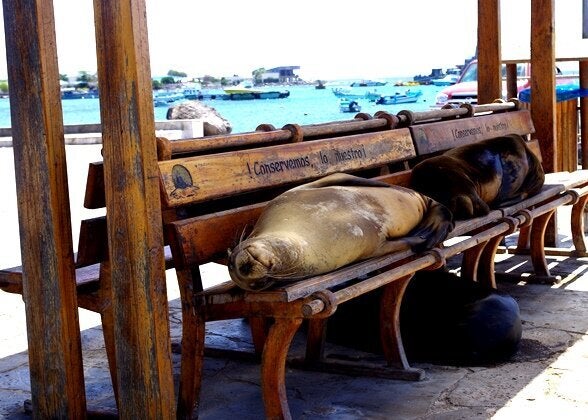 As a part of their role in promoting sustainable tourism through travel, Contiki are founding members of the Treadright Foundation, which encourages marine preservation in Latin America. This year, they teamed up with environmentalist Céline Cousteau (granddaughter of Jacques) and a charity called Shark Savers - and we were lucky enough to join both on a dive, with a plan of counting the number of sharks in the area.
Arriving by boat at Kicker Rock with SharksCount Program manager Sam Whitcraft (who had not only given us a cheat-sheet with a picture of sharks we may see - but also a pep-talk on how we wouldn't get eaten), we donned our wetsuits and leapt off the boat, ready to come face-to-face with some terrifying beasts. Within seconds, we spotted them. Swimming through the channel between the rocks, we counted almost 40 Galápagos sharks, and a handful of black-tips and hammerheads.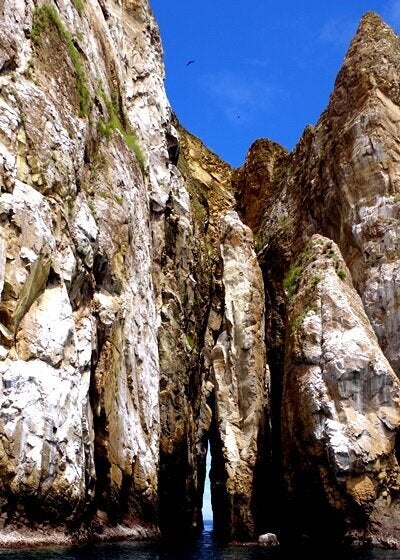 The hammerheads were particularly astounding as their distinctive three-metre bulks cut dark shadows below us, while the endemic species took the shape of sharks you'd expect to see on the telly. I ended up swimming through whirling shoals of colourful fish as I watched these magnificent creatures. As a couple of slow-moving sea turtles glided by, followed by a line of eagle rays, I had to collect myself. How lucky am I to be in this beautiful underwater world, in one of the few pristine endemic environments on the planet.
Visiting Galápagos with Contiki certainly was the trip of a lifetime; one I'd wholeheartedly recommend. And even better, I have new friends to share the memories with.
Contiki's 11-day Ecuador & Galápagos Island Hopper itinerary is available to anyone aged 18 - 35 years and costs from £2,045 per person. This price includes two internal flights and transfers, English speaking local guides, accommodation, most meals and an experienced tour manager. External flights are not included. For more information, visit Contiki.com.
STA Travel offer flights with KLM to Quito via Amsterdam from £770. Find a deal at STAtravel.co.uk.
PICTURE CREDIT: KAREN EDWARDS