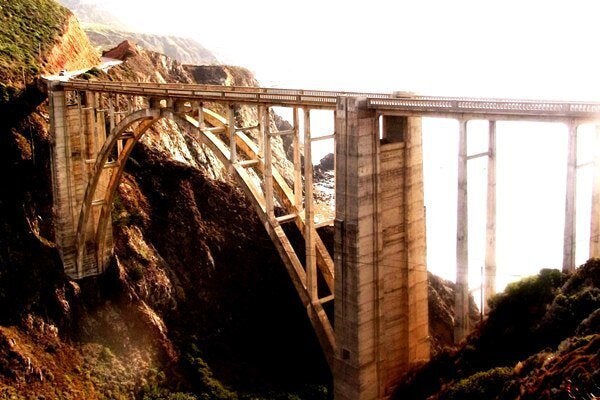 There's something really special about going on a road trip, isn't there?It screams adventure, camaraderie, great tunes, cosiness and freedom - and if you're doing it abroad; then probably sunshine, having the windows down and the open road in front of you... some would say, it makes the best kind of holiday.
When deciding where to go with my friend Jo last Autumn, we decided we were desperate for our own adventure; but also being two girls, we wanted to feel safe. We hoped to see city life but also feel the fresh sea breeze. We fancied ourselves as explorers, but we wanted to bask in some glorious sunshine. Yes, we were asking a lot, but after some careful research, we knew an American road trip was the way to go...
Because being the huge country that America is, it's pretty much unpredictable what you might experience out there. It's not England for a start, so you'll probably see some sunshine - and the highways are big and open, which means less traffic and more space. Plus the State of California is particularly famous for its amazing National Parks, where you can hike through nature trails and look in awe at the most jaw-dropping scenes. And like anywhere new, you can meet wonderful people and for once throw caution to the wind and eat exceptional amounts of the most delicious food... after all, you're on holiday!
It was decided, we were doing the Las Vegas to San Francisco drive.
Of course, that drive doesn't have to take you longer than a few hours. If you're in a rush, you can just jump on Route 15 out of Vegas and then hit the 58 and 99 - and before long you'll hit the outskirts of San Francisco and Sacramento. But as I say, we were up for something a little bit more special - so off we went on our journey...
STARTING POINT: Las Vegas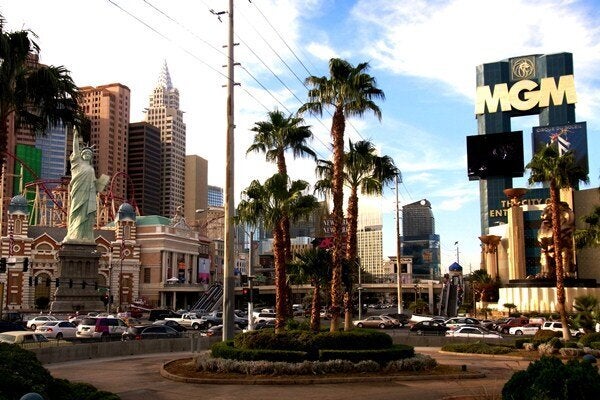 We flew into Las Vegas via New York with Delta Airlines and once there, we spent a couple of days sampling the casino life. As much fun as Vegas was, this wasn't the aim for our holiday, so once we'd (I'd) lost a few bucks on the roulette table and we'd made the most of the all-you-can-eat buffets, we collected our Intermediate SUV from the Alamo counter at Las Vegas International counter (£307 for full insurance, full tank of petrol and extra driver), and headed off bright and early.
STOP ONE: Death Valley National Park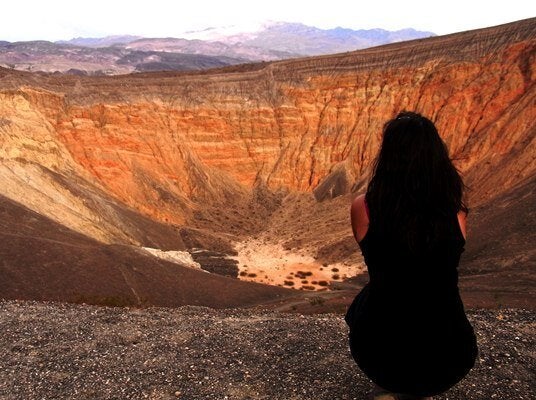 Leaving Las Vegas on Route 85, with about eight litres of water piled in the car and a full tank of petrol, we headed north-west until Beatty which leads the way into Death Valley. We'd had already read up on the amenity situation so we knew we had to stock up on water as temperatures could reach 56 degrees. Shops were also scarce so it was important to carry food and make sure we had a full tank of petrol as there were only two gas stations in the whole park.
It's bizarre - one minute you're on an (albeit quiet) tarmacked public highway coming into Beatty, the next you're in the middle of absolutely nowhere with not another living soul in sight. Your surroundings are huge deep yellow, brown and red sand dunes - or large green cacti lining the dusty road. Frankly, it's amazing!
We spent just one night in Death Valley, which seemed the perfect amount of time. We drove our way through the breath-taking sand dunes (many a 'jumping in the sand picture' was taken here) to land at Scotty's Castle, a place that taught us about an infamous local conman called Scotty. Eight miles down the road, we stumbled across the Ubehebe Crater, which is a stunning sight created by a historic volcanic eruption (see above). The area was so peaceful and well worth the drive up. We even drove through miles of salt flats before eventually reaching the edge of the park. We'd survived Death Valley; so far the trip was a triumph.
STOP TWO: Sequoia & Kings Canyon National Parks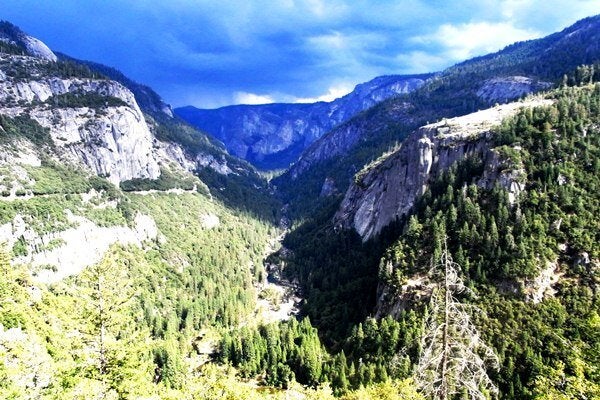 Having made our way through the salt flats, we joined Route 190 and headed straight for Sequoia & Kings Canyon National Parks.
Sequoia is raw and stunning all at the same time - and it's well worth the trip to see such untouched beauty. The only thing was I did get a bit car sick going up the mountain and I recommend taking travel tablets with you even if you are the most seasoned of travellers. Also, don't underestimate how long it takes to get there - it took us eight hours, nearly double the time we'd anticipated.
We spent a lot of time spotting the huge General Sherman Trees which were scattered amongst the Sequoias as they have trunks that are five-square-miles in area. Kings Canyon itself is the world's deepest, surrounded by 4,000ft tall cliffs. It's quite something watching the River noisily push through; this is nature at its most honest. Then there are the trails; both easy and hard, which open up the wildlife aspect. We didn't see any bears, but we saw eagles soaring through the bright blue skies. But there are bears to be seen! And it's well-wroth the $20 entry fee.
STOP THREE: Yosemite National Park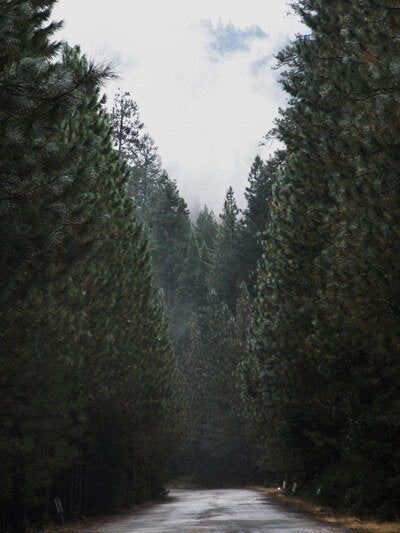 An hour or so up the road is Yosemite National Park. Another one of America's most famous National Parks (Yellowstone is the big one), it certainly is as popular as you'd expect. Route 41 takes you straight out of Kings Canyon and straight into Yosemite Village, where (once you've paid your $20 entrance fee) you can get all the hiking and driving information you need.
Now, in all honesty, we were slightly disappointed when we first got to Yosemite. It had immediately reminded me of Centre Parcs when we arrived and Jo and I both concluded that this was not good.
Later we discovered that getting out of the main village was the best thing to do. Drive 55 miles further out into the park and you'll find the hippie vibes of Tuolumne Meadows and down south there's a slightly luxurious (but still vast and beautiful) Wawona - much better!
Toulumne Meadows was a particularly immense sight. The clear blue lakes breaking up the lush green grass made a massive difference to the tall dark and eerie feel of Sequoia and Kings Canyon. It's cooler here too, a nice respite when you've been in the car for hours!
For the kids, there was also a lot of fun to be had - the vast runs of grass invited all sorts of games and there were plenty of easy nature trails to keep little ones occupied too.
Again, were warned about the bears and had to lock up our M&Ms in a large iron locker away from our campsite. We didn't see any bears but while we were falling asleep at night, we could hear them in the distance. Knowing they're really there may make you feel a little nervous, but on the whole it's a very special experience.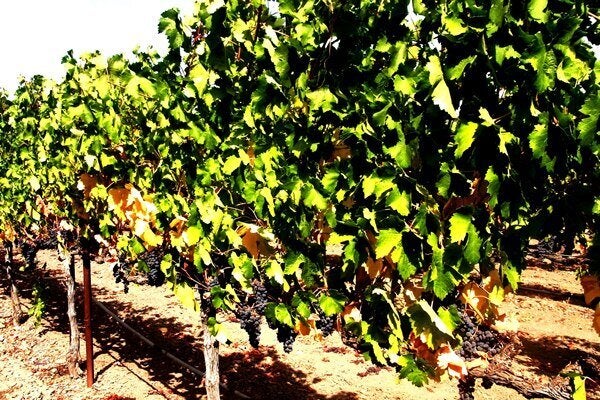 It was the 49 followed by the 120 that took us away from all the searing cliffs and it was Freeway 5 and 80 that brought us into The Napa Valley. There are 200 wineries in Napa, quite incredible given what we'd already seen the State of California had to offer - but still the landscape went on rolling.
Having spent our last few nights listening to bears scurrying in the near distance, we decided we needed girlie pampering, so we drove through St Helena (nicknamed 'The Beverley Hills of Napa Valley'), until we arrived in Calistoga - a dreamy little village full of art shops, restaurants, cute little inns and mud spas. We had found heaven.
We ate, we drank wine, we enjoyed massages and mud baths and then we drank more wine - yep, that about sums up our time in Calistoga. The place is genuinely beautiful, with the main high street glistening in the sun with a backdrop of limestone cliffs. There were so many vineyards to visit, but we chose the locally recommended Sterling Vineyard. It was a short, sunny walk from where we were staying and it was lush and beautiful. The tour allowed us to taste six different wines at a cost of £20.
Then it was on to Calistoga's Golden Haven Spa where we enjoyed an hour-long Swedish massage and mud bath for £80.
THE FINAL STOP: San Francisco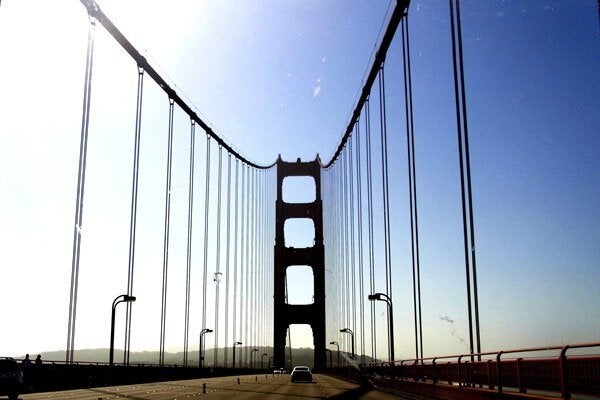 An easy hour or so drive down Freeway 80 and 101 and we were in San Francisco - and nothing could have prepared us for crossing the Golden Gate Bridge. The skies blue, the tall dark red casting looming above us - it looked fantastic.
We did all the touristy parts like visiting the security prison of Alcatraz - $21.75 (£13.90) including the ferry from Fisherman's Wharf and enjoying a stroll through the Golden Gate Park but it was the City's more quirkier districts that brings SF to life for us.
A wander up to Upper Haight opened up a whole range of cafes, bars, used CD stores and vintage boutiques to admire while Alamo Square was the perfect patch of green for whiling away a sunny morning (I got chatting some lovely locals here too who couldn't wait to explain San Francisco's history to me). We went on a day trip along The Big Sur Coastal Drive, which I completely recommend if you love the open road and the sea. And finally, spending a lazy afternoon at the Hagiwara Japanese tea garden was a perfect finish to the trip.
Flight prices from London vary depending on what time of the year it is, but generally flights into Las Vegas and out of San Francisco are approximately £650 with Air Canada, United Airlines or Delta Airlines. Make sure to spend time looking for a great deal though and quote your cheapest finds to competing agents, because you might even be able to nab it for less - we got ours through STA Travel UK for £494 for late September!
List of accommodation and prices:
Las Vegas - Circus Circus, £50 per night for a twin room with private bathroom. The all-you-can-eat breakfast buffet cost £7.35.
Death Valley National Park - Stovepipe Wells Village, £58 per night for a twin room with private bathroom. Restaurant open with main meals for £15 and free parking on site. There is also a pool.
Sequoia National Park - Grant Grove Cabins, £40 per night with shared facilities. Do not keep food in your cabins.
Short drive from Yosemite - Evergreen Lodge, Groveland. Family-sized tent is £30 per night. Again, no food allowed at the campsite and the facilities are shared.
Napa Valley - The Calistoga Inn, £50 for a twin room per night with private bathroom. Meals cost approximately £10 for a main and parking around the corner is free! Lovely!
San Francisco - The Hayes Inn, £63.20 per night for a twin room with shared bathroom. Breakfast included. Parking costs $15 per day in a nearby car park.
Sheer drop cliffs; gushing rivers; listening to bears at night; long walks through meadows; discovering art and vintage shops; mud baths and massages; throwing the winning dice in a casino; sipping wine in the sun; feeling at peace at a crater... this was one holiday that had it all.
Better still, we did it all in the space of 10 days - something I never would have dreamed was possible.
This might be a popular journey, but there really is so much to experience - and every trip will no doubt be different depending on what time of year it is, which left turn you make, where you stop over and even who you go with. Ours turned out to be rather memorable.
It seems the Las Vegas to San Francisco road trip really is a famous journey that you can completely make your own.
* Prices are approximate and were converted to GBP at time of writing. They're subject to change.
PICTURE CREDIT: Karen Edwards