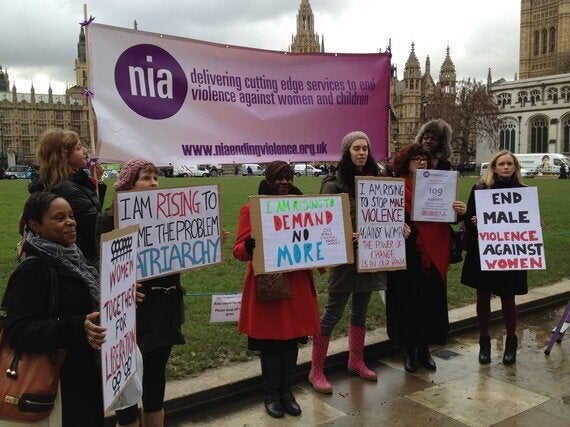 According to the report released today by Her Majesty's Inspectorate of Constabulary (HMIC) 'Everyone's business: Improving the police response to domestic abuse' between April 2013 and March 2013 there were 269,000 domestic-abuse-related crimes in England and Wales reported to the police with 77 women killed by their partners or ex-partners in the same 12-month period.
It is true that the majority of women killed by men are killed by a partner or ex-partner, but this is not the full story of fatal male violence against women. In the year covered by the report, 77 women were killed by partners or ex-partners but a total of 115 women were killed by men. A further 10 women were killed by men known to them, 16 women were killed by their sons, 3 women were killed by other family members and seven women were killed by strangers of which two were sexually motivated with the victim also subject to rape
The HMIC report criticises the police service for treating domestic abuse as "a poor relation" to other police activity and whilst it is important that the actions and inactions of the police in relation to women killed through domestic violence are scrutinised, it is ludicrous that killers like Clive Sharpe who raped and murdered Catherine Gowing in October 2012, or the police's failures over the murder of 86-year-old Una Crown are excluded.
In October 2012, Clive Sharpe broke in to Catherine Gowing's house, tied her up, raped her and after killing her dismembered and disposed of her body which has not been fully recovered. Sharpe's sexual violence and harassment of women was known to police since he was 16 years old. At 17, he raped a 15-year-old girl. By the time he was 30 he had tried to strangle another woman and was sentenced for 8 years for false imprisonment and assaulting yet another woman who was in prostitution. Catherine Gowing was failed every bit as much as a woman who has been killed by a partner or former partner.
In January 2013, 86 year old Una Crown suffered multiple stab wounds before being set on fire. Her family had been allowed to enter her home and sort through her belongings before it was discovered that she had been stabbed meaning that key evidence could have been lost. As far as we know, her killer, who is surely a serious risk to others, is still walking free.
The government has a strategy to end violence against women, not just a domestic violence strategy and that strategy states that an approach wider than the criminal justice system is needed. If we want to end male violence against women we need to look to inequality between women and men, we need to look at education, we need to look at socially constructed gender and how the concepts of masculinity and femininity are not inevitable or natural and have a huge role to play in male violence against women. We need to look at how prostitution, by - as argued by Sarah Ditum - placing a sexual value on women in a way that it does not do upon men, reinforces inequality and makes all women less safe and how the sexual objectification of women contributes to inequality and male violence.
In March 2013, 50-year-old Mary Roberts was found dead in a pub car park in the centre of Bury-St-Edmunds. She had been sexually assaulted and strangled. Andrew Ratcliffe, 56, still had a pair of her knickers in his pocket when he was arrested. It his trial it was revealed that he was sexually obsessed by Mary but that she had not been interested in him.
Paul Stones was known by police to have been violent to at least two of his previous partners before killing his mother Marian in June 2012. At least 9 of the men who killed their mothers that year were known to mental health services, including William Smith who battered his 86-year-old mother Delores to death with two frying pans and cut her throat, het despite the brutality of his actions claimed it was a 'mercy killing'. What, if anything, was known about the risks these men posed to women?
The HMIC report blasts the police but even this report is ignoring 38 dead women and the role that the government and other state organisations have to play in ending male violence against women.