Keeping Hygge is all the rage. The Danish word 'hygge' - hard to explain and even harder to pronounce, is trending in a big way right now.
I love this concept, often translated as 'coziness' meaning so much more than that. It means creating a warm atmosphere and enjoying the good things in life with friends. Friends and family are very hygge. Cozy, over-sized jumpers, big bowls of porridge and hot chocolate - very hygge.
Annoyingly but as sure as night brings day, hygge will be touted as another opportunity to go on spending sprees and try to buy hygge. But that's just what makes it so elusive, so happiness-inducing. It's more about worn-in friendships, comfy clothes and furniture you'd put your feet up on rather than something we can buy. The best thing about hygge is that you can't get your huge salary and buy it.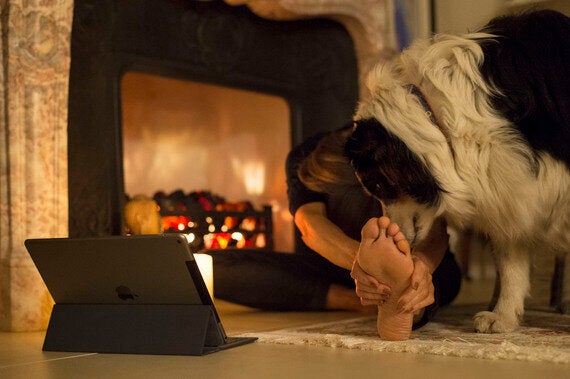 As Autumn descends, going hygge in everything we do seems like such a good idea. I'm wondering how the health and wellness industry will take on such a sensibly happiness-inducing concept in an industry that often seems to thrive on more than healthy amounts of self-hatred. Surely the folks who go to sweaty gym classes and studios and live on pulverised greens must slightly hate themselves? Self hatred? Not hygge. Eating clean? So not hygge. Crowded, competitive studio classes? Definitely not hygge.
Brits seem to be terrible at really enjoying life without getting blind drunk. Which might be why the health and wellbeing industry has done so well in the UK. When sober, we're a pretty po-faced crew of dull clean-eaters. Folks have been bored to death with our yoga on the beach instagram photos, our endless pictures of avocados and eating of coconut oil and numeric and telling mind-numbing stories of mindfulness.
Ok, ok, i'll come clean. Yes, I've practiced yoga on a beach. But, to be honest, it's generally on a wild-swept Norfolk beach with my dogs. My face gets licked and hands get sandy.
Next admission. I eat avocados. A lot of them. And I use coconut oil for flipping everything. Ranging from cooking, to putting on sore skin, to giving it to my dogs for their health. And yes, turmeric is often goes down my gullet, and i even make a 'golden paste' , cocount-tumeric mix for both me and my dogs. Oh and yes, I've practiced and enjoyed mindfulness.
But I want to 'hygge' up my healthy lifestyle. It seems that yoga at home with friends? Well that's the most hygge thing you can do!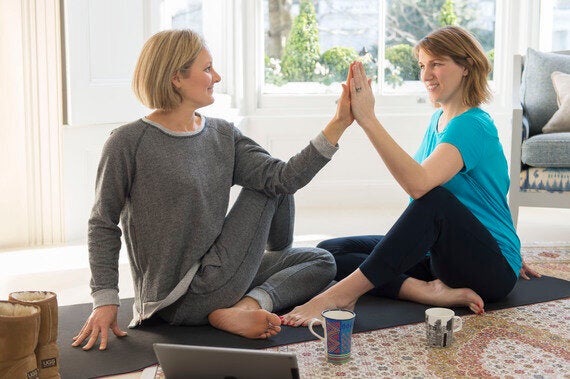 First up, let's ditch those bikini yoga pics and replace them with friends, beanies and leg-warmers. Next up, I'm going to quit or just cut down on the green sludge smoothies - how about yummy apple-compote with cinnamon and sugar (crazy talk i know...). This bit really is utter madness - if I'm seeing friends, I may enjoy cake with them! And instead of a work out, how about taking a nice walk with friends? The mindfulness? That's going to be replaced by enjoying each and every step on a beautiful autumnal walk.
The best bit is, instead of a punishing 'advanced asana' yoga class, the most hygge thing of all is this. This bit is really fun, and is something I really do have a gold star in and do every day and think that makes life just fabulous. I get home, and put on my PJ's. I light some lovely beeswax candles - now we're really getting hygge - I grab a pet (in my case, two) - or you maybe have a partner a kid or someone you enjoy stretching with. Then you get down, on a lovely carpet (yes, even ditch that horrid plastic yoga mat!) and do Yin, or Restorative Yoga in your cozy home. You don't need to buy anything. You don't need fancy clothes. I use dressing gown cords and cushions to keep me propped up and supported.
The very best thing about this super-hygge form of yoga and wellbeing? It'll fast track your yoga (if that's your thing) quicker than those advanced asana classes would've done anyway. Seriously! Long pose holds and deep breaths seem to free up fascia and release stiff muscles way better than any amount of sweaty yoga.
And can be followed by a lovely cup of cocoa and bed. How hygge is that?!
So get Hygge this Autumn, done best when in the company of loved ones. But fantastic when done in a spirit of self-love.