Welcome back, new music fans- to the only place you need to come for some spectacular tunes to accompany your weekend; courtesy of some of our best finds on Emerging Icons.
This week we've got a couple of awesome new acts from the shadows of Bristol, a spectacularly noisy trio from the South-East, a bunch of homous-loving scamps and a recent music production graduate from London town. We like to think it's a nice little balance for all occasions whether you're spending the next few days at home spring cleaning or heading out for a beer or ten.
We're about to tell you exactly why you need to hear the following five Emerging Icons acts- and if you find you like them too, how about you get them added to your personal playlist? It's dead easy you know. All you have to do is visit an artist's Emerging Icons profile, click on the section that says 'MUSIC' and hit the music note next to your favourite tracks. If you're logged in it'll be handily stashed away on your own corner of the Emerging Icons Radio player for you to visit and listen to whenever you like... even on the go now our brand new mobile site is up and running!
So, prepare to have your world rocked. Here are our Emerging Icons acts you really NEED to hear...
The Cottonettes are a South-East based trio that formed in February last year and 'consist of a hair dresser, an ex-navy sailor and a salesman.' The sound they produce is loud, rough n' ready and has been described by BBC Introducing as 'punk rock as it should be'. They're not wrong. The production is raw, unpolished and each gang vocal barked into the mic sound like they're gona slap you round the face- but that really is how it should be. Would you have ever checked that Joe Strummer had washed behind his ears before he went on stage? No. Pointed out to The Jam when their diction went a bit awry? Definitely not. And would you have told Johnny Rotten that he should tone it down a bit? Course you bloody wouldn't and god help you if you did. So let's go back to the old school methods of pure passion and get some of this on the go. 'Satisfy Me' is an absolute TUNE.
Another week, and we have another example of Bristol really delivering the goods in terms of fresh new sounds. Signed to local indie label Fear of Fiction, Casimir combine many of the popular conventions of indie music bearing so much appeal in the mainstream right now (think the shifting creativity of Alt-J, the rhythmic post-punk of Foals;) running parallel with the influence of classic alt inspirations- notably The Smiths. However, the key to the certain success of this particular four-piece is their own identity that runs throughout the sublime 'Like Whistles'. There's a definite sense of the 'unique' from the heavy, lop-sided trundle of its hooks to the epic post-rock middle eight and the subtle off-notes delivered in the raw, yet precisely wild pitching of the vocal. From its darkly strummed opening notes to the triumphant crash of its climax, 'Like Whistles' is like a faraway glimpse of a darkly dreamt world. Just listen to it. That'll make more sense than anything we have to say.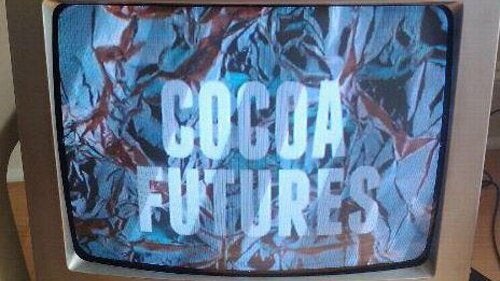 Cocoa Futures- Do Something
Well this is a cheeky little blighter of a tune. Any danceable song with a catchy beat that literally sounds like an arse being wiggled from side to side- in the best possible way- is always going to welcome in our soundtrack for the weekend. Especially if the band producing it describes themselves as 'yumcore'. Cocoa Futures are a North-London based quartet of scamps loving life thanks to cola and houmous- and their sense of fun is something that really comes through in this electro-led pop number. It's just a glimpse into what they're all about however, as the other tunes on their Emerging Icons profile suggest some of the other routes they take with their synths in tow. It's a versatility that could potentially make them popular with quite a broad fanbase, so we recommend that anyone in need of some light listening and a good beat should check Cocoa Futures out.
When asked about his influences, London-based singer-songwriter Rayon Nelson says that he is simply 'original but inspired by a lot of real musicians and singers who write about real stuff'. Having spent the last few years studying for his degree in Music Production, Rayon is just at the beginning of his musical journey- but is looking to go far. We wouldn't put it past him to do just that. 'Wait For Me' is an awesome collaboration with rapper TrueVerse that saw him get longlisted to play on the Pyramid Stage at Glastonbury this year. The soulful quality which characterises his vocal accompanies the simplicity of his quietly plucked acoustic guitar, before beautifully soaring into some stunning harmonies. It's definitely more firmly in the rnb end of the spectrum than the likes of Michael Kiwanuka, but with strong aspirations, loads of gigs lined up and having already secured airplay with BBC Introducing- there's a lot of potential in the future of this ambitious artist.
Now here's a name you need to remember. Seasfire. Give this Bristol bunch a little time and they'll be taking over every aspect of your musical lives from festival appearances to soundtracking TV ads (yeah, move over The Lumineers.)With a passion for brooding, melancholic electronica and the creative know-how for summoning a stirring atmosphere; Seasfire are in a position where they can deliver commercial-friendly tunes with a striking and impactful presence on the scene. Their songs are stories of raw emotions and troubles of the heart- but they sound bloody beautiful. 'We Will Wake' was released from their EP towards the end of last year and made for an incredibly strong introduction to the UK's new music community. With latest single 'Falling' doing down extremely well with the critics since its release on Two Pure Singles Club last month, we're definitely glad to know about Seasfire as they move closer to that big break that is surely so near to their grasp.
Visit any of our Emerging Icons profiles and hit the grey star to become one of their following fans! You'll receive all of their news and updates straight to your email. Nice. You can also visit their page to big up any of their tracks by leaving a comment or two. Here's how...