Every week we like to supply you with the names and tunes of the Emerging Icons you simply need to get into your lives. It just makes it even easier to put together your personal playlists; so how about you cast your ear over this crop of musical talent?
We've got a bit of the alternative, some industrial folk, gypsy jazz, pop rock, reggae... hey, we do like to mix things up a bit. Have a read about each of our Emerging Icons and remember, if you want to find out more about any of them all you have to do is follow the links below to visit their profiles. Once you're there, you can click on the star at the top of an artist's page to become their official Superfan, find out when they're gigging, listen to their tunes... but best of all, you can add the songs you like most to your own part of Emerging Icons Radio to listen to whenever you like! Whether you're on your computer at home, work or accessing with your phone on the go- it's easy! Just click on the music note...
Now that's sorted, how about we get started? Here are the Emerging Icons and the tunes that you really NEED to hear...
We couldn't resist including Kingston's Stars Of The Search Party in this week's feature. The video is a bit of a giggle... mucking about in a mechanics' workshop ain't looked this fun since John Travolta gave us a bit of 'Greased Lightning'. 'Don't Look Down' is the latest track to be lifted from SOTSP's self-titled mini-album, and momentum has been really building for the five-piece. As well as being bigged up by Asking Alexandria's Ben Bruce, Rock Sound and Kerrang! Magazine, they're also hoping to get themselves to this year's Download Festival with Red Bull Bedroom Jam. This promising act are certainly moving in the right direction to success since their appearances in the Olympic Park with Emerging Icons and 2012's tour with Mallory Knox- so give em a listen if you're into your alt rock.
'Machine' is one of TWO singles released by The Jar Family this week (is it Christmas already?) and rather splendidly, it's found its way straight into iTunes' 'New and Noteworthy Releases' list. Things have just been getting better and better for Hartlepool's only industrial folk-meets-blues roots band- getting the nod from BBC 5 Live, Clash Magazine, The Guardian's Paul Lester... and even finding themselves hand-picked by Blue for airtime on Channel 4's 'Sunday Brunch'. An incredibly bizarre set of circumstances we must admit; but pretty sweet nonetheless. Who wouldn't want their video on national TV alongside Simon Rimmer knocking up something tasty for a boyband? All this exposure aside, there's a cracking little video right here so why not give it a watch...?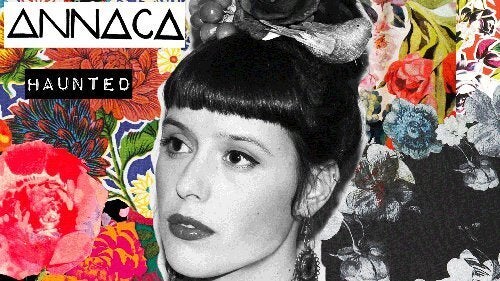 The Emerging Icons Headliner is back with a brand new single ahead of her characteristically fabulous Spring Showcase that's booked at St Pancras Old Church on May 9th. 'Haunted' is the first song to be lifted from the new EP which has been cooking nicely in the studio with Stereophonics' producer Jim Lowe. This dramatic number makes for a stunning itaste of what's to come. Anyone who came along to see the wonderful gypsy-jazz influenced four-piece on the Emerging Icons Live Tour at the end of 2012 will have heard this tune already, but with the added production wizardry being thrown into the mix, we reckon that it's sounding even more special. We already knew that Annaca knows how to sparkle (you've got to check out this lady's wardrobe) but this is taking it to a whole new level...
The debut video from Chesire's alt-rock band Pacific tells a story of love and all those terrifying/wonderful feelings that come with it. Aww. 'Gods Dance' sees two young scamps running all over town looking for each other, missing connections and getting a bit lost. We're guessing both of them forgot to charge their phones. But just when we're worried for the safety our hero's balls when he finally catches up with his rather pissed off missis, they finally find each other and the look of love prevails. Hooray! The pop melodies and catchy chorus of the song driving the narrative is every bit as lovely so if you're in the mood for some feel-good vibes, have a little listen right now.
We've decided to round off this week's selection of Emerging Icons with the brand new video from ramshackle reggae four-piece, Will & The People. 'Eyes' is a tune that will undoubtedly be making it onto many holiday playlists and rocking numerous festival tents this summer. (They are, after all a band that was born in the belly of Glastonbury's legendary Rabbit Hole.) Fusing all of the elements that make Will & The People such an appealing proposition it takes a bit of pop, a sprinkling of ska and a whole heap of sunshine into its melodic mix. They manage to be chilled and energetic in equal measure... kinda like an ice-cold Red Bull on the beach, perhaps. It'd have to have one of those little paper umbrella things in. Whatever your stance on taurine-laced beverages, we reckon you're gonna like this one a lot- so check it out...
There are thousands of acts just waiting to be discovered on Emerging Icons. All you need to do to find more is click on the ACTS tab at the top of the homepage and start mooching around! If you find one that really takes your fancy you can always let them know by leaving them a comment or two...