The Crown, Netflix's most ambitious series to date started last Friday about the life of our Queen starting in 1947. The first episode featured her wedding, where the actress Claire Foy wore an exact replica of the Norman Hartnell dress which is reported to have cost £30,000 to make and 7 weeks to make.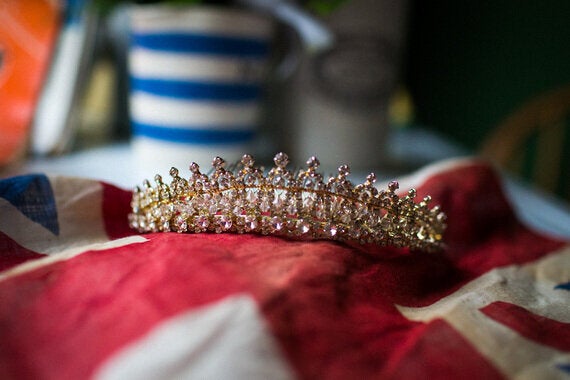 But you can get the look for a fraction of this price, by choosing to wear an original 1940s gown.
The 1940s wedding dress came in many forms during this decade. With the backdrop of war, austerity and of course rationing, a bride had to make do and mend for her big day, be it by borrowing, creating or by not wearing a wedding gown at all.
Often brides would borrow a dress that had been worn in the 1930s, which was elegant and close fitting. This was teamed with a borrowed head piece and a long veil although some managed to buy shorter, modern styles. As waiting lists for new dresses were months long, some brides had to make their own, sometimes from curtain fabric or parachute silk. However, many parachutes at the time were not made from silk at all, instead made from Ramex cotton and Dupont nylon.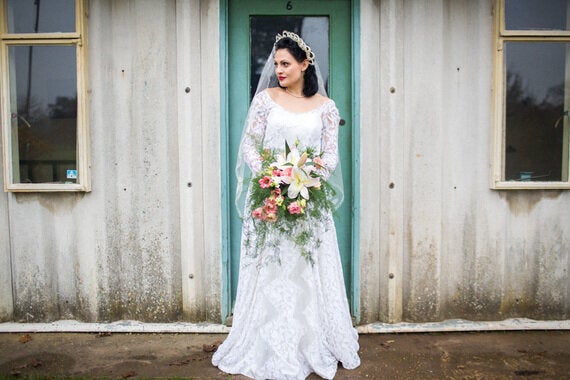 "In 1941 a German bomber crashed in a field near Birmingham and the injured wireless operator fled at the sight of the women from the local village approaching him with pitchforks, determined to recover his parachute. After the war illustrations started to appear in women's magazines showing how the thin triangular panels of a parachute could be best used for the complex laying out of pattern pieces for dressmaking."
The style of these was quite simple as to the utility guidelines, with long sleeves, a sweet heart neckline and softly padded shoulders. During the war, fabric along with other materials was in short supply, but women sometimes still had a need for new clothes rather than always making and mending. To control manufacture, the government outlined exact styles that could be made using new material which were then stamped with a CC41 label. At this time "permitted luxury" was introduced for some wedding dresses and other high end clothing which was highlighted by the Double Elevens label; 2 straight lines either side of a circle. Here extra fabric that was not needed for the war effort were appliqued, such as sequins and lace.
As many weddings were planned in a matter of days, due to a loved one going back to war, brides would simply wear their best suit teamed with a hat, a small bouquet, crochet gloves and a silver horse shoe. It was a bitter sweet time however. Many got married quickly and many family members would have been missing on the big day, making a bride reflective yet still hopeful for a lifetime of love.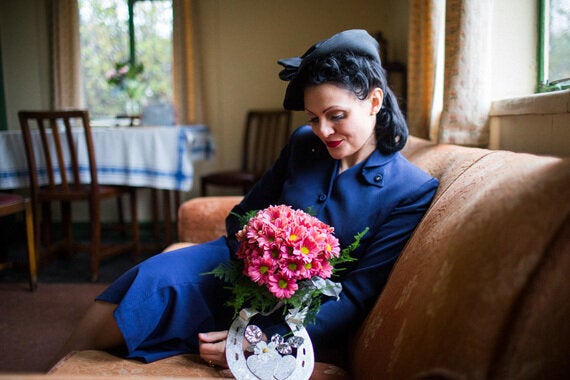 By the end of the 1940s, with the introduction of the New Look designed by Christian Dior, skirts became much fuller but were all still rationed. A few lucky brides would have been bought silk from their groom who had served overseas. When Queen Elizabeth married in 1947, she too had to use coupons to buy her dress with hundreds of brides offering up their own coupons for her to use. One thing that wasn't rationed was the traditional tiara worn by the Queen, sparking off a new bridal trend for the country.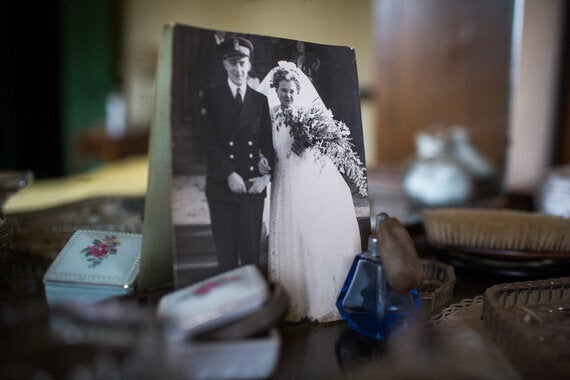 Related