There is one course at University of the Arts, which attracts a lot of curious attention and 'tell me more' type of conversations. After having it on my CV for a couple of years, I went back to see the current students, their work in progress and the final degree show.
The MA Applied Imagination course aims to introduce projects that imagine better futures through application of creative processes. This is a useful exercise in entrepreneurial thinking and skills that are required to 'think different'. Similar to an entrepreneur who is searching for an idea, the students are encouraged to look for a question that will provoke them to explore a social behaviour or an environment and offer a creative way to improve it.
This year's cohort - a creative collective of talent from all over the globe, took the first practical entrepreneurial steps towards imagining a better future with their final year Degree Show called 'You Can't Imagine'. There were a large few from the Far East and Asia, who are planning to go back and plant the inspirational seeds in their countries.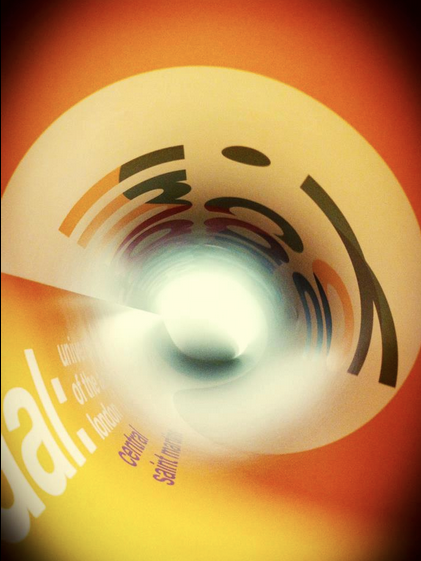 (photo facebook.com/MAAppliedImagination2012)
This year I had three students to mentor and offer practical marketing advice, digital knowledge and social media tips to test and launch their projects.
James Ratnarajah's project I, Thanatophobe was born out of a personal experience and real passion to change things for anyone else who has to go through the morbid fear of death. Through a series of Ideas Labs and interviews James formulated his artefact to be a collaborative gaming environment where users have to create an alternative life for someone else.
Ratnarajah says: "Through the apparent escapism of the game, and by overcoming challenges, users learn something about themselves and their fears". James is now speaking to crowd funding platforms and developers to take the platform into the future. If he finds the cure, this is a great solution to anxiety related mental disorders worth £14 billion a year to the UK economy alone.
Stacey Dix, a toy designer at Hamleys came up with the idea to explore the ways our childhood memories influence our toy purchases. Through her social media activity and playgroups, she has sourced a whole set of new toy designs and merchandise for her project Rediscovering Retail.
Not everyone on the course has an artefact in mind. Goretti Arnaste had a theme - that of a generation in constant transition: from countries, jobs, relationships. Her search for a question led her to an artistic expression - a Phoenix manifesting the generation that dreams and reinvents. Vimeo diary of She, the Phoenix, here.
Other projects on the course that caught the eye:
Vishwas M Byrappa looked into creating an independent student led creative network, to empower University of the Arts students 'to create their futures'. We.Create offers a network and a number of methodologies to support individual development and is effectively a prototype of a peer-to-peer mentorship and skill based network. This has real legs - a 'people per hour' for students.
Katya Chitova, an Honesty Consultant in residence is convinced that tracking our ability to be honest with ourselves will improve the functions of the art world. She interviews actors and analyzes their behaviours. An interesting observation into our social interactions - www.katyamoscow.tumblr.com
Skate and Design by Jodie Burtons, engages youth from skateboarding culture to participate in skill development activities and shows how skateboarding can be far more for the youth than just filling time - facebook.com/SkateAndDesign
Sasha Vickovic-Flaherty explores the potential of jewellery to act as a means of emotional exchange through designing a collection of interlocking jewellery pieces that each carry messages - verses.
Celine Dabbous created IF... an interactive movement encouraging individuality and self-expression, which manifests itself quite simply in walking in somebody else's shoes for a day. The designer has also created an IF app, which is based on the Mayer personality test, suggesting new things based on the personality test result.
For me this Year's showcase is about Identity, a search for the truth through hi tech, lo tech, subcultures, traditions, languages and emerging economies. Above all it's a personal search by the students, making sense of how the present shapes their identity and where it fits in with the world.