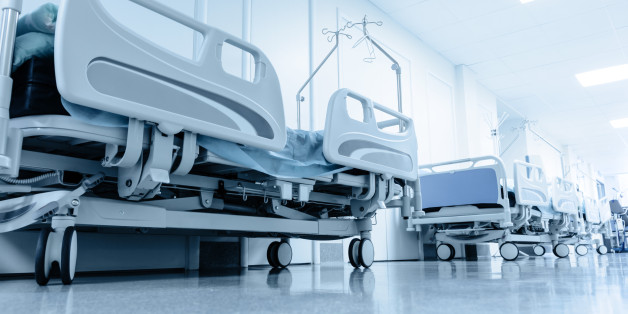 beerkoff via Getty Images
Girl X is just 17. She has experienced trauma, has significant mental health and emotional issues, and has been in care and in the youth justice system. At every opportunity she will hurt herself. Experts believe that if she is released from the secure unit where she currently resides she will kill herself within hours.
But despite all this, the appropriate care every expert has said she needs was not available when she needed it.
The judge presiding over her case in the family court, Sir James Munby, says society should be shamed for not protecting her. It is worth reading his judgement in full; a particularly striking passage states that:
"It is a disgrace to any country with pretensions to civilisation, compassion and, dare one say it, basic human decency, that a judge in 2017 should be faced with the problems thrown up by this case and should have to express himself in such terms."
He is right. It is an affront to our basic humanity and decency that a girl at such risk and suffering so terribly is not able to get the support she so desperately needs.
What is even more shameful is that this is far from a unique case. Girls aged 16- 25 are the highest risk group for poor mental health. One in five self-harm and a staggering one in seven has experienced post-traumatic stress disorder. There has been a significant rise in mental ill health amongst young women in recent years.
Girl X has a history of "trauma and rejection". And we know that for many women and girls, mental ill health is closely linked to the trauma they've experienced, the physical and sexual abuse that blights their childhoods and adult lives.
But despite these clear vulnerabilities, X and the many girls like her are not getting the support they so evidently need.
What's more, this case has only come to public attention following a judge warning in the starkest of terms that if we cannot support Girl X "we will have blood on our hands". But how many more girls are suffering in silence - desperately troubled, at huge risk and yet unable to access the support they need?
This case is a damning indictment of wider failures in a system - and appalling gaps in care - that sees the most vulnerable ending up in the criminal justice system rather than mental health care.
Austerity or no, there are choices about how we spend our money and if we do not prioritise our most vulnerable children, then what kind of society have we become?
This is about investment. Investment in better mental health support - more beds and an increase in community based provision.
But it is also about the way we provide that support. We must recognise the particular needs of young girls and of women who have experienced extensive abuse and trauma. We must provide support to tackle the underlying issues they face.
And as well as improving mental health provision, we need to look at the system more widely. This is not just about mental health but whole systems of support: social services, the police, the youth justice system, many, many agencies will have been in contact with this girl and yet her situation has been left to escalate to this crisis point.
X is currently in a young offenders' institute. She spends most of her time in one small room that is almost entirely bare due to the risk of her using objects to hurt herself.
The staff where she lives are trying their best but they don't have the skills and experience to deal with what X is going through. She has been restrained more than a hundred times.
How has it come to this? How will this environment and this care make her better? How will she ever get out of the cycle of physical and mental pain by staring at four blank walls and being held down repeatedly? Surely this will only pile trauma upon trauma.
This girl, and the many thousands like her across the country, deserve better. They should be not be left in situations where their lives are at serious risk, but instead should be able to expect care and treatment to deal with the underlying trauma they've faced, to get well and to build a future for themselves.
Sir James Mumby is angry. He is right to be. We are failing our most vulnerable children. You should be angry too.