So you want to celebrate St Patrick's Day with green food, but don't fancy loading them with food dyes? Try veg.
Instead of pouring bottles of food colouring into your cakes, cupcakes and treats, you can add some leafy greens and get a few extra nutrients into your desserts as well.
These natural vegetable colourings can't be tasted and add a vibrant green hue, perfect for St Paddy's celebrations.
But what about the green beer? Kale beer exists...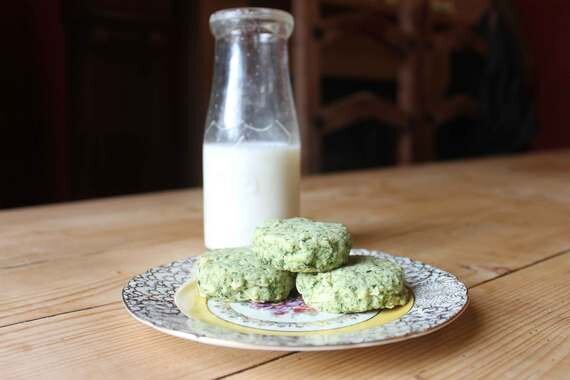 200g (7oz) frozen or fresh spinach
50g ( 1/4 cup) caster sugar
200g (2 cups) plain flour
Preheat oven to 190C/375F. Line a baking tray with parchment paper.
If using fresh spinach, puree it in a food processor until fairly smooth. For frozen spinach, defrost it and remove the liquid by pressing into a sieve or wringing out in a tea towel. Set aside.
Beat the butter and sugar together until smooth and fluffy. Add in the spinach and almond extract and beat well. Stir in the flaked almonds and flour until combined. You may need to use your hands.
Turn the mixture out onto a lightly floured work surface and lightly roll it out to 1cm thick. Cut into desired shapes and place onto a baking tray. Chill for 20 minutes in the fridge.
Bake for 15 minutes and then cool on a wire rack.
Kale and Orange Cupcakes with Orange Icing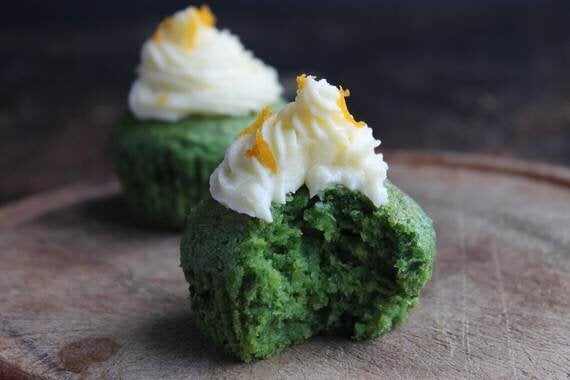 100g (2 cups, packed) raw kale leaves
150g ( ½ cup) unsalted butter, softened
150g (3/4 cup) granulated sugar
2 teaspoons vanilla extract
200g (1 ½ cups) plain flour
75g ( 1/3 cup) unsalted butter, softened
250g (2 cups) powdered icing sugar
2-3 tablespoons orange juice
Preheat oven to 170C/325F. Line or grease a muffin tray.
Discard the woody stalks and tear the kale leaves into bite-sized pieces. Simmer or steam for a few minutes until tender. Run under cold water to refresh, then drain well and puree the kale - it will still be a bit stringy.
In a large bowl, cream the butter and sugar with an electric mixer until light and fluffy. Beat in the eggs one at a time, and then add in the kale, vanilla, zest and orange juice and continue to beat until well combined.
Sift the flour, baking powder and salt into the kale mixture and stir to mix.
Fill the muffin cups ¾ full and bake for 15-20 minutes or until an inserted skewer comes out clean. Cool in the tins for 10 minutes then remove to a wire rack to cool completely on a wire rack. Frost with the icing when cold.
Cream the butter in a large bowl until fluffy. Sift in the powdered icing sugar and beat with an electric mixer until thick. Add enough orange juice to make it a thick frosting consistency. Store in the fridge until ready to use.
Related