If you're going to make roast potatoes, make them right. Crisp on the outside and fluffy on the inside with a rustic flavour. Here's my top tips and favourite recipe for the ultimate roast potatoes!
Tip 1: Olive oil gives roast potatoes a wonderful flavour. To stop the roasties becoming greasy, make sure your oil is very hot before placing the potatoes into the baking tray- the oil needs at least 5 minutes in a hot oven to get to the optimum roasting temperature.
Tip 2: Choose a fluffy variety of potato such as Maris Piper, King Edward or Rooster. Maris Piper is my favourite for a light and fluffy centre beneath a crisp skin.
Tip 3: Boil the potatoes for 5 minutes, drain the water, then shake them vigorously in the pan. This will ruffle the edges and give more surface to go crisp.
Tip 4: Double roasted potatoes lock in the flavour! Roast initially for 30 minutes, then add garlic and rosemary to the tray to flavour the oil before returning for 20 minutes more. If you add these ingredients at the start, they will simply burn and give a bitter taste.
Tip 5: Scatter a generous pinch of sea salt over the potatoes when cooked to give bursts of flavour. Maldon sea salt is my favourite to use as the fine flakes have a wonderful crunch which enhance the roasties and take them to a new level!
This is my go-to recipe for Olive Oil and Sea Salt Roasted Potatoes with roasted garlic and rosemary- enjoy!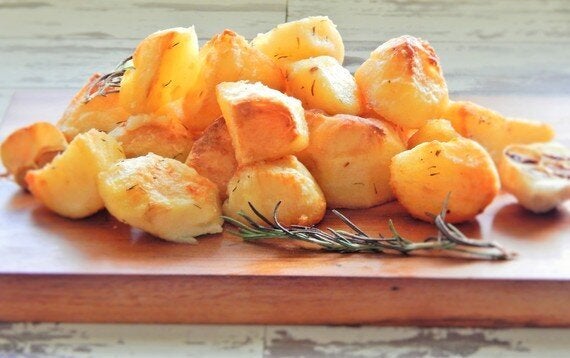 1kg Maris Piper potatoes, peeled and cut into quarters
1 bulb of garlic, cut in half widthways
Generous pinch of Maldon sea salt
1. Pre-heat the oven to 220C/ Gas mark 7. Pour the olive oil into a deep baking tray and place in the oven while you prepare the potatoes, until the oil is very hot.
2. Place the potatoes in a pan and cover with boiling water. Bring to the boil over a high heat and cook for 5 minutes. Drain the water thoroughly and place a lid on the pan. Vigorously shake the pan (holding onto the lid firmly so the potatoes don't fly out- it happens!) until the edges appear ruffled.
3. Carefully remove the baking tray of very hot oil from the oven. Use long-handled tongs to place the potatoes into the tray, you'll hear them sizzle, turn them in the oil to coat them. Bake in the oven for 30 minutes.
4. After 30 minutes, remove from the oven and place the sliced garlic bulb onto the tray and the rosemary sprigs over the potatoes. Turn a few of the potatoes using tongs to ensure even baking. Place back in the oven for another 20 minutes.
5. Remove from the oven and discard the rosemary sprigs. Scatter with a generous pinch of sea salt.