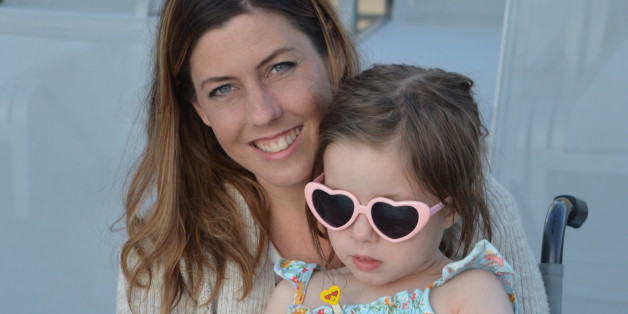 Katy Mann

I was diagnosed with epilepsy over a year ago now and one of the toughest challenges for me has been looking after my two children James (10) and Emily (5). I have Atonic Seizures which means I fall several times a day. I use a wheelchair most of the time and it isn't easy chasing after two active children.
My kids have devised several ways to help me. James walks behind me with a duvet so he can catch me when I fall. Emily holds on to me and tells me to "SIT DOWN MUMMY" when she sees me get up as only a bossy five year old can. James can push me short distances in the wheelchair and quite enjoys having that control over me! He threatens to push me down hills on a regular basis.
I'm lucky in that my in-laws and my parents live close by and are on hand to help out. I need help with all aspects of parenting but mainly getting the children to school and back and to various activities. Also having epilepsy means I can't drive so I'm virtually housebound at the moment. My family collect and feed my children as I am unable to cook. I rely on microwave meals. At the moment they also have to take Emily to bed as I can't walk at all without falling. James is at an age where he can be more independent and that helps a lot.
My children are fantastic and know that Mummy is limited in what I can do. I have an alarm around the house so if I do fall and hurt myself we can press that for help. Both my son and daughter know how to ring Daddy to come home if I have a bad seizure. They've had to grow up faster than I would like but I'm proud of them both for knowing what to do in an emergency. It's just frustrating for me that they have to be put in this position. This isn't what I wanted for my children. I want them to grown up with a normal childhood and not look back and remember me being so ill.
Juggling children and a long term disability is a huge challenge and one we are taking day by day. I know I can call for help from family and friends and that is a huge weight off my shoulders. I wish I could be a normal mum and do activities with my children but I know they understand as much as they can. One day I hope my quality of life will improve and I can be a fun mum again. I want to go to theme parks and enjoy holidays with my family. I am absolutely determined that will happen and I will get to the point where I can care for my children without help.
Here are some of my top tips for dealing with children and epilepsy....
• Make sure you have family and friends' numbers stored in all phones so your children can ring for help, if necessary
• Have an alarm fitted so you can press for help easily
• Get someone to batch make meals for you so you can just grab something from the freezer and defrost a meal
• I use an office chair on wheels around the house to get around
• Make sure school is aware of the situation so they can support your children
• Don't be afraid to ask for help - most people are happy to help out with school runs or pop to the shops for you
• Online shopping is always useful when you are housebound
• Ask your partner's employer for flexible working hours so they can be around at school-time. My husband works a late shift so he can take our children to school
• Teach children basic first aid (for falls in my case)
• Give neighbours a key so they can get in in an emergency
See more of my writing at www.yetanothermumblog.blogspot.com or follow my Facebook page
For more information about epilepsy, go to www.epilepsysociety.org.uk
If you would like to talk to someone about epilepsy, call their confidential helpline for information and emotional support.
Epilepsy Society Helpline 01494 601 400 Mon and Tues 9am-4.30pm, Wed 9am-7.30pm
HuffPost UK Lifestyle has launched EveryBody, a new section calling for better equality and inclusivity for people living with disability and invisible illness. The aim is to empower those whose voices are not always heard and redefine attitudes to identity, lifestyle and ability in 2017. We'll be covering all manner of lifestyle topics - from health and fitness to dating, sex and relationships.
We'd love to hear your stories. To blog for the section, please email ukblogteam@huffingtonpost.com with the subject line 'EveryBody'. To flag any issues that are close to your heart, please email natasha.hinde@huffingtonpost.com, again with the subject line 'EveryBody'.
Join in the conversation with #HPEveryBody on Twitter and Instagram.