We exchanged a look that read 'what the hell have you gotten me into?' and 'Isn't this exciting, Kay?!'
As I watched my friend shoot the opening scene to Jon Matthew's first feature Khali The Killer, I felt my stomach start to churn in a mixture of horror and anticipation.
I was witnessing the most terrifying and most exciting moment of my dawning career and when you see it, the first feature written and directed by Matthews, you will know why.
From Alum Creek, West Virginia, the now-filmmaker was once a lawyer. After graduating West Virginia University for undergrad and law school, Matthews practiced civil rights for seven years before turning back to his passion.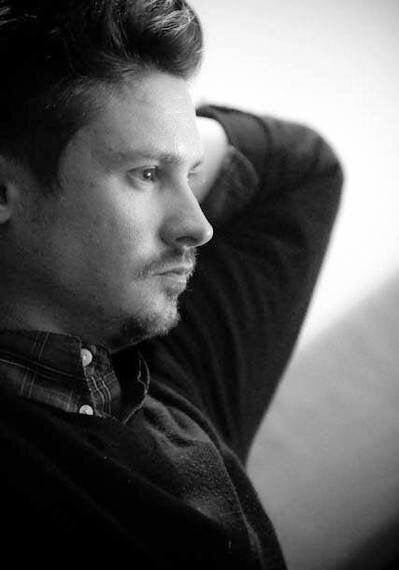 Copyright: Marie Gregorio-Oviedo, 2014
'My proudest moment was winning a race discrimination case in the West Virginia Supreme Court.' Matthews writes in our emails after filming has finished.
Despite his successful law career, Matthews could not stay away from the camera. Up until recently, Matthews worked in non-fiction. Now, he is taking the dangerously thrilling leap into feature films.
When did you first get into films and what prompted the interest?
'From childhood, I wanted to be an artist/storyteller. I used to make my own comic books. I'd make up the characters and draw them in notebooks.
'I wasn't allowed to go to movies as a child, so when I went away to college, I saw my first movie in the theatre: Pulp Fiction. It changed my life and started my love affair with film.
'I was a social justice activist in college and that's what drew me to law school, but even in law school I knew I wanted to make movies. I made my first short film in law school, a kind of an artsy film, starring my classmates. I shot it on a camcorder and edited it with two VCR's.'
You just finished filming your first feature, how have you found the transition from documentaries?
'Documentaries and narrative features are both about truth. Emotional truth. The literal truth or facts in any story are only a vehicle to get the audience to the real truth of the story - the emotional relationship between the characters and the emotional inner life of the protagonist.'
What do you feel are the core differences between filming a feature and a doc?
'There really aren't many core differences. Both are storytelling. Both have the artistic goal of moving audience members. The differences are mostly logistical. In documentaries, you have to gain access to your subjects, so they will open their world to you. In features, your subjects are actors who often apply to be in your film. Regardless of how you connect with them, you still have to win their trusts.
'Whether it's an actor or a doc subject, trust is the most important thing. If actors/subjects don't trust their director, they won't open up. They won't show you their vulnerabilities. Then your project won't have the emotional impact that it otherwise would.
'I don't feel like I'm the smartest director. I don't always know the right things to say to actors. I do feel like I put actors at ease and I feel that's my greatest gift as a director.'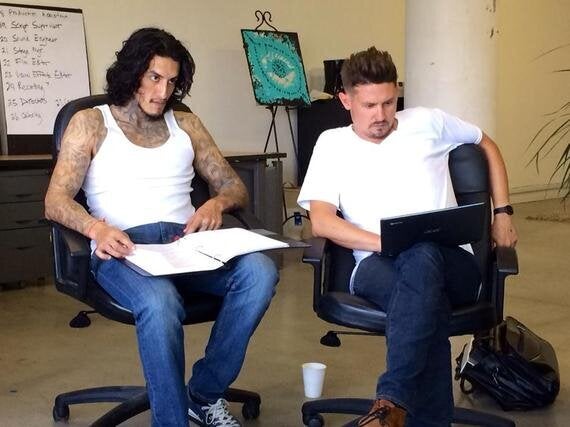 Copyright: Lineage Ent. 2015
Tell us about how Khali came into being & little about the plot?
'I got seed money to do a story starring Richard Cabral and Adam Ryan Rennie, so I wrote a script that featured their talents.
'Khali is about a lovable hitman. Richard is that guy. He is the perfect combination of tough and vulnerable. He spent his youth on the streets and in prison and he still has this fierceness in his eyes, but can be as open and vulnerable as any actor that I've ever seen.
'Adam Ryan Rennie also has an interesting personality dynamic. He can be the cool kid, but he can also be the dork, and he can shift between these two personalities quickly and easily. It really inspired me to create Isaac, his character in Khali. Isaac tries to fit in everywhere. But doesn't really fit in anywhere. He is uncomfortable in the world and tries to changes things to make it better but every time he does, something goes wrong.
'If Khali is the hero that you hate to love, Isaac is the villain that you hate to love---or at least sympathise with. He keeps doing bad things but his luck is so bad, you can't help but feels sorry for him.'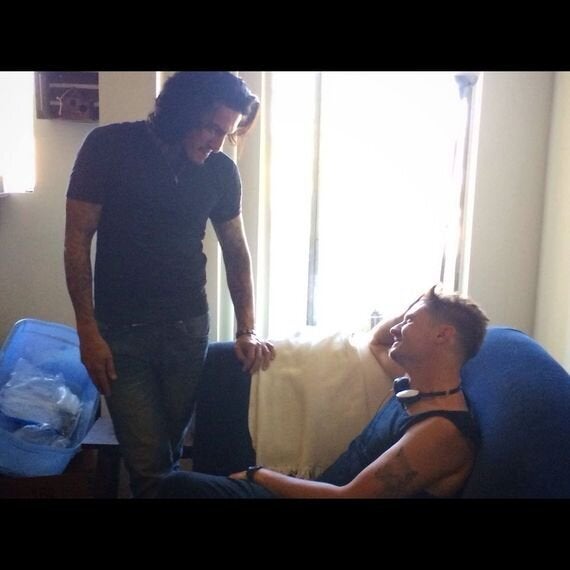 Copyright: Lineage Ent. 2014
How did you find working with Richard Cabral and the rest of the Hippos from Anthony Gilardi's studio?
'Richard is my muse. He's my inspiration. He's the most open and hard working actor. On the first project that we made together, we shot a scene with pit bulls and Richard was the first one on set, cleaning up dog shit so we could shoot the scene. That's the kind of work ethic Richard has.
'I think Anthony Gilardi instills that work ethic in his Hippos. There are no delicate geniuses in Anthony's studio. They all have to put in the work. Physically. Mentally. Emotionally. Anthony puts them to task. He expects a lot out of them and he pushes them to be their best.'
'I'm doing a documentary called Psalms. It's a "making of the album" documentary, combining two unique groups. Jewish Appalachians and Jewish Ugandans. This winter, I'll be taking the Jewish Appalachians to Uganda, so they can make music together. I don't know if it'll work or what it'll sound like but it should be fun.'