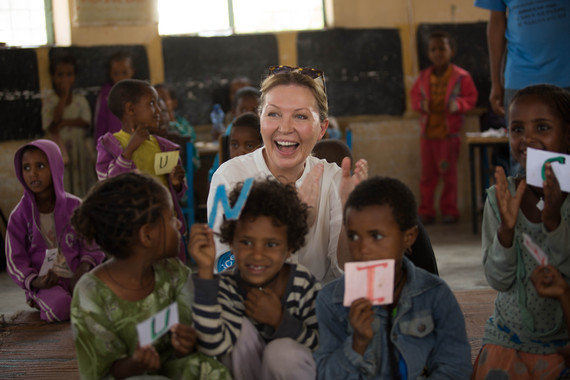 UNICEF UK President Kirsty Young with students at UNICEF-supported Baáti Akhor Primary School, Ethiopia
We Brits are admirably low key when it comes to blowing our own trumpet, yet at a moment when national unity seems in short supply there are surely a few things we can all agree to take pride in - our football teams, our NHS, our pop music and our Sunday lunches. All of them in their own ways defining what puts the Great in Britain.
But one other significant feature that seems to strongly divide opinion right now is the commitment to UK aid. Significantly, in the recent General Election all major political parties reaffirmed their support for investing 0.7% of national income on overseas assistance. It was, said the policy's supporters the compassionate, thoughtful, moral thing to do. But in truth - and even given what a small amount of money it is - it remains a controversial subject. Personally - I've given it a lot of thought and have significant sympathy for people who argue for the importance of taking care of the vulnerable here at home before we start spending the cash of hard working tax payers elsewhere in the world.
Yet in truth, and having spoken myself to some really impressive experts in the field of overseas development, I'm now entirely convinced there's no reason at all these priorities are mutually exclusive. Despite the headlines that sometimes try to convince us otherwise, the empirical evidence shows that UK aid is among the most effective and well spent around the world. Scrutinised by a dedicated department and staffed by experts who know what they're doing.
In reality the highly public examination of UK aid spending has meant that Britain's aid budget has been held up to the light and analysed more critically than any other area of government spending. And here's to that - if it means we can collectively put our hands to our hearts and say that this money, our money, is getting to where it should - giving a firm helping hand up to some of the world's most vulnerable people - ending poverty, saving lives, making the world, our world, a better place to be.
On Wednesday, I was in Westminster with politicians from all parties, NGOs, and frontline workers who all care dearly about how the aid budget is spent and why it should be spent on the world's most vulnerable. The big question is what role must Britain play in tackling the world's biggest problems? Poverty. Migration. Climate change. The challenge is huge. Just yesterday, Unicef released data that said unless the world makes faster progress on reducing child mortality, by 2030 almost 70 million children will die before reaching their fifth birthday.
It was fantastic to hear first-hand from those who deliver aid, as to how British people have made a big difference in the world. And hugely encouraging to hear how our politicians intend to keep their promises to the most vulnerable children and families around the globe.
It's been just over a year since I became President of Unicef UK, it's a significant privilege and it's allowed me to see first-hand the incredible difference that happens on the ground from the money that is allocated by us.
I've seen how the UK is one of the largest donors to the Syria crisis. Half a million children in Syria are in education thanks to UK aid. I have seen with my own eyes the Unicef projects in Ethiopia where UK aid is ensuring mothers are educated, fed and housed, able to decide their own future and set up their own businesses. UK aid has protected refugee children around the world, and taken on the famine in East Africa. It ensures Unicef can get into Yemen and provide the essential help needed for those trapped by conflict.
The UK Government intends to review the rules through which UK aid is spent. After all, these systems shouldn't be static or inflexible and they must of course respond to and reflect the world in which they operate. But in doing so, we mustn't lose the clarity of purpose that our aid has, or allow it to become tied to short term military or trade missions that would lessen its impact. Instead, let it continue to focus on the lives it saves and the poverty it eradicates.
The world seems sadly short of good news these days, which is why it is up to those whose job it is to deliver aid to ensure the British public know the good they are doing. But we also need to ensure the UK government protects the rules that make the work effective. UK aid is our great gift to the world; it shows in concrete terms the very best of British. I honestly believe all of us should support the spending and continue to help lift children out of poverty. Surely that's the sort of Britain we want to be?