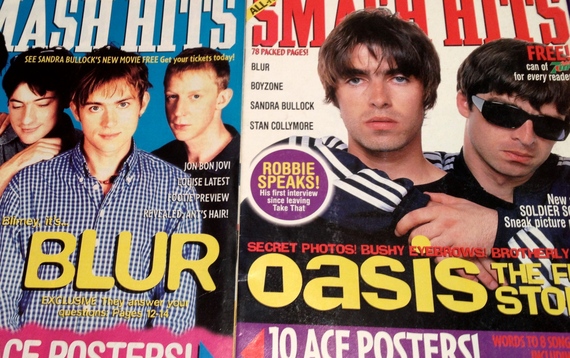 I was 16-18 in the years 1994-96, and was before then a staunch metaller listening solely to thrash and Nirvana after renouncing chart music at the turn of the decade. That all changed though when I heard the opening bars of Oasis' Definitely Maybe in '94 - Rock & Roll Star's guitar squall crashing in through the speakers of my brother's bedroom stereo. It was the moment I first saw the bridge between metal and 'indie', which until then had just sounded lightweight in comparison.
But early Oasis had that swaggery, Pistols-esque sound that linked to the heavier albums I'd been listening to, and once I saw that Metallica's Lars Ulrich was a fan of Supersonic, playing the video on an MTV special (while James Hetfield shook his head disapprovingly behind him), so began my love-hate relationship with the Mancs.
It snowballed from there: they led to the Stone Roses (in reverse - 1994's Second Coming first). Meanwhile a couple of schoolmates had been tubthumping Parklife and I Should Coco so much that I listened to them properly one weekend, which was like two jigsaw pieces slotting into place - their spirited eccentricities outshining the more morbid stuff I'd been caning.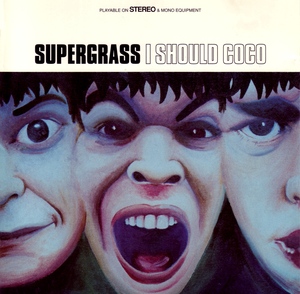 The Manic Street Preachers' Everything Must Go was further music to my ears: big, punky guitars like Oasis' but with dramatic orchestration draped over it and angrier lyrics which showed up how hollow were Noel Gallagher's; Pulp's Different Class & Weller's Stanley Road also progressively deflating Noel in comparison. I started wearing a Kappa jacket, hacked my long hair short and aligned myself with Camp Blur. It was also when I properly got into The Beatles and Kinks, reverse-engineering all I was now listening to.
Anyway, fast-forward two decades and beneath any commemorative fanfare have been many writers and BTL-commenters denouncing the whole Britpop movement as derivative and worthless, as merely 'recycled' 60s music.
Invariably bands like Space and Shed 7 get referenced as the era's 'worst', and that's where the argument falters in my eyes, because when I saw both acts live last year they delivered with precision and passion the same abundance of tracks that clawed their way into mid-90s Top 10s, and even into Hollywood movie soundtracks (1996's Female of the Species).
Space were musically quite innovative while Shed 7 wrote some classic indie tracks which struck so many chords that they'd amassed 11 Top-30 hits in four years, enough for a hasty Greatest Hits release against the band's wishes.
By then NME had routinely written them off, like so many in general have done with the whole scene. Other cast-offs include Cast, Dodgy and Ocean Colour Scene, who all wrote at least a couple of memorable tunes that haven't aged as badly as detractors claim. Chris Evans' TFI Friday might have dated but its live bands - those three included; OCS soundtracked the show - were a sign of good times for British popular music which have scarcely been seen since.
Ok, it got overblown with Cool Britannia and the whole Blur.v.Oasis episode, and then Oasis ran out of ideas and Blur went navel-gazey, but it was a time when bands from every part of the UK - many fronted by women - were consistently producing music with soul and musicianship, and even classical leanings (The Divine Comedy, My Life Story). The more 'rock' offerings were sparky, punky tunes like Ash's Girl From Mars and Supergrass' Richard III.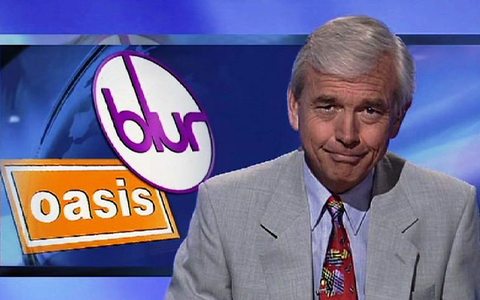 Even Oasis were artier than people remember. Definitely Maybe's cover inspiration was Flemish Renaissance paintings, a narrative behind the room and objects like in Van Eyck's Arnolfini Wedding. They weren't as dumb as they've been portrayed - Noel saw what British music was lacking in the grungey early-90s and delivered it draped in a Union Jack, his interviews witty and candid. Even Liam could be incisive. Their biggest mistake was prolonging it as long as they did - it was fitting that Blur headlined Glastonbury the year they finally split.
The bigger mistake is to write off Britpop as valueless, the point I'm flogging here. When I started uni in '97 it was a double life watershed as the scene was over - Radiohead's OK Computer arguably ended it all. But then, just as arguably, that's when British music - both independent and mainstream - went seriously downhill. Gomez and Gay Dad were seen as leading indie lights in the later-90s while boy bands and the likes of Steps and Hear'Say took over the charts - guitar acts were expunged by production-line pop and that situation's never changed, notwithstanding the brief noughties spike of Bloc Party, Franz and The Libertines. The Top 40 soon became meaningless, hence TOTP pulling its plug.
I'm not saying Britpop's death precipitated it all - the download age would've arrived either way - rather that it was the charts' final hurrah, when there were decent bands on TOTP every week.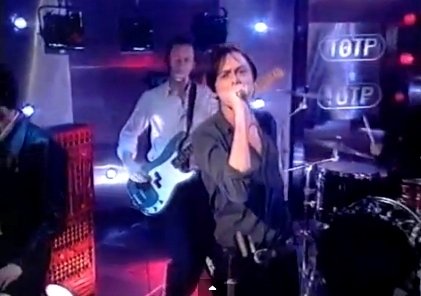 In 2013 Robbie Williams became another bandwagoner proclaiming how awful Britpop supposedly was, reeling off a list of lesser lights from its Wiki page. As I then tweeted, anyone who can earnestly slate some of the better bands like Suede and The Bluetones while elevating One Direction, well, I don't have to say anything more than that.
All I will say to conclude is that in today's changed musical landscape, another 20 years from now people will still be listening to Pulp, The Verve and (early) Oasis, not the X Factor brigade, not 1D.
The UK charts have never had it as good since that short pre-millennium period, bookended by Chris Evans' beaming mug at Friday teatime to the tune of The Riverboat Song, and probably never will again.
(Postscript: my Blur video tribute)