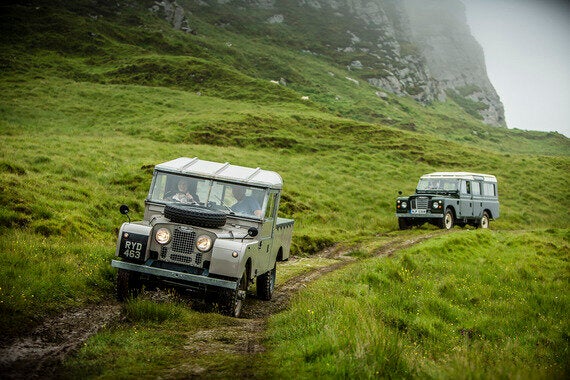 It is by some miracle that I am once again in the land that I love so much, Scotland, on this occasion, Islay. I am here to drive a selection of Land Rovers from the Series 1 of 1948 through to today's modern Defender. Why Islay though? Surely a spot nearer to home would suffice?
It is Islay because this is where the Wilkes family not only have their small farm distillery, but it is because the two Wilkes brothers (Maurice - Chief Engineer of Rover and Spencer - MD of Rover) came up with the initial ideas for the Land Roving vehicle. Although the designs were drawn in sand on Red Warf Bay in Anglesey, Wales, the family estate was here on Islay and it is here where the concept was born.
Today on my journey through time, accompanied by the editor of leading modern car magazine, who, on first entering the newest of the fleet, the Defender 'Heritage', says to me "I don't know what all the fuss is about with these cars?" as he tries to get comfortable with his knees up to his elbows and his elbows brushing up against the door, "I mean I can't even move."
I notice his height and elbows, "well you need to drive with your elbows out, that's the Land Rover way" I pipe up, knowing this journey would be quite an adventure.
We start the drive over the roads and mild off road terrain and I soon start to hear more encouraging words from my driving companion, "it is actually very capable", he grins.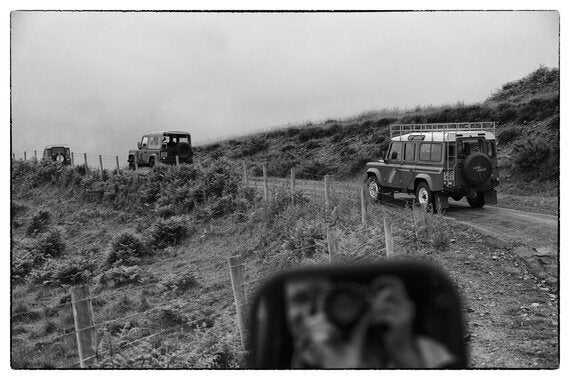 Arriving at the coffee spot we swap to the earliest of today's fleet, a 1952 Series 1 107 pickup. I take the driver's seat and we set off over rough, and I do mean rough muddy terrain with the delightful added bonus of Scottish rain, I laugh as the vehicle surrounding me carries me though the tracks with my knowledge of certainty, that this Series 1 will do everything I need it to do. 'As slow as possible as fast as necessary' is the moto of the day, with one wheel off the ground then maybe two wheels off the ground we traversed the rocks and mud on the fabulous off-road route Land Rover provided on Islay.
I peer over at the editor riding shot gun, whose smile had returned to terror, "Are you ok?" I ask. He was fine and enjoying the ride, he just couldn't believe how the car was proving over the ground.
We stop and swap over on smoother surface and I start to explain that he has to double de-clutch.
I am trying to explain what double de-clutching means and showing him how to do it, you see all vehicles in the Land Rover range up until the early 60's had no synchromesh in the first and second gears. So one has to raise and press the clutch pedal gear stick to engage gears.
My explanation went a little bit like this: to change gear, you need to press the clutch move the gear out of gear into neutral, raise the clutch then pushed the clutch down and put together into the next gear. Put the gear stick into the next gear that you want to go soon. This reminded me of when I first started to learn to drive a race car lining up the engine to level off in the gears to correspond with the revs. But could I explain this to my driving companion? No it seemed.
As soon as he begun, he remarked, "It has no steering.... No brakes.... This is hilarious."
It was indeed and I couldn't stop laughing at how from his first comment 'I don't know what all the fuss is about' to this one of utter admiration of the car, I knew I was ... or rather the car was turning him into something of a fan.
My reply to the steering comment, "Yup... no steering ... and mind your elbows" I screamed as soon as we went into a little village with a sharp turn. Reverse and braking and even gear changing was all new to this motoring editor, in this historic vehicle at least, so as a good citizen I simply laughed at all his innocent 'learning curves'.
"Where is third gear?" he gulped, to which I replied, "near Mars and 4th... will you ever need 4th, well that's near your groin!" I laughed, "But why not get the darn thing into 2nd before that!"
Double de-clutching and actually finding gears passed neutral did seem to be the excitement of this journey. Alas I was allowed to regain the wheel and off we went onto rockier ground to my delight loving every minute.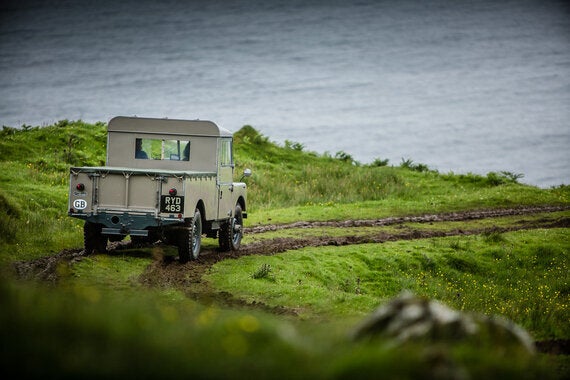 Onto the seaside and sand, we got into the new Defender 'Autobiography' the most luxurious and contemporary of Defender models on sale today kitted out with leather interior and as many modern conveniences that could possibly fit into the dash of the vehicle. Something for the car owner who, would like a defender, but actually would prefer some form of luxury to accompany it.
With my driving companion at the wheel, more relaxed and understanding that the car will do everything for you, down a steep slippery slate surface, now laughing and enjoying the Land Rover completely he said to me,
"These things then. I mean the old ones the Series 2's and 3's, how much are they?"
Result! He was hooked. Another Land Rover user will soon be on the road! (I must add that when he returned to the hotel he was straight onto Auto Trader to get the prices).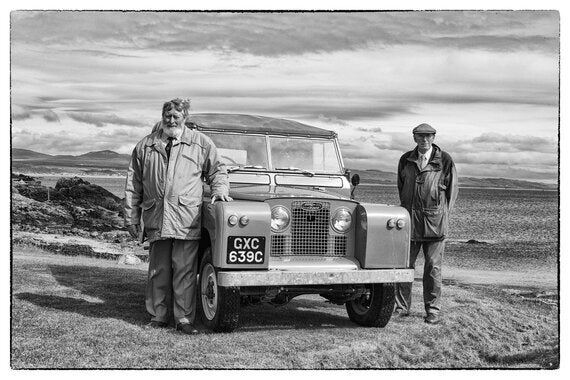 The day ended with a taster of the Kilchoman whiskies dedicated to the Land Rover and meeting with Nicholas Wilkes, the younger son of Spencer Wilkes with Duncan Fraser, the son of the Head Keeper Ian Fraser and out of Scotland we flew.
I am coming back to Islay to launch my new book about distilleries, 'Spirit of Place, the Distilleries of Scotland' (Frances Lincoln Publishing). I wonder if there are any Land Rovers that need rescuing...
(Photos by Lara Platman and Land Rover Press office)