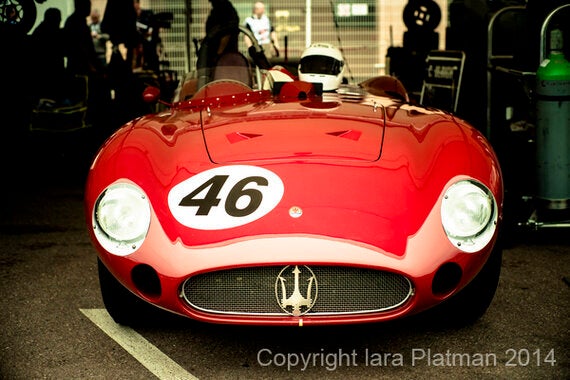 Sitting at a breakfast table in the Credit Suisse Drivers Club I am surrounded by living legends of the motor racing industry. I realise this table might look rather exhilarating to the onlooker, for to my immediate left is Sir Stirling Moss and to my right I have Derek Bell, next to him is Alain de Cadanet, opposite is Jochen Mass and Lady Moss, sitting beside them is Wolfgang Freidrichs and David Clark. This table is loud with stories of old and everyone catching up with each other. I am here to try and find out something new about Sir Stirling Moss, tricky when really, his life is an open book.
Instead we chat and I extract from him some facts that remind us both of what the Monaco Grand Prix Historic is all about. Moss first raced the Cooper 500 in Monaco in the 1950s and his final win on this infamous street circuit was in 1961 (as he crashed here in 1962). The 1961 race was his best race here, with 100 laps lasting 3 and a quarter hours in total, with 2 Ferraris on his tail, there was 2 seconds between them all for the whole race, a circuit that had no Armco and no modern Swimming Pool Chicane, it was "intense and extremely tight" he tells me in his very soft voice which by now was almost being drowned out by the frivolity on our table.
I asked Sir Stirling to repeat the fascinating story about the practice sessions that went on here in the '50s.
"... Well this circuit is a street circuit so you can't just turn up and test when you want to, it is only prepared during race weekend so this is the only chance you get to learn it, and often we would be practicing through the night and we would pop into the café by the marina much to the horror of some of the residents." He begins with a huge smile on his face, "one elderly lady asked me, 'what are you doing here making all this noise?' and I replied we were practicing and she said, 'well can't you go and practice somewhere else?'" by now the whole table turned to Stirling to hear the famous story and the laughter surrounding our intimate conversation had turned into a party.
Moss had helped initially to get the Historic meeting set up 9 years ago, with Valentine Lindsey who had the initial concept of making the race meeting 2 weeks before the Grand Prix, to make use of the Marshalls and the safety barriers. Moss drove the blue and white Maserati Birdcage, some of his winning Coopers, a Fraser Nash and the infamous Mille Miglia Jaguar C Type that he together with Norman Dewhurst and Dunlop, developed the disc brakes, of which we know today.
The Monaco Grand Prix Historic for Moss is like reminiscing with old friends, "I think I have driven all of these cars" he ponders nostalgically.
There was no Armco in those days, no roll cages and no seatbelts, somewhat different to today, with all of the security devices to protect driver and spectator.
"The cars are running at least 1000 revs more these days, with all the developments on the old cars" Moss tells me, "developments of tyres, engines... suspensions. It is not this circuit that is dangerous; it is the drivers, on any track".
Trying to ask Sir Stirling Moss what his favourite car in the paddock this weekend is, proved to be rather tricky as he reminisced through many, "The 300S Maserati is my favourite," he finally replies, "It's a stunningly beautiful car".
I left the breakfast table feeling that, although I might not have heard anything new to the world, it was however, our very own intimate chat and for me, utterly sublime.
Back out in the paddock Alex Buncombe is one of the new breed of racing driver, currently driving for Nissan in the GT Blancpain Series, this weekend he drives the nineteen fifty Jaguar C Type, for the second year in the row and won the race both times.
"JD Classics, who run the car, have made great improvements to the brakes from two years ago so it all went swimmingly today", he tells me as everyone crowds around him to congratulate the winning team, "It is racing at the Mille Miglia next week so I had to ensure I brought the car home in one piece!" Buncombe's main completion this weekend was John Ure in the Fraser Nash, "He is faster than me on the bends and I am faster on the straights, so second lap in I squeezed in front and had to keep in front to win" Alex tells me.
"You can see yourself on the screen as you go round; it is such an extraordinary experience racing here at Monaco." He laughs.
Buncombe does not have the Monaco circuit on his normal contemporary endurance racing schedule, so he revels in the chance he drives here with the Historics. "I think I benefit from driving both historic and GT, you have to adapt your skills, and I really enjoy both".
You can find Alex racing in the Blancpain GT series.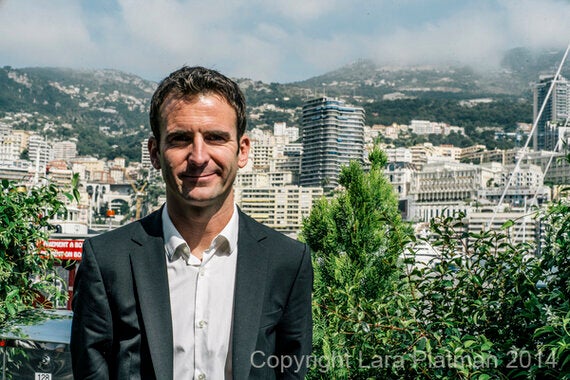 Many drivers like to come to Monaco to see what the Historic meeting is about, and Roman Dumas visited as he is in the new Formula E Championship that will start in 2015.
"Fuel is always a part of the endurance race but what is crazy now is that we have to adapt our style each lap and change our driving style and same more or less on then straight. And that for sure as a driver is a lot of frustration. I hope to drive here in the historic in 2 years' time meanwhile I have the Formula E next year here in Monaco".
Another contemporary racing driver who has made his debut here in Monaco is Frank Stipler an Audi works driver, racing in a 1958 Maserati 250F Piccolo. After having only 2 flying laps in practice due to engine trouble. Frank managed 2nd place on race day.
"Starting in 5th I managed to overtake to 3rd when I had a chance. There is little chance to overtake and it is real racing on every lap on every moment. There was the good situation at Rascasse and I managed 2nd place there. It was real racing" He tells me proudly.
How is the circuit different from the endurance circuits? I asked Frank,
"It is so different from endurance circuits, in gears I had to find something new. The track became warmer than in qualifying and what we had calculated for the engine was now too rich so all the gears were all done with higher revs so in the end the engine didn't push, but we adapted and it worked out well."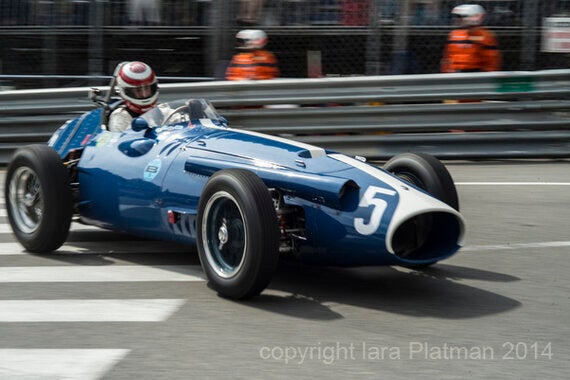 The Monaco Grand Prix Historic is full of stories like this from legends such as Sir Stirling Moss to young drivers such as Michael Lyons (Ferrari works driver) in the Hesketh 308E, the cars and fans all intermingle in the paddock and racing is close, both on the circuit and to the grandstands. You can actually see the driver's faces as they pass you with the boats and distinct architecture of the municipality in the background.
In two years all the drivers will come and 'practice' once again on the streets of Monte Carlo. I have already booked my hotel.
This article was originally commissioned by Octane Germany. Please see further photos of the Monaco Grand Prix Historic race weekend at www.photofeature.co.uk